Cheese sandwich and a yogurt again? If you are struggling to come up with ideas for your child's packed lunch then we have put together this great list of scrummy options that even the fussiest fusspot may be inclined to try.
Puff Pastry Pizza Pinwheel
Easy to make and great for lunch on the go, Puff Pastry Pizza Pinwheels can be prepared in advance and popped in the lunch box when required. You don't even need to be a Bake Off contestant to make the pastry, because you buy it ready rolled for a quick and easy bake.
Ingredients
One pack of ready rolled puff pastry (defrosted if frozen)
Tomato puree / Passata / Pasta Sauce
Grated cheese (about 100g) – We love mozzarella, but cheddar is just as good
Additional toppings – e.g., ham, cooked chicken breast (shredded), pineapple, sweetcorn, mushrooms, etc
One egg (for glazing)
Spread the tomato puree / passata / sauce thinly across the rolled out puff pastry. Make sure you leave a border around the edge. Add your toppings, spreading them out evenly, and sprinkle over the cheese. Starting at one of the narrow ends, roll the pastry up like you would roll up a rug. Place in the fridge for about 15-minutes to firm up the pastry. Then slice up the roll into slices about 2cm thick, placing them flat on a baking tray. Brush each slice with some beaten egg and bake at 200C for 10-15 minutes. Meat free versions will keep for several days in the fridge. Alternatively, you can wrap each one individually with cling film and freeze for use later.
Savoury Muffins
Because who doesn't love a bit of cake? The great thing about these savoury muffins is that they contain hidden vegetables. They can be cooked and frozen in advance so they are ready when you need them.
Ingredients
225g of self-raising flour (you can use self-raising wholemeal flour for an additional fibre boost)
1 teaspoon of baking powder)
125g of grated cheese
175 ml of milk
1 egg, beaten
50ml olive oil
Approximately 200g of grated vegetables, such as carrots, courgettes, butternut squash
Using kitchen paper or a clean muslin, squeeze the grated vegetables to try and get as much juice out as possible. Mix the flour, baking powder, cheese and grated vegetables in a bowl. In a jug, combine the egg and milk together, then pour into the bowl. Stir everything together lightly, but don't over mix it. Divide into lined muffin tins and bake in the oven at 180C for about 15-20 minutes.
Don't be afraid to experiment – you can add ham, chorizo, olives, sweetcorn, bacon – almost anything you have leftover in your fridge.
Frittatas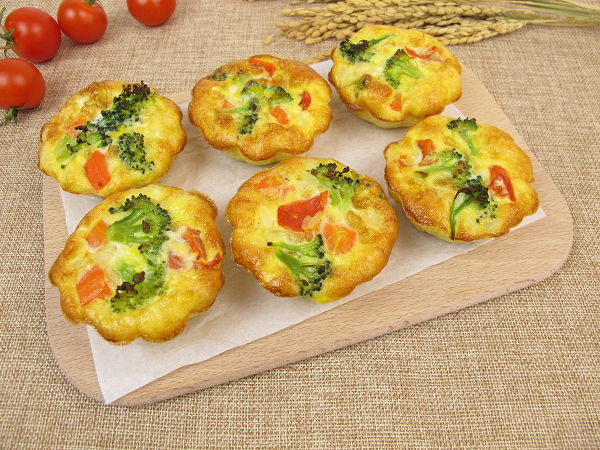 Another one that can be prepared in advance and can make use of your fridge leftovers, Frittatas are a classic Italian favourite. Do bear in mind that they will only keep for a couple of days in the fridge, so whilst this recipe makes 12 mini frittatas, you could halve the quantities for a smaller batch.
Ingredients
8 eggs
100ml of milk
50g of grated cheese
Salt and pepper to taste
Additional ingredients (you decide!)
Lightly whisk the eggs and milk together. Don't over whisk, as you are aiming for a "slightly mixed up" look rather than a fully blended bowl of gloop. Mix in about half the cheese and whatever else you fancy. You could try bacon and tomato, spring onions, spinach and feta, grated vegetables, such as carrots and courgettes, or even a little smoked salmon. Divide the mixture equally in a well-greased muffin tin, and sprinkle the remaining cheese on top. Bake in the oven for about 10-15 minutes at 190C.
Rainbow Fruit Skewers
Packed with vitamins, these are a fun way of getting more fruit into your child's diet. They are great for parties as well as lunch boxes. Do remember to rub the skewers all over before you use them to remove any loose splinters.
Ingredients
Red: Strawberries or raspberries
Orange: Satsuma segments, mango chunks or cantaloupe melon balls
Yellow: Pineapple chucks or slices of banana
Green: Kiwis, green grapes, or chunks of apple
Blue: Blueberries
Violet: Red grapes
Add a slice, chunk, or berry from each colour fruit onto the skewer. If this is something your child will enjoy you can purchase plastic skewers to use again and again.
Tortilla Roll Ups
A Mexican take on the puff pastry pinwheels mentioned above, these use soft flour tortillas to create bite size nibbles that your children will love. This recipe is has a bit of a kick, but you can add or take away ingredients as needed.
Ingredients
1 large flour tortilla
2 teaspoons of soft cream cheese
2 teaspoons of salsa
1 teaspoon of sour cream (you could also use natural yogurt)
Sprinkling of grated cheese
Additional ingredients as desired, such as: cooked chicken, kidney beans (slightly mashed), finely chopped peppers, chopped spring onions, etc
Mix all of the filling ingredients together in a bowl and spread evenly on the tortilla. Roll it up and wrap it in cling film to secure it. Place in the fridge for 30-minutes, then slice into slices approximately 2cm thick. These can then be placed in your child's lunchbox or served.
Roasted Carrot Hummus & Sweet Potato Crisps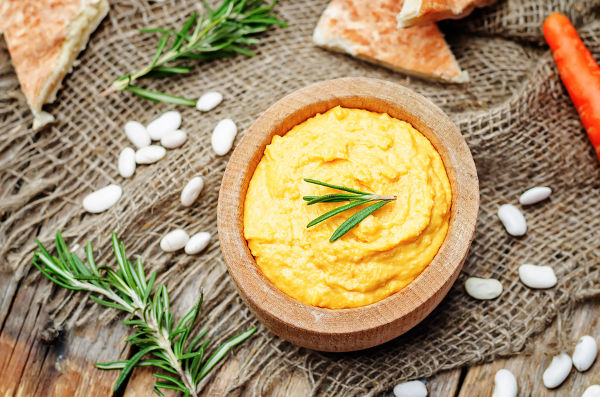 Hummus can be an acquired taste, but this version made with roasted carrots is sweeter, making it more appealing to children. It's a great dip to use alongside sweet potato crisps, or a selection of freshly chopped vegetable sticks, or even some plain rice cakes. You will need a blender for this recipe.
Hummus
Ingredients
4 large carrots, chopped into chunks
2 cloves of garlic, peeled
1 can of chickpeas, drained
2 tablespoons of olive oil
3 tablespoons of tahini (If you can't find tahini you can either add more oil, or substitute with peanut butter, but do be aware of any issues with allergies)
Juice of half a lemon
Salt and pepper to taste
Place the carrots and garlic cloves on a baking tray and drizzle with oil. Roast in the oven at 200C for about 20 minutes. Once cooled, blend together with the remaining ingredients until smooth. You may need to add water if the mixture seems too dry or stiff.
Sweet Potato Crisps
Thinly slice (or use a spiralizer like this one from Kitchen Craft) a sweet potato, and toss in a bowl with a drizzle of olive oil. Place on a baking sheet and roast in the oven for 15-minutes at 200C, or until crispy.
Chicken Curry Kebabs With Raita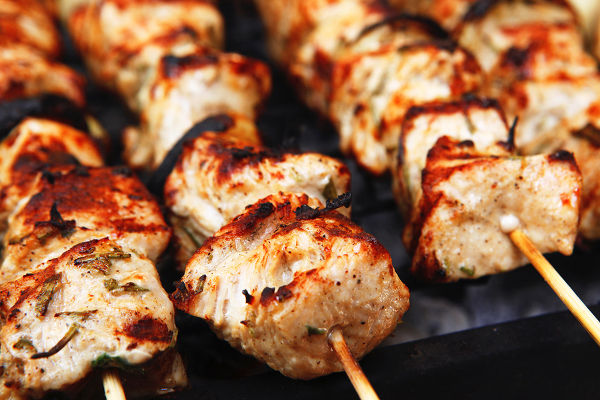 Chicken is great source of protein and these skewers can be cooked a couple of days in advance. If your child isn't keen on spice, choose a mild curry powder to give them flavour without the heat. You will need some wooden skewers, and it's best to soak them in water before you use them and remove any loose splinters. The raita makes a great accompaniment, and you could serve with a pitta bread and some cherry tomatoes for a more filling dish.
Ingredients
1 chicken breast
1 small pot of natural yogurt, plus an additional two tablespoons of natural yogurt
1 teaspoon of curry powder
Grated cucumber (about a 3cm long slice should be enough)
2-3 fresh mint leaves, finely chopped
Mix together the curry powder and two tablespoons of yogurt. Chop the chicken into cubes and in a bowl mix the cubes with the curry powder and yogurt paste. Cover and refrigerate for at least an hour, though overnight will give the best results. Thread the cubes onto a wooden skewer and cook under the grill for about five minutes on each side. Mix the grated cucumber and the chopped mint with the yogurt pot and serve.
Vegetable Samosas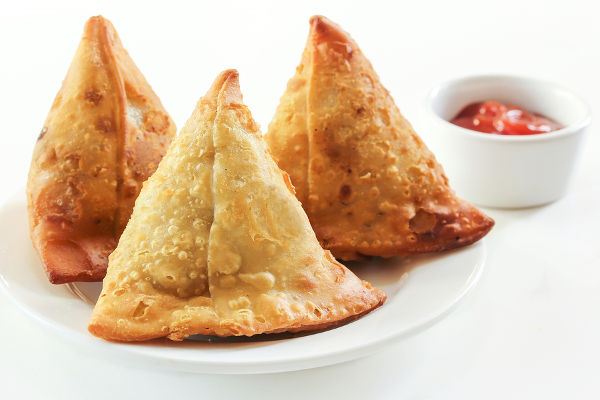 Handy for when on the go, samosas are pretty easy to make thanks to the wonderful invention of ready-rolled filo pastry. You can use whatever vegetables you have available and you could serve them with the chicken kebabs mentioned above.
Ingredients
3 filo pastry sheets, each cut into three long rectangles
1 large potato, diced (you can use a sweet potato if you prefer)
2 teaspoons of curry powder or garam masala, depending on your child's tastes
1 small onion, finely chopped
1 small garlic clove, crushed
About 200g worth of vegetables, such as peas, sweetcorn, diced carrots, finely chopped peppers, spinach, etc
About a desert spoon of butter, melted
Cooking oil
In a pan, gently fry the onion and garlic in a small amount of oil with the curry powder or garam masala. Add in the remaining vegetables and about 200ml of water and allow to simmer for about 15-minutes. Once soft, mash the mixture slightly to create a lumpy texture. This can be used to fill your samosas.
There are a number of techniques for folding samosas but this is one of the easiest (https://www.youtube.com/watch?v=gE9WZzjVGhI) from You Too Can Cook. Brush the pastry with the melted butter and add about a tablespoon of the mixture for each filling. Bake in the oven at 200C until crisp. They will keep for a few days in the fridge and can be served hot or cold.
Date and Cocoa Balls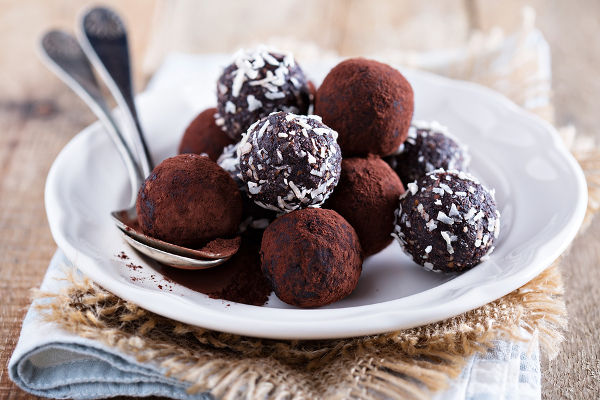 These squidgy little balls are truly scrumptious, and best of all they contained no refined sugar. A chocolate treat for your child without the added Mum guilt. You do need a food processor to make these, and they keep very well for a couple of weeks.
Ingredients
200g of dates, with the stones removed
A small handful of raisins or currents
A tablespoon of sunflower seeds
2 teaspoons of cocoa powder
A teaspoon of honey to help the mixture bind. You could substitute for maple syrup or similar
Soak the dates and raisins in a bowl of warm water for about half an hour. Drain and then place into the food processor with all of the other ingredients. Using the blade, blitz all of the ingredients until smooth. Shape into small balls, slightly larger than a marble. You can then serve them as they are, or roll them into cocoa powder, chocolate sprinkles, or desiccated coconut for that chocolate truffle look. Store in an airtight container in the fridge.