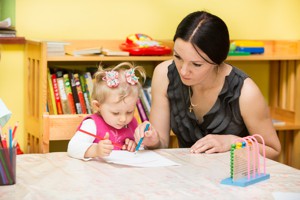 Making sure your child is happy and safe is probably a high priority for you as you look at returning to the working world. That's why a decision about your child's care is not one that can be taken lightly. There are a number of factors that need to be considered, so it's important that you allow plenty of time to examine the options available to you.
In many areas in the UK, there is the additional problem with a shortage in placements; so the earlier you can start looking, the better. To help you make this decision, we have put together some tips for choosing the best childcare placement for your child.
Research The Options
If you are not sure about the difference between Day Nurseries, Nursery Classes, Child-minders, and other options, have a read through our article Childcare: Nurseries, Playgroups, and Child-Minders for an overview on what types of childcare are available. Have a think about the type of placement that will work for you. For example, if you work shifts, you might find the flexibility of a Child-minder or a Nanny to be a priority, or you might want a Day Nursery that is close to your place of work.
Your local council will hold lists of registered childcare providers available through their Family and Children's Information Service. Contact them to discuss your needs and to get contact details for the providers in your area. Be prepared to make lots of phone calls, as you will need to contact providers initially to see if they have places available.
Seek Recommendations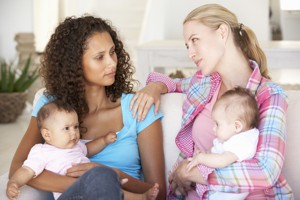 Talk to friends and family with children around the same age in your area about their childcare arrangements to get feedback on the providers that they use. This is a good way to get an alternative view of the placement. When visiting providers, ask if they have any parents who are happy for you to contact them for feedback. Some may be unable to do so due to confidentiality policies, but others may have parents who are happy to be contacted in this way.
Visit More Than One Setting
Arrange with the providers to visit their settings for a tour. Try and visit more than one so you can get a good idea of the type of placements available and how they differ.
Take your child with you on these visits. This way you can see how your child responds to the setting, and how the providers interact with your child. You will be able to see if your child feels particularly uncomfortable or happy to be there.
Make sure that you are able to see all of the areas that your child will be using. Ask yourself if they appear clean and safe for your child.
Think about how your child will fit into this placement. For example, are there lots of opportunities for outside play if your child is a fan of the great outdoors? Or will your child's creative streak be nurtured by the craft activities that are available?
Prepare a list of questions to ask the provider during your visit. Ask about the structure of a typical day or session to get an idea of what the provider will do with your child. Other areas you might want to ask about include how dietary needs for your child will be met, what level of qualifications the staff have, facilities for napping and nappy changes if required, and who will be the key staff working with your child.
Follow your gut feeling. Your visit should help you get a feel for the place, whether good or bad, and if you are not comfortable with something then consider looking elsewhere.
Check Inspection Reports
With the exception of child-minders who only look after children aged 8 and up, and Nannies, all childcare providers are required to register with the national regulator. Ofsted are the regulator in England, Estyn in Wales, and Education Scotland in Scotland. Each childcare provider will undergo regular inspections.
The inspections will report on how the child is kept safe, how the provider meets the child's social and physical needs, and how the provider meets the national curriculum for the relevant age group. These reports are publicly available through the regulators' websites, though it may not be easy to find a particularly report without a reference number. Any decent provider will be happy to provide you with their reference number so you can find the report, or even provide a copy of their latest report for you.
Consider The Practicalities
Think about how this childcare placement will work for you on a day-to-day basis. For example, if the placement is 20-minutes from your home in one direction and your place of work is 20-minutes away from your home in the opposite direction, how will you manage the morning drop offs? Do you need flexibility with hours and would a combination of childcare placements work better for you?
Finally, cost is one of the biggest factors when choosing a childcare placement. Make sure you get a full breakdown of the fees that are charged, including for snacks / food, trips, and when you are on holiday or your child is sick. Take time to calculate your finances, taking into consideration any funding you might be entitled to. See our article Childcare Funding for more information.