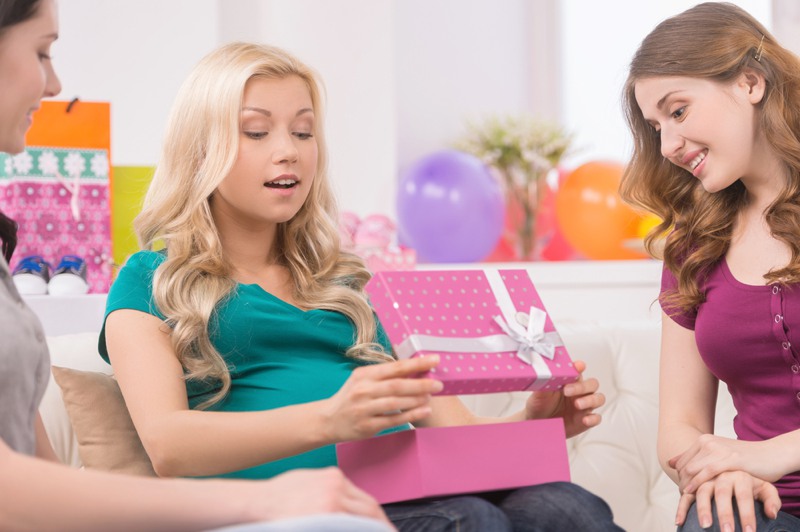 Invited to a baby shower? This USA phenomenon, where a party is thrown for Mums-To-Be to celebrate the forthcoming arrival of their baby is becoming increasingly popular in the UK, and part of the tradition is the act of gift giving. Alternatively, gifts are frequently given in the UK following the arrival of the new baby.
You might already be a parent simply looking for inspiration, or a childless friend / family member in need of guidance about what makes a suitable gift to buy. Either way, this list of 20 gift suggestions will hopefully give you lots of ideas, whether you are looking for something that is practical, or simply cute.
In this guide, we include:
Gifts That Are Useful
If the baby's parents tend to prefer substance over style, then these practical gifts are bound to please:
Shoes / Boots
Babies generally don't need shoes or boots in the first few months, but they are a great way of keeping their feet warm when out and about, especially if the baby is born in the winter. We think these Converse Baby Bootie Socks from Mothercare are adorable, as are John Lewis's Bear Booties.
Once the baby starts crawling, he or she might want something to protect their feet, especially on hard surfaces or outdoors. Leather crawler shoes are increasingly popular with parents; they come in lots of bright and colourful designs and are really soft. Check out the Bobux range at John Lewis.
Sleeping Bags
A must have for many parents these days is the baby sleeping bag. They are popular because babies can't kick them off during the night as they can with blankets. Grobag is probably the best known manufacturer with a range of colours and patterns available. If you live in the UK, choose one that has a tog rating of 2 or 2.5, as these are best suited for our climate. John Lewis has a great range of Grobag sleeping bags here.
If your budget is tight, Kiddicare also have a lovely range of sleeping bags for low prices, like this teddy bear design bag and is snuggly soft.
Nursing Cushion
Nursing cushions are brilliant because they provide support to both Mum and Baby during nursing / feeding sessions, which is especially useful during what is known as "cluster feedings" where the baby wants to nurse constantly due to a growth spurt.
Parents-To-Be might not have considered buying one as they don't automatically spring to mind when it comes to items you need for a baby, which is why they make a great gift. You can choose something plain, like this Fogarty White pillow from Kiddicare or something more colourful, like the Chico Bobby Nursing Pillow, also available at Kiddicare.
Clothing
Every baby needs clothing, and lots of it thanks to frequent spit ups and accidents involving nappies. Clothing is a popular choice for gifts for babies up and down the country, and many parents often find themselves overwhelmed with onesies and sleepsuits. So, why not choose something for when the baby is a little bit older, for example, six months plus.
If you are not sure about the gender, then Mothercare has some lovely unisex sleepsuits such as this set of 3 Giraffe Sleepsuits. Alternatively, we love this Little Joule Baby's Reversible Farm Fleece in John Lewis and this stylish Frugi Baby Snuggle Reversible Fleece, also in John Lewis, both of which are very practical and cute.
Feeding Sets
It might not seem like it now, but it won't be long before that newborn baby is munching down on a bowl of rice pudding or a roast chicken dinner. There are lots of lovely feeding sets that make cute gifts for the new arrival, and they are sure to get a great deal of use. This set from Mothercare might not be decorated with lots of cute pictures, but it is very practical, especially for taking out on day trips, and it's relatively low cost.
Alternatively, this 3 piece Little Rhymes Noah's Ark Melamine Set at John Lewis is adorable and useful for older babies and toddlers. Of course, you could always go for the traditional Peter Rabbit china set from Wedgewood, available at John Lewis though it might be a while before a clumsy toddler is allowed to use it!
Grooming Sets
Very practical, these little sets help parents to care for their baby's hair and nails. This set from Mothercare is ideal if you need to stick to a low budget, whilst the Tommee Tippee Closer to Nature Healthcare and Grooming Kit comes with added extras such as a thermometer and a nasal aspirator, which whilst sounds awful, is actually very very useful when the baby has a cold!
Muslin Squares
Muslin Squares are a Mum's best friend. They are used to mop up spit ups, as a clothing protector during feeds, as a comforter, blanket, and they even can be used as an emergency sun shade!
They come in lots of colours so make a great practical gift. Kiddicare have a great budget pack of six or you could go all out with these Faye and Lou rainbow coloured Muslins from John Lewis.
Room Thermometers
Many new parents find themselves worrying over whether their baby's bedroom is too hot or too cold. A room thermometer can bring peace of mind. This Philips Avent thermometer has the added ability to be used in the bath as well as the bedroom, which makes it a great buy. The Gro Egg Room Thermometer changes colour with the temperature, allowing you to easily see if the room is too hot or too cold.
Gifts That Are Fun For Baby
If you want to spoil the new arrival, then we've got some lovely ideas for you here.
Baby Gyms
Baby Gyms are bright colourful mats with arches over them on which there are attached a number of toys. They provide the baby with stimulation and help encourage their sensory development. Some play music or have light machines as well which helps to keep the baby entertained. We love this one from Fisher-Price available at Kiddicare because it even includes a piano for the baby to kick!
Rattle
Rattles are normally the first toy that a baby will play with, and they make great gifts, particularly if you need to stick to a budget. Some are soft like this knitted bear rattle from John Lewis, others are made from a hard plastic ideal for the baby to gnaw on during teething troubles, like this Sophie The Giraffe Twin Fraisy Rattle available at Kiddicare.
Books
Though the baby might not be able to communicate just yet, reading to them from an early age is important as it has been shown to help with cognitive development. Babies will love looking at the bright pictures, whilst toddlers will be fascinated with the stories, and Mum and Dad will be grateful to have a variety of books to read as it can get tedious reading the same two or three over and over again.
John Lewis has a fabulous collection of children's books, including some great gift sets such as this Rolling Library Bus Box Set, books that can be attached to prams, such as this Peter Rabbit story, as well as modern classics, such as The Gruffalo by Julia Donaldson and Axel Scheffler.
Soft Toys
Soft toys are a staple of a baby's nursery. If you want to choose something that is a little bit different, then the Slumber Bear available at John Lewis is a cute teddy with a sound box hidden inside. The soundbox has a selection of recordings that can be played to the baby to help him or her sleep, including a recording taken from inside a womb, said to be the ultimate soothing noise for newborns. Parents can even record their own message to be played, and it's safe to use from birth.
Gifts For Mum
Don't forget about the new Mum. Whilst the baby is being showered with gifts it can be easy to forget about the woman who has gone through the painful experience of labour. New mums are flooded with hormones that can leave them feeling tired and emotional so something that spoils them as well would be very welcome.
Pampering Products
New Mums will love the opportunity for a little bit of pampering and there's nothing better than a warm bath when you're feeling tired or achy. Check out the Sanctuary Mum To Be Ultimate Retreat Hat Box from Boots or splash out on a Burt's Bees Mama Bee Gift Collection from John Lewis.
Changing Bags
A woman can never have too many handbags, and just because a bag is going to be filled with wipes, nappies, and baby clothes doesn't mean that it can't be stylish.
Our favourite has to be the Pink Lining Yummy Mummy Clover Garden changing bag available at John Lewis, which, whilst certainly pricey, is definitely a must have for any Yummy Mummy. It comes complete with a padded changing mat and a waterproof zip bag for those soiled clothes. If that is out of your budget then this Summer Infant Izabel Tote Baby Changing Bag in Brown and Cream from Boots is a cute alternative.
Jewellery
Looking for something a little bit special for a new mother? Fingerprint Jewellery create custom made silver jewellery using imprints of a little ones finger, hand, or foot. After you place an order you will be sent an impression kit. Take an impression from the baby and send it off, and they use that to create a personal and very special piece of jewellery. We particularly like the Handprint Charm Necklace, available at John Lewis.
Gifts To Treasure
The arrival of a new baby is a momentous occasion, one to be cherished. Celebrate with one of these extra special keepsake gifts.
Keepsake Boxes
Baby's first curls, the hospital wristband, and later the first tooth taken by the tooth fairy, these are all items that some parents like to keep hold of as a special memento. A keepsake box gives them a special place in which to do so. This Mothercare Tooth and Curl Set is a cute way of preserving those special curls and teeth, and we love this John Lewis Silver Plated Photo Frame Keepsake Box.
Personalised Gifts
Make your gift unique by having it personalised. Mothercare do a great range of gifts that can be personalised with the new family's details. The full list is available here and includes baby-grows, photo albums, teddies and money boxes, though we particularly like this Personalised Blue Animal Name Frame.
Picture Frames
Personalised Daddy and Me Wooden Photo Frame
Parents love taking pictures of their newborns, and a picture frame makes a great gift. Celebrate the new Dad with this Personalised Daddy and Me Wooden Photo Frame from Mothercare, which makes a great low-cost gift. Baby's first year can be recorded in the John Lewis Baby's First Frame with a picture slot for every month.
Hand and Footprint Set
Capture an image or imprint of a newborn's hands and feet with these great gift sets. Parents can use them to look back and be amazed at how small their strapping toddler once was. Boots sell this Juliana Home Living Baby Photo Frame with Hand Print, which is 4×6, that includes a space for a photo, whilst Mothercare have a set that uses paint on canvas.
Gifts That Have It All
Hampers
Still not sure what to buy but have some money to spare? Check out the baby hampers available at John Lewis. This large hamper in cream (also available in blue and pink) has a teddy, a picture frame, boots, hat and mittens, a feeding set and a money box. It's a lovely gift that will certainly be well-received.