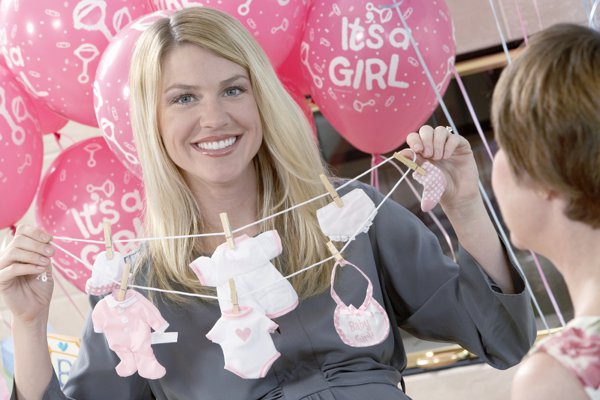 A baby shower is a relatively new occurrence in the UK and one that is only just now becoming more and more popular. What better way to honour the best friend who is having her first baby than by throwing her a party in celebration and showering her with gifts to help set up her baby's nursery? Whilst you may see couples baby showers involving both men and women, traditionally, a baby shower is for the mum-to-be, her girlfriends, and female relatives. It tends to be a 'no boys allowed' type party. Sorry, fellas.
We've written up a comprehensive guide to throwing a baby shower, covering everything from sending out the invitations, food, games, prizes, and favours. We also provide a rough baby shower timeline to help you plan out your day and make it as special as possible for the mum-to-be to highlight the momentous life-changing occasion that is soon to occur!
Set a Date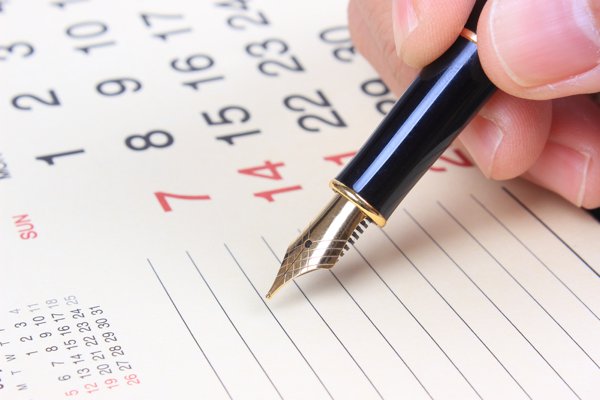 The first thing to do when planning a baby shower is to set a date. You'll want to arrange the date with the mother-to-be and have her check with all of her VIP guests (her mum, gran, mother-in-law) to make sure it's suitable for them too. It's important to try to find a date for all of the most important guests, especially if it's the first baby, as it's a big deal for the whole family.
The date can be any time during the mum-to-be's pregnancy. It usually happens a bit later around the 7 or 8-month mark. You don't want to leave it too late though in case the baby decides to make an early appearance.
Pick a Venue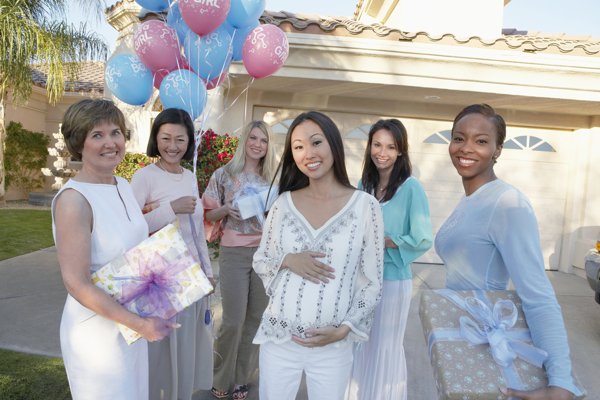 Do you have a flat or house big enough to accommodate a large party of people? Or, maybe a wealthy aunt will let you host it at her villa? Be wary to hold the shower at the mum-to-be's house, as a baby shower can be a long day and we don't want her worrying about cleaning up afterwards or having to wait around for people to leave if she's knackered.
Timing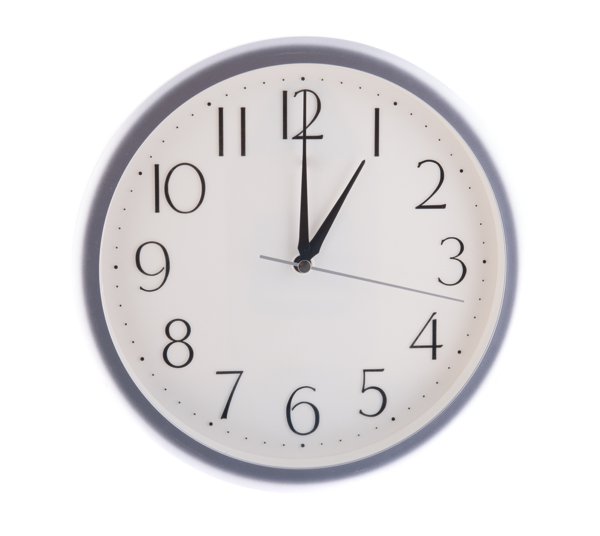 Baby showers typically happen in the early afternoon, but there is no baby shower law dictating the timing. A baby shower breakfast in the late morning might be an idea, but you'll want to keep the mum-to-be in mind, as she might typically feel sick in the morning or too tired late at night. 4-5 hours tends to be the perfect amount of time – a long afternoon from 1-5pm on a Saturday or Sunday tends to be an appropriate time to hold a baby shower.
Guests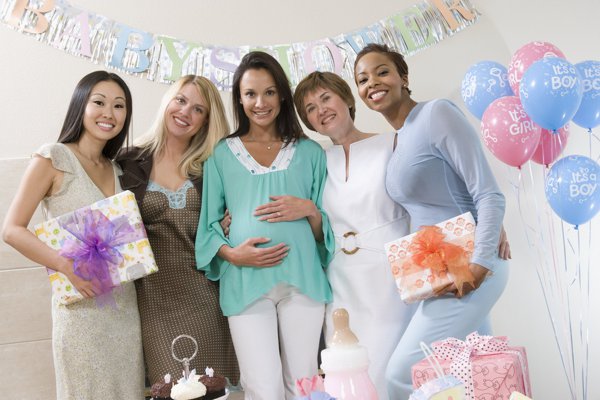 It's best protocol to ask the mum-to-be to provide you with a list of guests that she wants at her shower. If you're holding the event at your house and can only accommodate 15, it might be worth mentioning the logistics of this to her, so she doesn't invite 30+ people. Remember though, not everyone will typically come and some may even cancel on you at the last minute, so if you want 15 to come, inviting 20 is probably safe.
Set up an Excel sheet for the mum-to-be to have her to fill in, including: Name, Address, Email, and Telephone. It might also be a good idea to ask her to make some notes on how she knows the people (eg: work colleague, mum), just so you can keep tabs on the guests arriving, especially the most important ones. Give her plenty of time to do this – a couple of weeks before you want to send out the invitations would be ideal. We want to make this as stress-free as possible for the mum – she has enough to worry about!
Baby Shower Gift List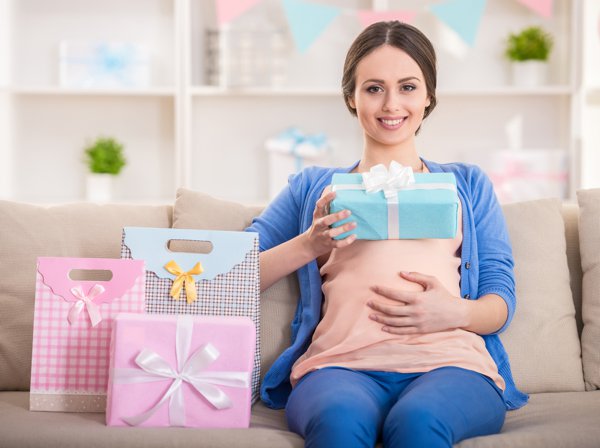 A baby shower is just as it sounds – the showering of gifts for the mum-and-dad-to-be to help them set up their nursery. In the birthplace of baby-showers – America – no one feels guilty, upset, or awkward about this, so just get over it now. It is completely normal to want to give your friends useful presents for their newborn baby and for the parents-to-be to graciously receive them. Everyone loves cutesy outfits, but we must think practically, as new parents need more than just frills and bowties to raise their baby. Let's help them do this!
That's where a gift list comes in. Encourage the parents-to-be to create a gift list of essential items they might need for their baby. Think wedding gift list only for babies. Places like John Lewis, for example, even have a team of people dedicated to helping you figure out what you might need to include on this. If you make an appointment with them, they'll take you around the nursery section, make suggestions, give you a scanner to tag things you'd like to include, and usually give you a voucher for free tea and a scone for when you're done. This is a great opportunity for both the new mother and father to spend some quality time together and it's great fun!
If the mum-to-be does want a gift list, you need to ask her to set this up before you send out your invitations. She can always add more to it as she finds things, but you'll need the gift list number to include on the invitation. Again, give her plenty of time to do this – a month or more before the invitations go out is ideal.
If guests don't like the thought of a gift list, then chances are they will bring what they want to anyway or nothing at all, but it's a great tool for many guests who maybe know nothing about babies and don't know what to buy.
Other great gift list options and places to get ideas of what you need include: Mothercare, Kiddicare, and Boots.
Nappy Raffle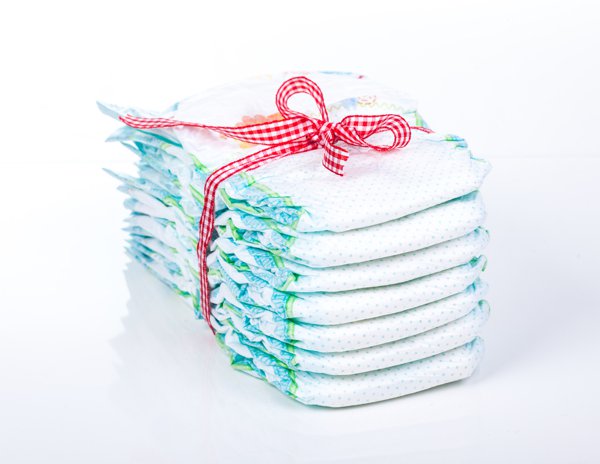 In America, it's common to put a 'diaper raffle' ticket in with the invitation (or 'nappy', as we say here in the UK). This is an opportunity for the new mum to stock up on some nappies for the new baby. The ticket usually indicates something along the lines of: Bring a pack of nappies of any size and your name is entered to win a prize with space to write their name, of course. If you're super creative, you can make these yourself or you can just order them easily on Etsy.
If the guest brings a pack of nappies, have them put the ticket in a jar and at the end of the shower before everyone leaves, have the mum-to-be draw the winning ticket, and give a small prize to that winner (we discuss prizes later in this article). This is something that's a bit of fun for everyone, as we all like a good raffle, the mum-to-be gets a load of nappies for the new baby, a happy guest wins a prize, and the cheapskates who don't want to play just won't bring any nappies. Everybody wins!
Tip: Be sure to have some extra raffle tickets available in case the guests bringing nappies do not remember or have lost their raffle ticket.
Theme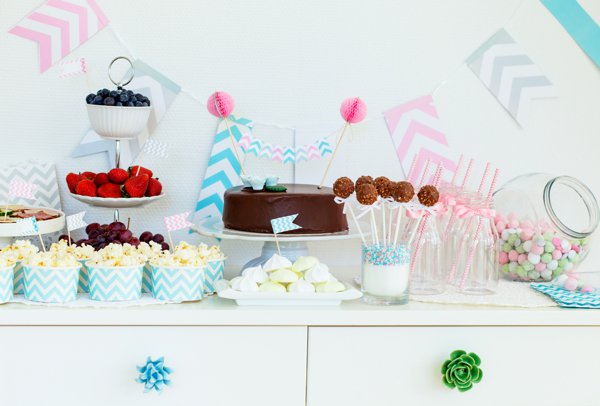 Before thinking about the invitation, it's a good idea to have a theme in mind. Is the new mum having a boy or girl? Is it a surprise? Does she love a certain colour or animal? There are a lot of things to think about here! A great place to start and get some cute ideas is on Pinterest.
Invitations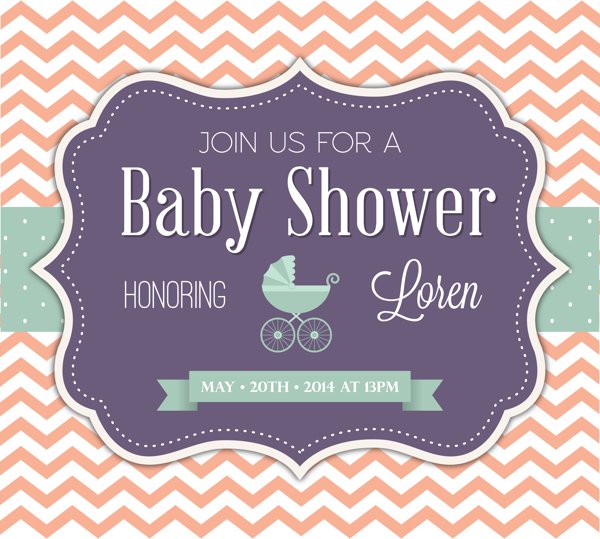 Once you have a theme in mind, check out Etsy for personalised invitations or try making them yourself. It's not a wedding, so chances are you have a fairly reasonable amount of people coming, so making them would not be difficult and everyone will love the personal touch you've added.
In this modern day of technology and computers, an invitation by post is a most welcome piece of paper to receive. The problem with this, however, is that people look at it, put it down, and forget to RSVP. This is why it's good to have the mum-to-be also give you phone numbers and email addresses, so that you can chase up the guests that you have not heard from. Expect this to happen and you will not feel so annoyed when it does.
Essential Information to Include on the Invite:
The fact that it's a baby shower
The name of the mum-to-be you are honouring
The time / date / place
An RSVP reply-by date
The name, email, and phone number of the host (you!)
Any baby gift list details
Some Extras to Think About Including with the Invite:
Nappy raffle ticket
Useful information document, which details food (Should guests eat before they come? Are you serving food?), directions to the event, parking in the area, and maybe even some further information about how they can find the gift list online for those that aren't so technologically savvy
Do you plan on playing any games that require the guests to bring something extra (eg: A picture of themselves as a baby)? Best to mention this now
Are you catering? You might want to ask your guests to let you know if they have any dietary requirements
Another option altogether is Paperless Post invites or something along those same lines where the invitation is simply emailed and guests can reply with the click of a button. You'll still get people forgetting to RSVP though and maybe the mum-to-be's gran doesn't have a computer. It's not as nice, but it's probably the easier option.
Decorations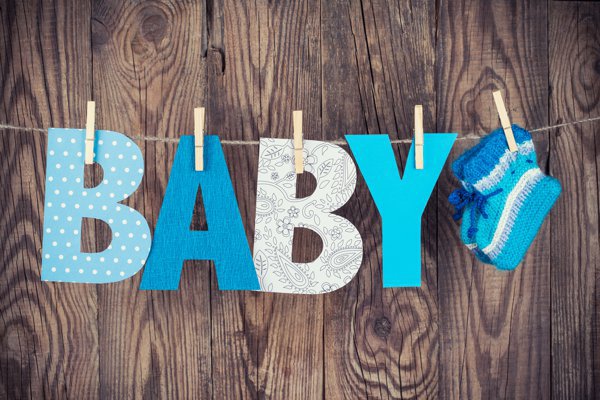 Decorations are an important part of the shower and should go along with the theme that you've already chosen. Whether it's brightly coloured balloons and tablecloths or fresh flowers in jam jars with floral bunting, a few decorations here and there can really give your baby shower that extra polish. Check out Pinterest for some great ideas.
Food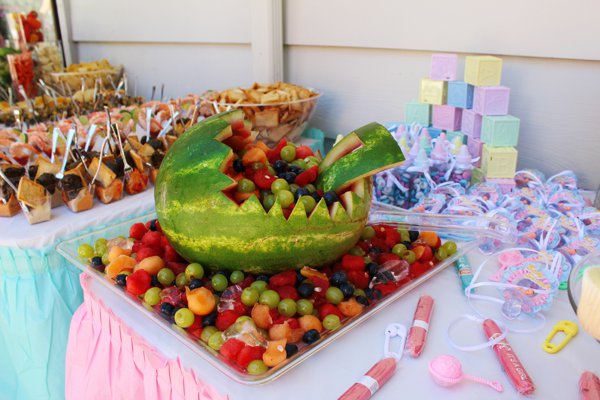 Food is generally an important part of a baby shower, but is not the focal point, so don't stress about it too much. If you are having an afternoon shower from, say, 1-5pm, it's probably a good idea to have some food, as it's generally lunchtime for most people. Finger foods, such as mini sandwiches, sausage rolls, cheese and onion muffins, cold salads, vegetables with hummus, cheese, crackers, and cold meats are easy to put out, but will also satiate your guests' hunger. And, they can start eating whenever they arrive rather than having to wait for Auntie Nora who is always an hour late to everything. It's also great if you don't know the dietary requirements of your guests or whether or not they are vegetarian.
Another option is having a sit-down afternoon tea or having food catered from the mum-to-be's favourite restaurant. If you don't have space though, a buffet-style spread is ideal, as people can stand around and eat.
Cake
It is traditional to have a cake for a baby shower in America. That's not to say you have to have one at your party, but it's definitely a nice centerpiece for the food table and it shows you went the extra mile for your best friend's first baby. Make sure to have your theme chosen before you order this.
Where to Get a Cake
Have a think about the guests coming. Does the mum-to-be's auntie run a cake shop or does one of her close friends have a baking blog? Maybe it would be nice to ask them if they'd like to make a cake for the occasion. This takes some of the pressure off of you, gives the aunt/friend a chance to show off their skills and feel useful, and the mum-to-be will feel uber-loved, as more people are involved making her special day feel just that more awesome. Don't just assume they'll do it though and make sure to ask politely, letting them know they should not at all feel obligated. Choose your words carefully to avoid any unnecessary drama.
Another option is ordering a cake from a local bakery. This can get expensive, yes, but having a cute, professional cake will look great on that table and you'll get a lot of compliments. It doesn't need to be massive, especially if you have a ton of other food. Chances are even if you get a smaller one, there will still be some leftover for the mum-to-be to take home with her.
Cupcakes on a three-tiered stand is also a cute, mess-free option.
Drinks
One of the most rookie errors of hosting a baby shower is not providing any booze. The mum-to-be can't drink, true, but the rest of us can, so why does everyone else have to suffer? She gets a ton of presents, so she's fine – don't worry about her. Okay, maybe having a keg of beer would be slightly inappropriate, but a nice boozy punch or jug of summer-berry Pims will keep your guests more than merry and they will also be more willing to play the awkward games you have in store for them. Pink bubbles or mimosas on arrival are also a nice touch. And, make sure to have plenty of non-alcoholic drinks for the mum-to-be and non-drinkers too. Fizzy water, pink lemonade, and a selection of juices are always a good shout.
Candy Buffet
Everyone loves a bit of pick-n-mix, so why not fill some cute plastic jars with candy for your guests? This is a nice thing for people to pick at if they're feeling peckish during the day for something sweet and also for them to take home with them. You can easily buy cheap plastic candy jars, serving spoons, and striped candy bags online, along with candy in bulk. Your husband cannot object to this extra cost if he also gets to reap the sweet sweet benefits.
Baby Shower Games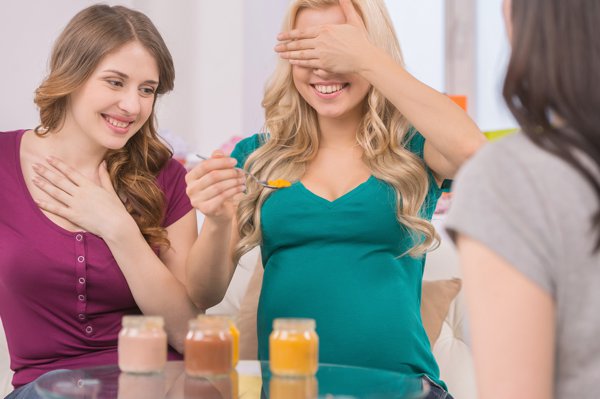 A baby shower is not complete without games, winners, and prizes. A good combination of sitting-down games and running-around games will keep your guests occupied and amused. 4-5 games should be sufficient, but don't feel you need to get through all of them if there just isn't enough time. Here are some suggested games:
Outdoor Game Ideas
Every baby shower needs one or two energetic games. Ideally, these can be played outside for a change in scenery, but they can also be played indoors should it rain that day or maybe you don't have a garden. Here are some of our ideas:
Piñata
A piñata is an excellent game to play outside on a beautiful grass lawn. Buy a baby-themed piñata (maybe a stroller rather than an actual baby) and fill it with sweets. Let the mum-to-be have the first few swings. Yes, this is typically for a children's birthday party, but as it's a baby shower, you can get away with it. For added amusement, consider adding miniature bottles of alcohol in the piñata.
Nappy Relay
My husband and I came up with this game over a few beers at the pub. And, boy, was it was a real crowd pleaser. We actually played it indoors, as it was raining that day, but ideally, I would have liked to play it outside.
The Premise: You and Baby had a rough night and you wake up late one morning to find you're running late for a very important meeting at work. Before you go out, you must feed the baby, change his or her nappy, and take the rubbish out in the fastest time possible in order to get to your meeting and keep your job.
You Will Need: Mini baby bottles and nappies (for half the number of your guests), two blind-folds/tea towels, a stopwatch (or use your smart phone), two teddy bears, a small basketball hoop, and a bin (all of this can be ordered online cheaply).
Setting Up: Fill the mini bottles with apple juice (or whatever you want) and put a nappy on each of the teddy bears. Divide the bottles and nappies into two sets and put them on a table next to each teddy bear. Have two blindfolds and your stopwatch at the ready.
The Game: Make your guests pair up into teams of two; Two teams will compete at any one time. Person A on each team will sit blindfolded in a chair at the table with the bottles, nappies, and teddies, whilst Person B stands next to them. For the first task, Person B must feed Person A the entire contents of the baby bottle. Yes, they must suck it through the teat. After this is completely empty, Person A (still blind-folded) must change the nappy on the teddy on the table in front of them as quickly as possible.
Only once this nappy has been successfully changed can Person B take the 'dirty' nappy and throw it in the bin via a basketball hoop. Have lines marked out on your floor and make your guests start from the furthest line. If they miss from that line, let them move forward one line, until they get it through the hoop and into the bin. Make sure you start your timer at the start of the relay and record the fastest times of the winning teams, repeating until all teams have played. Keep a record of these times.
The Winning Team: The team with the overall fastest time will win a prize. You'll want to have two prizes for this one.
Indoor Game Ideas
As baby showers centre around a highly pregnant woman, older grans and aunties, and often small babies too, the majority of your games should probably be a little less crazy and involve some amount of sitting and cups of tea. Here are some of the tamer games you can play:
Guess the Baby Picture
This game is classically played at most baby showers. The game involves having each of the guests bring a picture of themselves as babies to the shower. Pin the picture to a board once they arrive, giving each picture a number. Make sure to keep track of who is who. Then, give your guests some pen and paper and make them guess who each baby is. The person with the highest number correct wins the prize! This is also a great ice-breaker for people who do not necessarily know each other at the shower, as it forces them to go round and ask peoples' names.
Baby Art
Cut out pieces of facial features from pictures of the mum and dad-to-be. Lay these out on a table with a blank outline of a baby's face and some glue sticks. Have your guests glue the features together to guess what he or she will look like and write their name on the back. (Some of these will be really creepy, mostly because babies do not have a full-set of teeth!) Have the mum-to-be choose her favourite and give that winner a small prize.
Personalised Baby Quiz
Honour the mum and dad-to-be by making a quiz about them, asking your guests to guess facts about them from when they were babies. This one requires a bit of forethought, as you'll need to contact the mum and dad-to-be's mothers for the answers. Questions could include: how much they weighed at birth, their height, time of birth, first words, first solid food, age of first smile, age of first crawl, age of first steps, age toilet trained, and age slept through the night. It's best to include the units of measurement, so that everyone is thinking along the same lines.
Have the grans-to-be say their own answers, giving them a cheat-sheet of the responses they emailed you prior to the baby shower. This just helps to jog their memory in case they had to look anything up. And, make sure to keep the game moving, as there will be a lot of extra information/stories added. The person with the highest score will win a prize. Consider giving a prize to the gran-to-bes, as well, for making the game possible.
Nursery Rhyme Quiz
You can either make this yourself or order one on Etsy. Have your guests answer questions about nursery rhymes with questions, such as What did Peter Pipe pick? or Why did Polly put the kettle on? Have people shout out the answers rather than just reading them out once everyone has finished the quiz. The person with the highest score will win the prize. Consider giving a book of nursery rhymes to the mum-to-be at the end.
Prizes for Games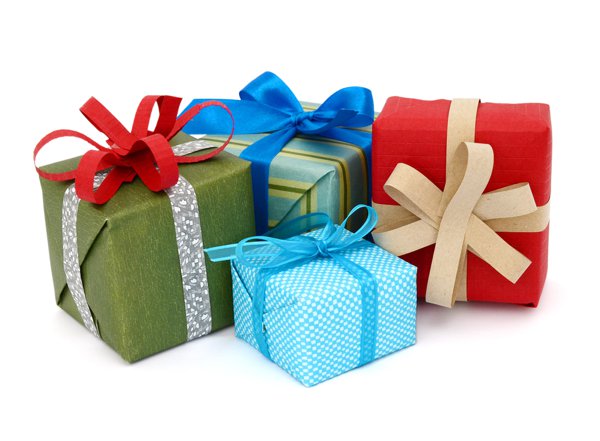 One of the reasons Americans don't feel awkward about showering a new mum with gifts is because they know at a baby shower there will be games where they can win prizes. Having prizes with your games adds that extra bit of competitiveness too, which will make your guests try just a bit harder.
Whilst the mum-to-be should be allowed to play the games, don't let her win too many times. We want the other guests to win the prizes, as she'll be showered with gifts soon enough.
What Should the Prizes Be?
Be creative, but don't go overboard. Are you playing the Baby Art game? The person who wins this is probably creative and artistic, so maybe a craft of some sort is just the ticket, such as a blank birdhouse and some paints. For the Nappy Relay game, consider giving the winning team some cute, quirky kitchen timers.
Here are some other prize ideas:
Starbucks mug with coffee grounds or a gift card
Bubble bath set
Cute plant pot with flower seeds
Vintage teacup
Selection of teas
Mini bottle of Prosecco
Nail polish that says 'You Nailed It'
Cookie mix in a jar with baking directions
Picture frame
Chocolates
The options here are endless, but you don't need to break the bank to make your guests feel special. And, be sure to wrap them up, as part of the fun is seeing your guests uncover what they have won!
Tip: It's a good idea to have a few extra prizes in case there are ties (or you can simply prepare some tie-breaking questions/tasks in the event that this happens).
Present Time
A good way to wind down the shower is to end with the mum-to-be opening up the presents that people brought her. Keep a list of all the things she receives and give this to her at the end of the shower. This makes it easy for her to remember who gave her what, so that she can send thank you notes if she wants to. You'll want to allow an hour or more for this, as it can be a slow process with all the 'awww-ing' and 'ooo-ing'.
Favours
At last the shower has wrapped up and you want to get everyone out of your house so you can kick your feet up and watch some mindless television with a well-deserved beer. There's no better way to give people that hint than to thank them for coming and to say, "Please don't forget to take a favour before you leave".
A baby shower favour should be a small memento that guests can take home with them to remember their friend's special day. Whatever the gift, a favour is an excellent way to finish a baby shower. Consider including the mum-to-be's name and date of the shower to add that extra personalised touch.
Here are some favour ideas:
Small box of macaroons
Bag of popcorn that says 'Ready to Pop'
Pedicure jar filled with cotton balls, a mini nail file, toe separators and some nail polish
Plastic baby bottles filled with sweets
Baby cake pops
Personalised lip gloss
Salt & pepper shakers
Small pot of fresh herbs
Bag of sweets
Personalised pram sugar cookie
Suggested Baby Shower Timeline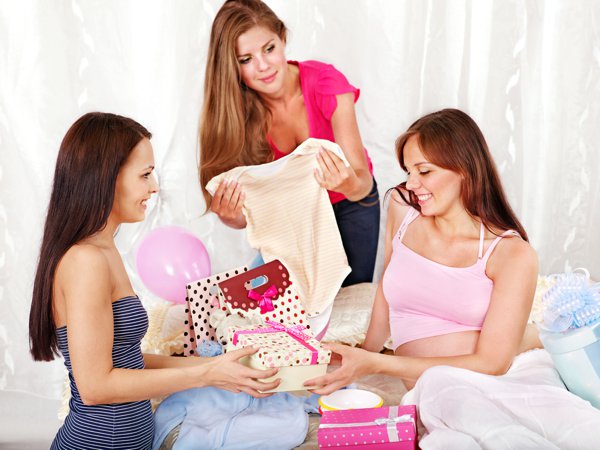 A baby shower is especially fun when it keeps moving and there are no awkward lags throughout the day. It's a good idea to have a vague timeline in place to get all your planned games in and keep your guests occupied.
Here is our suggested baby shower timeline:
1-2pm – Lunch Buffet & Table Games: This allows people to arrive late, mix, mingle, and eat for a while before the organised fun begins. You can also have a game or two going on in the background, such as the Baby Art or the Guess the Baby Picture game. Let your guests know that they must complete these by 2pm, as this is when you will announce the winners.
2-3pm – Outdoor Games: Your guests will now be ready for a fun, energetic game. Let's get them going! Get them outside if you can to play something a bit more rambunctious, such as the Nappy Relay or have a Piñata.
3-4pm – Cake & Indoor Games: Cut and distribute the cake. Make sure to get lots of photos with the mum-to-be with her cake. Afterwards, put the kettle on and have everyone go into the lounge to play some quieter games, whilst enjoying their dessert. This is a great time to introduce your candy buffet, play the Nursery Rhyme Quiz, the Personalised Baby Quiz, and lastly, announce the Nappy Raffle winner.
4-5pm – Present Time: Now that everyone is sitting and you have their attention, have the mum-to-be open her presents.
5pm – Give Out Favours: Thanks for coming; here's a small gift; don't let the door hit you on the way out.
6pm Onwards – Retire to Your Couch with a Cold Beer: You deserve it!