"But Mummy, you can't do science, because you're a girl!" These words, uttered by my son, cut deeply. As an A Level sociology student I remember being the only person in the class who proudly raised their hand when the tutor asked, "Who here considers themselves to be a feminist?" 18 year old me was determined to show the world that women could do anything. Now, 20 years on, and I've adopted a very "traditional" female role. My husband the scientist goes out to work every day, and I stay at home (admittedly working as a free-lancer) doing the cooking, cleaning, and childcare. It works for us and, in many ways, it was my choice, but I can't help feeling that I've let my children down by not providing a strong female role model.
The arrival of my daughter after my son has opened my eyes to how differently boys and girls are treated. My son's clothes as a toddler, largely sourced from my local Asda were full of slogans, such as "Mini Superhero" and pictures of dinosaurs and rockets. For my daughter, the same store stocks whimsical outfits with bunnies and flowers. And pink. So much pink. It's frustrating when your daughter is going through a dinosaur phase. I can find items online that are less gendered, but they are typically more expensive. It seems that clothing to empower young girls is largely the preserve of the wealthier classes.
So, keen to redress the balance, and provide my children with positive female role models, I turned to books. Traditional fairy-tales often saw helpless princesses trapped in castles and awaiting rescue from the heroic male. Thankfully, children's literature has moved a long way since then, and there is a good choice of books that feature inspirational girls as the lead character. These are some of the favourites, not only of mine, but of my science loving son and my dinosaur-clothing (rebelliously bought from the boys section) clad daughter.
1. Izzy Gizmo, by Pip Jones (Author) & Sara Ogilvie (Illustrator)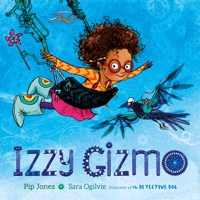 Izzy Gizmo is a feisty girl who loves to invent. Using items she harvests from appliances she finds around the home she creates wonderful contraptions, such as Swirly-Spagsonic (for eating spaghetti) and a "Tea-Mendous" for making tea. Unfortunately, they often break down, which makes Izzy mad. Then she meets a crow with a broken wing and together they work on her most ambitious invention yet – a machine that can help the bird fly. She encounters lots of problems along the way, and often gets angry and gives up. However, encouraged by her Grandfather and the crow, Izzy learns patience and the importance of perseverance, eventually seeing the crow soar once more.
Why We Like It: It's a classic tale of "if at first you don't succeed, try, try, try again" but with a strong female character as the lead, and told through a delightful rhyme with bright and bold illustrations.
Where to Buy It: Amazon / Also Available for Kindle
2. Zog and the Flying Doctors, by Julia Donaldson (Author), & Axel Scheffler (Illustrator)
There's no stopping the formidable children's literature duo, Donaldson and Scheffler, and we're big fans in this house, owning all of their published books so far. However, this book, which is the second book featuring the dragon, Zog, struck a particular chord because of the message it has about girls – in particular – princesses. We first meet Princess Pearl in the first Zog book, where she helps Zog with various ailments before agreeing to be "captured" by him as part of his dragon school training. A knight, Sir Gadabout, attempts to rescue her, but she persuades him to join her and the pair become doctors instead, with Zog as their flying ambulance. In the second tale, Pearl finds herself trapped by her Uncle, who believes princesses should not be doctors. That is, until he falls ill and Pearl is the only doctor who can find the correct cure.
Why We Like It: The book's central message is that Princesses can be doctors, banishing any ideas that girls should only have aspirations to look pretty and be looked after by a prince. Donaldson's excellent use of rhyme and rhythm is ever present, and Schleffler's fun characters add to the magic.
Where to Buy It: Amazon
3. The Most Magnificent Thing, by Ashley Spires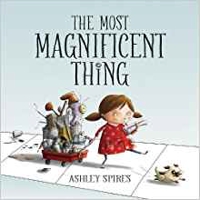 The Most Magnificent Thing by Canadian children's author and illustrator Ashley Spires is a wonderful story on many different levels. It tells the tale of a girl who is unnamed, perhaps allowing other little girls to better imagine themselves as the central character, and her canine assistant who work together to create a Magnificent Thing. The nature of the "thing" is not revealed until the very end of the tale, but along the way, the girl struggles to get it right. She tries and fails many times, eventually getting incredibly cross from frustration. She takes a walk, calms down, and is able to see things from a new perspective leading to her creating the "Magnificent Thing."
Why We Like It: The central character is described as "a regular girl" and yet she is seen to be doing things not traditionally associated with girls. She "tinkers and hammers and measures." The book teaches children about trial and error, showing how sometimes you need to make many attempts to achieve your goal. It also teaches the importance of taking time out to calm down and reflect. The girl only creates the "Magnificent Thing" after she has taken a walk and looked back at her past creations to see what worked and what didn't.
Where to Buy It: Amazon
4. Violet the Pilot, by Steve Breen
Two time Pulitzer prize winning cartoonist, Steve Breen, has created this delightful tale of a girl named Violet who is unlike any of her peers. Whilst others her age spend their days playing sports, Violet, who could fix appliances by age two, spends her days creating wondrous flying machines. She is teased terribly by her peers, but refuses to conform and instead focuses on building an airplane for an air show. On the day of the show, she sadly misses it, delayed by her rescue of a group of scouts stranded in a river. Her valiant efforts are recognised by the whole town and she is hailed a hero.
Why We Like It: Violet is a fantastic role model for children who are perhaps considered "a little bit different." Whilst Violet is clearly troubled by the teasing (seeing the air show as a possible means to get people to like her), she doesn't let it stop her from doing the things that she enjoys. This book not only demonstrates that girls can do engineer type roles, but that girls can also be heroes. The subtle comedy from Breen's illustrations make this an enjoyable read for adults and children alike.
Where to Buy It: Amazon
5. The Paper Bag Princess, by Robert Munsch (Author) and Michael Martchenko (Illustrator)
First published in 1980, The Paper Bag Princess has become a modern classic children's tale, turning traditional fairy tales upside down. The book tells the story of Princess Elizabeth, who leads a contented life as a princess in a castle and who is set to marry Prince Ronald, a perfect prince. However, one day a dragon comes and burns the castle and everything in it, including Elizabeth's clothes. The dragon kidnaps Ronald, and Elizabeth sets off to rescue him wearing the only thing she could find – a paper bag. Elizabeth uses her intelligence to trick the dragon into wearing himself out by showing off his dragon skills, leading him to fall into a deep sleep. She finds Ronald, but he rejects her, telling her she looks terrible and to come back when she looks like a princess. Elizabeth realises that Ronald is worthless and rejects him instead.
Why We Like It: The book reverses traditional fairy tale roles and shows us that it's not always the girls who need rescuing. However, that's not its only lesson. The book also shows us how important wisdom is, and how dangerous a large ego can be. Finally, beauty is revealed to be skin deep, as Elizabeth in her paper bag and frazzled hair is shown to have great strength and character, whilst Ronald with all his princely finery, is, in final words of Elizabeth, a "bum" (with later versions changing this insult to "toad").
Where to Buy It: Amazon / Also Available for Kindle
6. Intersteller Cinderella by Deborah Wood (Author) & Meg Hunt (Illustrator)
This book will particularly appeal to children who love all things space related. It is a contemporary re-telling of the classic Cinderella story set in space. Cinderella, who lives on a planetoid, dreams "of fixing fancy rockets." Her step-family are invited to a Royal Space parade and forbid Cinderella to attend, but thanks to the help of her Fairy-godrobot, she makes it to the parade. There she manages to fix the prince's broken rocket, but leaves behind her socket wrench. The prince uses the wrench to track her down and proposes marriage, but Cinderella declines, instead offering to be his chief mechanic.
Why We Like It: We're a bit space mad in this house, so this book was always going to appeal in a small way, but the snappy rhymes and bold illustrations makes it a big hit. Cinderella is another strong female character bucking tradition. She spends her evenings secretly studying ship repair and chooses a life as a mechanic rather than as a prince's bride.
Where to Buy It: Amazon / Also Available for Kindle
7. Ada Twist, Scientist, by Andrea Beaty (Author) & David Roberts (Illustrator)
A New York Times bestseller, Ada Twist, Scientist is a wacky tale of a girl who didn't talk until she was three-years-old, but when she did eventually start talking the questions didn't stop. Parents of chatterboxes will definitely relate to this tale of a "curious child" who "wanted to know what the world was about." The central character, Ada Marie, is named after two iconic female scientists, Marie Curie and Ada Lovelace, and she has "all the traits of a great scientist." Ada goes on a fact-finding mission to discover the source of a smell, eventually driving her parents mad with her messy experiments and endless questions. At the end, her parents recognise her passion for science, and decide to support her in her quest.
Why We Like It: Andrea Beaty's fast paced rhyme perfectly portrays a curious child's relentless pursuit of answers, whilst David Robert's detailed illustrations provide a comedic element to the tale. The book teaches children the basics of how science works, with Ada creating a hypothesis before testing it out, and encourages children to question the world around them. It also has a lesson for parents. We've all been Ada's parents at some point, driven to distraction over our children's repeated "why" questions, and the book reminds us of the importance of supporting our children when they find something that drives their passion.
Where to Buy It: Amazon / Also Available for Kindle