The summer holidays are in full swing and there is still oodles of time to fill. Holidays, theme parks, and trips to the zoo are brilliant, of course, but they also cost a small fortune. If you're running out of low cost ideas to keep the kids occupied then here are some fun things you can do that won't require you to take out a second mortgage.
1. Look For A Book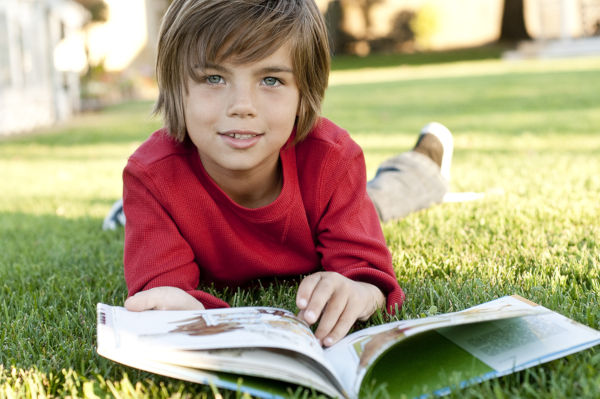 Earlier this year, Cambridgeshire resident, Dave Judge, came up with a genius idea of an alternative treasure hunt. He hid books around his local town and set up a Facebook group encouraging others to do the same, with an invitation to post pictures of any books they had found. The idea was a big hit and since then several other groups have been created across the country.
The idea is simple. You take a children's book, either one your child is no longer interested in, or one you have purchased from a charity shop, and you hide it in a ziplock bag for a child to find, in a park or on a bench etc. The book is accompanied by a note that asks the child to read the book and then re-hide for another child to find, with a link to the local Facebook group page.
The aim is to get children reading a wider variety of books, and to get them outside. You can search on Facebook for local Look For A Book groups in your area, and if there isn't one, then why not try setting up your own group? You and your children can then spend the summer hunting and hiding books and helping other children to do the same.
2. Sign Up For The Summer Reading Challenge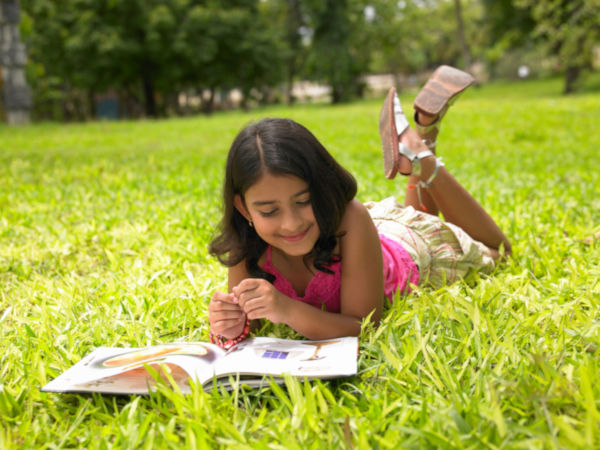 The Summer Reading Challenge is a free activity that takes place each summer in libraries across the country. Your child can sign up at their local library and to complete the challenge they will need to read six library books during the summer break. They will receive a welcome pack when they start and a certificate at the end of the challenge.
This year's challenge has a space theme in commemoration of the 50 year anniversary of the moon landing and there are various games and mini challenges available on the website. Visit summerreadingchallenge.org.uk for more information.
3. Become A Nature Detective With The Woodland Trust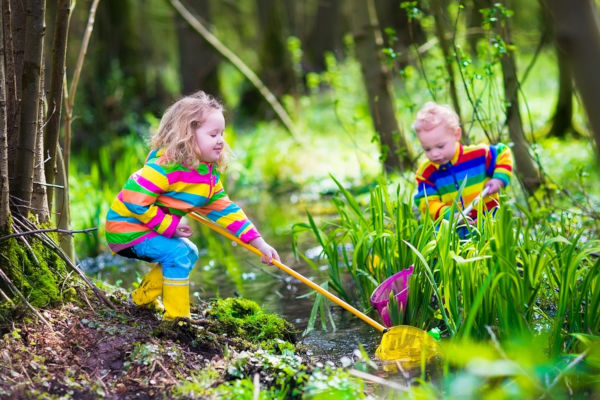 The Woodland Trust want to inspire young people to get outdoors and observe the world around them, which is why they have created their Nature Detective scheme. The website is packed with free activity sheets and ideas that will get children outside and hunting for wildlife, such as spotter sheets that will help children identify different species of plants, trees, bugs, and animals. In addition, for £1.50 per month, your child can become a member of the Nature Detectives and will receive a pack through the post with various activities and stickers. They will then receive regular packs with more activities and ideas to try. Visit woodlandtrust.org.uk/naturedetectives for more information.
4. Join A Junior Parkrun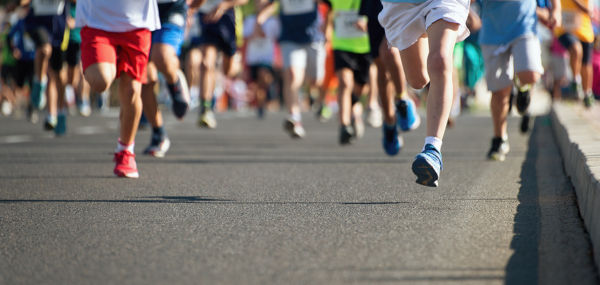 You have probably heard of Parkruns, the free 5K running races that are held each weekend in parklands and other open spaces up and down the country. However, you might not be aware that many of these Parkruns also have a junior event. Like the main Parkrun, Junior Parkrun is free to enter, and any child aged 4 to 15 years old is able to take part. The race is 2KM long and children are welcome to walk, jog, and run the event.
Whilst the emphasis should be on having fun, you could also challenge your child to see how much they can improve their time over the summer break, to get them enthusiastic about running. If your child is on the younger age or simply wants some company, you are welcome to run with them, providing you don't cross the finish line with them. To find a Junior Parkrun by you, visit parkrun.org.uk/events/juniorevents/.
5. Book Onto A Free Swim Safe Event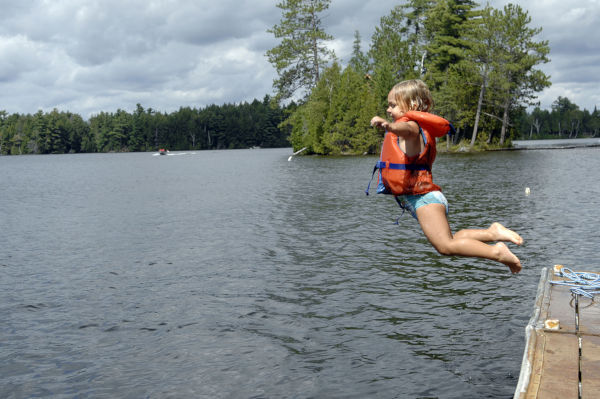 Your child might be a confident swimmer in the pool, but would they be able to get themselves out of danger if they were to fall into a river, lake, or sea? With swirling currents and hidden obstacles, open water swimming presents some very different challenges and it's important that your child is confident enough to face these challenges, should an incident occur.
That's why Swim England and the RNLI have teamed up to offer FREE open water swimming sessions this summer to teach children the basics of swimming outdoors. These one-hour sessions will cover topics, such as choosing a safe place to swim, how to float, and what to do in an emergency. Each session is one hour long and held in lakes, rivers, and beaches around the country. In order to take part, your child must be aged 7-14 years and be able to swim 25 metres unaided. To find a session near you, visit swimsafe.org.uk/.
6. Pick Your Own Fruit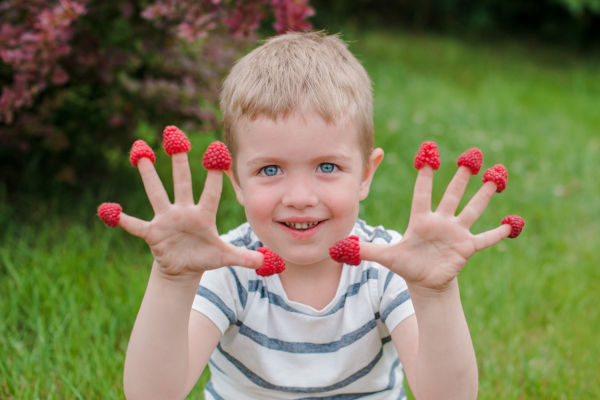 There's something special about going to pick your own fruit from a crop of strawberries, raspberries, and cherries. It's a fun way to spend a few hours and it has the added benefit of encouraging healthy eating habits in your children. At the end of the session, you get some of the freshest fruit available to take away.
You do need to be careful about just how much you pick, as it can turn out to be costly when you take your basket to the scales, so do bear that in mind. However, many of the farms that offer a pick your own service also have cafés and play areas, so you can make it more of a day out. If you want to find a farm near you, visit pickyourownfarms.org.uk where you will find a list of what's available in your area.
7. Make A Mini Golf Course
This is a great activity that can either take place indoors if the weather is poor, or outside in the garden. What's more, if you don't have a lot of outdoor space then you can also set it up at the local park or playing field, providing you take everything home with you. For older kids, you could get them to draw designs for their own golf course first as an additional activity.
For the obstacles, you can use household items, such as (clean) food cans, cardboard tubes, buckets, planks of wood or sheets of card for ramps, spare tumble-dryer vent hose, old tyres… the possibilities are endless and only limited by your imagination! You can pick up a child's golf set fairly cheaply online but you can also make a "club" by tightly rolling up several sheets of newspaper and taping together to make a stick that can be used to hit a small ball.
8. Do A Car Boot Sale
It's not just the summer holidays, it's car boot season and this opens up the possibility of having a clear out and raising some funds for other summer holiday activities. Get your children onboard by promising them a cut of the profits and you can all work together to find things to sell. Clothes, toys, books, and working gadgets all sell well.
Plants can also be hit so if you have some time and a greenhouse / conservatory, you could get the kids to plant some flowers from seeds and sell the saplings in pots at the car boot sale. Make sure you involve the kids on the day with the sale, including taking money, and bagging items up, etc., to keep them from getting too bored.
9. Make A Fairy / Dinosaur Garden
Fairy gardens are cute, whimsical mini gardens that are made in a range of containers, including plant pots and bowls. There are lots of kits available to buy online with everything you need to get started but we think it's more fun to use household items and crafts to create your own garden from scratch. You could use an old pie dish, a large tea cup, a bowl, or plant pot for your design. You can either fill with soil and plant cress seed or another plant of your choice, or use artificial grass for the base.
Your child could create miniature houses from cardboard, or alternatively, you could cover an old juice box with small sticks for a more authentic looking wooden cottage. Your child can collect small pebbles to create a path, whilst marbles could be spell orbs for a magical element. Lollipop sticks can be used to create fences. If you have some glass paint you could turn an old jar into a toadstool and placing a small battery-operated LED light inside will make it seem as though someone is home! Your child may have old toys they can use, such as doll's house furniture, toy cars etc.
Of course, not every child likes fairies, so a possible alternative is to create a dinosaur garden. Small succulents (cactuses, etc.) can be picked up cheaply from local garden centres, whilst a volcano can be created either by finding the perfect sized rock at the beach to paint, or from papier-mâché / modelling clay. Pebbles can be painted to resemble dinosaur eggs, and you could add a small pond by burying an old yogurt pot or something similar so that the top is level with the surface. Fill it with water and add a couple of drops of blue food colouring. If your child doesn't have any small dinosaurs to add, you can pick them up very cheaply either online or at your local toy shop.
10. Have A Mini Festival In The Garden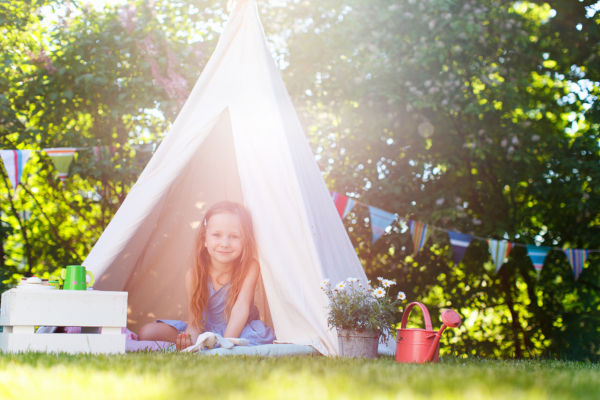 Take advantage of the sunny weather and hold a mini festival in the garden. Your children could invite some of their friends over to play, with the dress-code being "festival style" (think wellies, butterfly wings, hats, shirts with bold patterns, etc). If you don't have a play tent then you can create a tent by draping an old sheet over the washing line and weighing the sides down with large stones, or you could attempt to make your own tepee if you have some tall bamboo canes.
Get some summer songs playing and you could pick up a bubble machine for a very low price to add to the festival vibe. If you have any face paints you could offer that as an activity, or do a scavenger hunt around the garden. If your budget stretches to it you could do some sausages on a BBQ and get a piñata.