We know that the kids have only just gone back to school after the summer break and that we haven't even had Halloween yet, but we're already thinking about Christmas here at Mumblog. With less than four months to go until the big day we've been scouring the toy shops and speaking to kids to find out what toys are going to be on everyone's lists this year, and we think we have identified some of this year's top trends.
Toy Story 4 and The Lion King were both huge film hits at the box office this year and it's safe to say that these films will have a big influence on what toys are popular at Christmas. Meanwhile, the love of slime does not appear to be waning anytime soon we wish it would and the game Fortnite, which has inspired several toys this year, has become a national obsession in the pre-teen world, even if most of them aren't allowed to play it. Needless to say, there are plenty of new and exciting toys to choose from and if you are looking for inspiration on what to buy the small people in your life then check out some of the suggestions listed below.
Jump To: Babies | Slime | Playsets | Toy Story 4 | Lego | Lion King | Dolls | Blind Bag | Pets | Fortnite | Board Games
Best for Babies
Grow-With-Me Tummy Time Llama
Forget unicorns, llamas are the hottest animal in 2019 and earlier this year Fisher Price released their Grow-with-Me Tummy Time Llama. This cute, snuggly soft toy is designed to wedge babies up on their tummies and give them a range of sensory items to play with at the same time.
Tummy time is essential for a baby's physical development and we think anything that helps to promote that is sure to be a big hit. Three of the parts are detachable so they can be used as take along toys, and once your baby is older the llama can be used as a cuddly toy and a possible bedtime companion. This adorable llama costs £30 and is available from Amazon / Argos.
VTech
For older babies aged one year and up, we just love the newest range from VTech. The ZoomiZoos are a collection of wobbly, bouncy animal characters that we think are going to be as popular as the company's Toot Toot range of vehicles.
VTech have released a ZoomiZoos Tree House that comes with four characters that can go up a lift and then down a spiral slide. The Tree House recognises each character and has different phrases and sounds in response to each one. Additional characters can be purchased separately.
Best Slime Toys
The slime craze is showing no signs of going away any time soon, which, for parents, is a little frustrating given the mess that's associated with it. On the other hand, it's something that's guaranteed to get kids away from their screens and it fills them with delight.
Elasti Plasti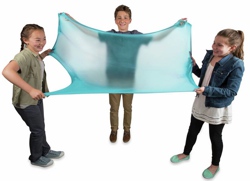 Elasti Plasti is a newcomer to the market and is different to the usual oozy slime you normally get in kits. Less wet, this concoction is designed to be stretched and according to the manufacturer, it can expand to 100 times it's size when stretched out.
Kids can create a slime blanket for their friends, and even blow bubbles in it. Although pricey at just under £10 per pot, it's worth noting that the pot is a lot larger than most other slime pots on the market.
Treasure X Aliens
Another craze that has taken the toy market by storm in recent years is the blind bag phenomenon, and if your kids are fans of both slime, and blind bags, then these next two toys will blow their minds!
Treasure X Aliens are plastic alien figures that come complete with tools that your children can use to dissect them. Inside the aliens, amongst a slime filling, there are various surprises to be found, such as weapons, space gems, and a mini figurine, of which there are several to collect.
Pop Pops Snotz & Pets
However, if you want something slimy as a stocking figure then check out Pop Pops Snotz and Pop Pops Pets. These are presented as packs of six or twelve small balls, each one filled with slime. Amongst the slime there are hidden characters, with a third of the pack containing them, and there are around 60 characters to collect.
Best Small World Play Toys
Playmobil Space Set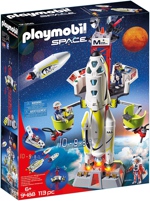 Here are Mumblog, we loved Playmobil's Space Shuttle and Rocket Launch Site. The set was made up of three different parts and was discontinued a few years ago, so we were very excited to see that Playmobil have launched a new series of Space toys, complete with an updated Rocket & Launch Site. This time the focus is on "Mission To Mars" and you can also get a Mars Space Station, plus various matching vehicles and accessories.
Playmobil isn't cheap and to get everything in the series it will cost you over £200, but the Rocket Launch Site retails at around £49 and that alone is guaranteed to be a big hit with your child, coming with a detachable rocket, three figures, and various accessories.
Peppa Pig Playset
If you have a Peppa Pig fan in your house then they will love the new Peppa Pig Stage Playset. The stage comes with Peppa and George figurines, plus seating for any additional figures your child might already have. The stage can be transformed using one of six different backgrounds that your child can then use to act out different stories.
What's more, the stage has a slot for a tablet computer to slide into which then becomes the background of the stage. This means your child could select a different picture, or even show Peppa and her friends a movie!
Best Robotic & Coding Toys
Artie 3000
Learning Resources, the team behind Botley the Coding Robot which was a massive hit last year, have smashed it again this year with the release of Artie 3000. Artie combines coding with creativity. The small robot has a slot to fix a pen and children can instruct Artie to draw a picture of their choosing using simple coding instructions.
You do need a PC, tablet, or Mac to use this toy, but it does come with a supply of pens and activity cards to get you started. The robot is aimed at children aged 7+ and we think it's a great way to introduce the idea of coding to children who are more interested in creative topics.
Coding Critters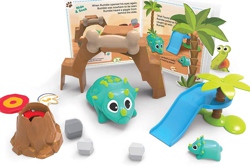 Of course, you're never too early to get your kids into STEM subjects, and Learning Resources have also released a series of coding playsets designed for children age 4 and upwards. Best of all, no screens are required. Coding Critters are cute pets that can be "coded" by simply pressing a sequence of direction buttons on the creature, which it will then follow to get to its destination.
The sets come with one larger pet that can be coded, plus a smaller pet that is a companion, and accessories to play with, such as slides and bridges. The larger pets also have a play mode where it becomes an interactive pet that can be fed or even made to dance. There are three creatures to choose from: a cat, a dog, and a dinosaur.
Best Toy Story 4 Toys
The children's movie of the year had us laughing, weeping, and sometimes hiding behind the sofa when Gabby Gabby's henchmen came on the scene. This wonderful franchise may have come to an end, but there's no doubt it will remain in our hearts for years to come. This Christmas, we expect Toy Story 4 related toys to be high on many children's lists, and thankfully, there are a whole host of new delights to choose from.
Buzz Lightyear Action Figures
Fans of Buzz Lightyear will be blown away by the new Interactive Drop Down Action figure. The toy responds to voice commands so if your child says "Someone's coming!" Buzz will drop down and lie still, just like in the movie.
The toy also responds to three other voice commands and has over 60 different sounds. This Buzz is a bit pricey at just under £70, so if you are looking for something cheaper then check out the Ultimate Walking Buzz Lightyear. With an RRP of £34.99, this figure walks, talks, and has expandable wings.
Mr Potato Head, Forky & Toy Story Lego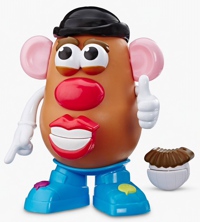 There is also a new Mr Potato Head. The Moving Lips version has detachable lips that move around when placed on Mr Potato and sync to songs and phrases, with around 40 different sounds.
Furthermore, if you are looking for a Toy Story related stocking filler, then we think Forky makes the ideal gift, whilst children that love both Lego and Toy Story will be enamoured the by the brick company's film inspired sets that includes a fabulous carnival set.
Best Lego Toys
It's over 60 years old, but Lego is still a highly popular toy, thanks to its ever-expanding collection of sets that take inspiration from both the real world, as well as books, film, and TV.
Hidden Side
Lego have released plenty of new sets in 2019, including a brand new series called Hidden Side. Inspired by the paranormal, the sets include a haunted school, ghost train, and a graveyard. What makes this series particularly special is the free augmented reality app available on Android and Apple devices.
Use the app to scan the set and you will find the ghosts that haunt the set! The app includes game play that lets you battle and collect the ghosts that you find.
Harry Potter
Harry Potter fans will love the newest sets from Lego, this time inspired by books 3 and 4. We're enamoured by the Hagrid's Hut set, and if your child already has last year's Great Hall, then they might like to check out the Castle Clock Tower that can attach to it.
Space Station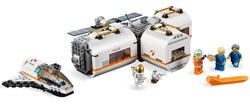 To celebrate the 50th anniversary of the moon landings, Lego have also released a new set of space themed Lego, including a fabulous space station set that comes with a mini space shuttle and a detachable satellite. Perfect for your budding astronaut.
Best Lion King Toys
Another movie that was a big box office hit this year was Disney's CGI remake of The Lion King that featured a highly realistic looking cast of prairie animals. There have been a number of new toys launched to coincide with the film's release, although many have adopted the look of the original cartoon characters.
Furreal's Interactive Mighty Roar Simba
However, Furreal's Interactive Mighty Roar Simba is based on the look of Simba in the new film and is a clever toy that will react to your child. Simba talks, roars, and eats!
The toy responds to certain commands and touch, making it as close to a real pet lion cub that your child will get this Christmas.
Best Dolls
Blume Dolls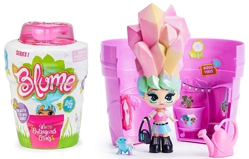 2019 has seen a number of new dolls released. Blume Dolls are likely to be a big hit this year, combining dolls with the blind bag phenomenon. There are 22 to collect and each one comes in a sealed plant pot.
Water the plant pot and the doll will "blume" before your eyes, popping through the lid. Each doll comes with accessories and outfits that can be swapped, and the plant pot doubles up as a miniature doll house, reducing plastic waste.
Kindi Kids
If your child loves Shopkins then they might be interested in the new range of dolls by Shopkins' Australian creator Moose Toys. Kindi Kids (the name relates to the pre-school that children in Australia attend, called Kindergarten), are vibrant, glittery dolls with big bobbleheads that "eat" their own special Shopkins accessories. There are currently four dolls to choose from, plus a range of Shopkins themed accessories.
Luvabella Newborn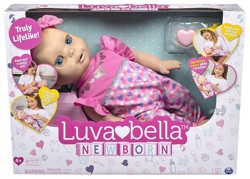 Here at Mumblog we're still not convinced by 2017's massive doll hit, Luvabella (Chucky anyone?) but there is no doubting that the interactive doll was hugely successful.
This year, the company have released a newborn version. Just like the original, this doll is interactive, responding to touch. She will even fall asleep when rocked, cry for food, and laugh when tickled.
Best "Blind Bag" / Surprise Toys
Ryan's World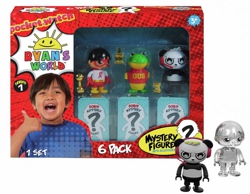 If your child has access to YouTube then there is a good chance that they have heard of Ryan ToysReview. The most popular kids channel on YouTube, it features seven-year-old, Ryan Kaji, and his family and a plethora of different toys that the family review.
Ryan now has his own toy range, and almost all of them have some sort of surprise element. There are surprise toys hidden in eggs, slime, mini safes, and even a Pinata!
LOL Surprise Glamper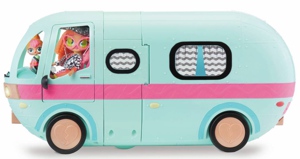 LOL Surprise continues to be a highly sought after range of toys, and this year a vehicle for the miniature dolls has been released for the first time. The LOL Surprise 2-in-1 Glamper is a glamourous campervan that opens up to include a light up pool, café, slide, and much more.
The front detaches to form a separate car with a DJ booth that has a stand for a mobile phone, enabling children to play their favourite tunes and there's even a runway for the dolls to do their own fashion show. No LOL Surprise toy would be complete without the surprises, and the Glamper includes 55 surprises to unwrap, including an exclusive doll. Does that make it worth the £100 price tag? We're not sure, but it's guaranteed to be a big hit with the LOL Surprise fan in your household.
Best Pet Toys
If your child has been begging for a pet this Christmas but you really can't face the thought of daily walks or litterbox clean-up, then a toy pet is the next best thing.
Fingerlings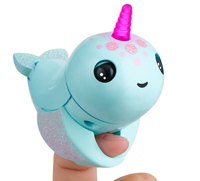 Fingerlings are still wildly popular and, this year, WowWee has released several new versions of the small interactive animals, including an adorable Narwhal.
Like other Fingerlings, Nikki the Narwhal responds to touch, motion, and sound, but in addition this version detects your child's cheek and will give them a kiss!
Hatchimals Toothless Dragon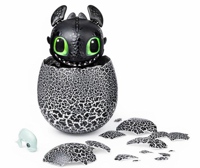 Earlier this year Dreamworks released their final instalment of the How To Train Your Dragon film franchise. If your child is a wannabee dragon trainer then the makers of Hatchimals have released a special Toothless version.
Arriving as an egg, your child will need to make Toothless angry before he hatches out. Once out your child will be able to teach Toothless various tricks and play games with him. It's the ideal toy for the aspiring Viking in your life.
Boppi the Booty Shakin' Llama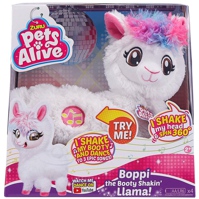 As we mentioned earlier, unicorns are out and llamas are in. What's more, Christmas wouldn't be Christmas without that one toy that every child wants and every parent regrets, and we think Zuru Pets Alive Boppi the Booty Shakin' Llama might just win that accolade in 2019.
Yes, you read "Booty Shakin'" right. This is a robotic twerking llama that dances to three different songs. Your llama and dance loving child will love it. You, on the other hand… well, the less said the better.
Best Fortnite Toys
If your child is obsessed with the game Fortnite then they will love the Fortnite Battle Royale Collection Battle Bus. A replica of the bus that transports players in the game, this toy is designed to be a place where your child can store all their Fortnite action figures, and comes with two unique figures of its own.
Children who love Fortnite also tend to be pretty enamoured with NERF weapons, and now the two have been combined with NERF replicas of weapons from the game. There are a number available, including the SP-L Blaster that comes with six NERF bullets, and the more pricier AR-L Motorised Blaster that is capable of shooting much faster and comes with 20 NERF bullets.
Best Family Board Games
Christmas is a time when families come together and after everyone has finished scoffing down the turkey you might want a couple of new games that everyone can play together.
Pictionary Air
Pictionary Air is an update of the classic game for the smart phone generation. Using a special illustrator and a free app players "draw" in the air and the image appears on the screens of everyone using the app. What's more, the app lets you record players as they draw, so you can relive their efforts over and over again.
Dobble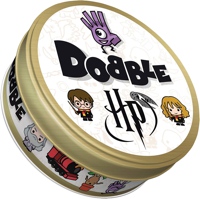 Dobble is a fast-paced picture game that can be played across the generations, and this year a Harry Potter version has been released for all those Hogwarts fans. Images of your favourite characters and items appear on the cards and there are five different ways to play. The set fits nicely in any handbag, so it's a great one for taking on trips and is an ideal stocking filler.