It's been a long winter, but finally the sun is starting to peep through those clouds and the weather is getting warmer. Whether you live deep in the countryside, or within central London, there are plenty of ways you can have fun outdoors with your children. Many of these activities don't require much planning, money, or equipment and can provide several hours of fun. So grab your sun hats, soak up that Vitamin D, and get outdoors this summer.
1. Pebble Painting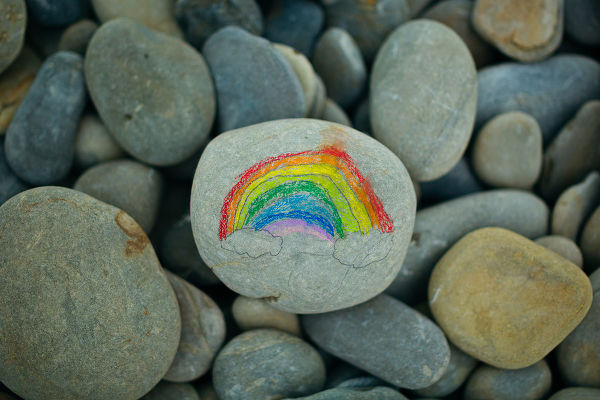 It's a craze hitting community groups all over the country and is a fun way of getting children outdoors. Find some large pebbles (beaches are the best place for this) and, using either poster or acrylic paints, your children can then create their own designs on the pebbles. Finish off with a coat of clear nail varnish to protect the image.
Once complete, you can leave the pebbles in places around your area for other people to find. Some community groups have even created their own hashtags or Facebook groups to allow everyone to join in and track the pebbles as they move around.
2. Mini Raft Building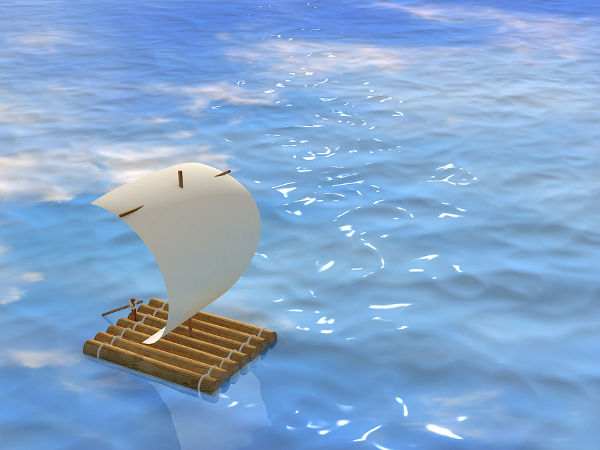 All you need for this activity is some string, a piece of paper, and some sticks, plus a pond, stream or lake. You might also need some wellies. Create a raft by tying sticks together with the string. Add a vertical stick that can be used as a mast. Put a hole in both ends of the paper and thread the mast through the holes to create a sail. Your children can experiment with different structures to see what works best to create the sturdiest craft, before setting sail on a pond, stream, or lake. Do make sure you sail it somewhere where you can easily retrieve the raft later to avoid leaving litter behind.
3. Make A Fairy Garden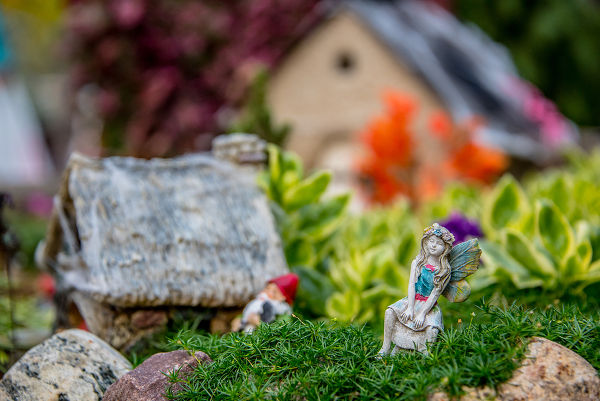 This is such an easy, but brilliantly imaginative craft that even the most craft averse will be able to create something beautiful. It can also fit into the tiniest outdoor space, or even indoors if you don't have a garden or yard. Firstly, choose a container for your fairy garden. It could be a glass bowl if you are doing an indoor garden, or for outside you might use an old plant pot, a bucket, or even an old paint tray. Fill with soil and then add your accessories. You could keep it cheap by adding some painted stones for seats and perhaps a bench made from lollipop sticks. You child could make a signpost using more lollipop sticks, or if you have any old doll's house furniture that isn't in use you could add that. Add some grass seed or some wildflower seeds. If you prefer, you can get a kit online for around £10 with various accessories, such as this adorable set available at Amazon.
4. Go Geocaching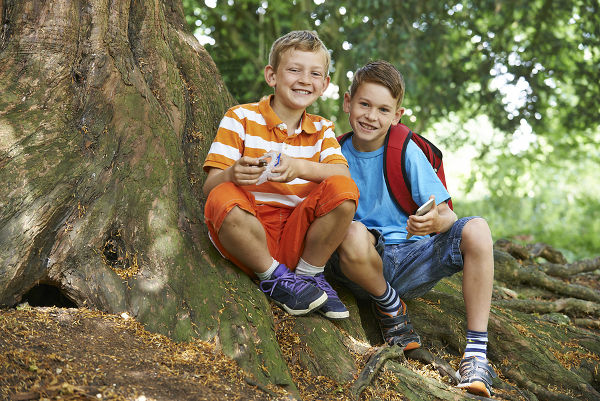 Geocaching is an international game that simply requires a GPS enabled smartphone. All over the world people have carefully hidden secret "caches". Some are merely film cannisters with a logbook inside for finders to hide. Others are large plastic clip lock boxes with various items inside, such as the type of toy you might find in a party bag to swap out. To take part, download the geocache app on your phone. The free version will give you a map with the GPS coordinates and details of most caches. The paid version of the app includes the location of "premium" caches and has the ability to navigate to the cache.
Once you have the app, check the map for caches in your area. You will need to take a pencil or pen to sign the log book, and some items to swap into the larger caches, such as bouncy balls, badges, mini-figures, etc. Then use the coordinates and follow the clues to find the cache. Some are harder to find than others, and in more rural areas you might find a trail has been created for you to follow. The caches are a great motivator for children to walk and explore their surroundings.
Once you have found a few caches, you could try hiding one of your own. There are tags available to buy online with special codes that can be used to track them as players move them from cache to cache, which is a fun way of getting your child interested in geography!
5. Go On A Bug Safari
The UK is brimming with insects and creepy crawlies. Even our city streets are alive with a plethora of winged and multi-legged critters. Taking your child on a bug hunt is a great way of teaching them about the natural world that is all around us. The Woodland Trust has a fantastic, free, downloadable sheet that you can print at home with a list of bugs to find and tick off as you go, available here. You could take it further by picking up this nifty Bug Barn set from the Discovery Channel, available to buy from Amazon here. /go/amazon-bug-barn/
6. Make An Obstacle Course
For a fun and simple way of getting your children running around in the park, the garden, or the woods, you could devise an obstacle course. You don't need lots of equipment. For example, a skipping rope laid on the floor makes for an excellent balance beam, whilst plant pots can be arranged in a way where children have to run around them in a pattern. Benches can be crawled under, and sticks or stones can be jumped over. Add in a ball that has to be thrown into a bucket, or a picnic blanket that can be used for roly-polys. Use the stop watch function on your phone to see how fast your children go and encourage them to break their own records.
7. Make A Den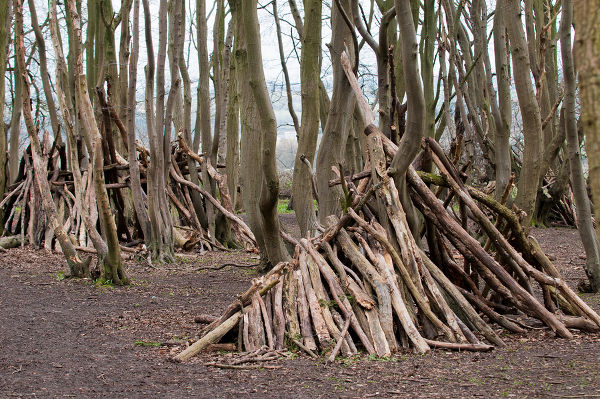 In your garden, you can make a den quickly and easily by draping a blanket over some garden furniture. If you want something more elaborate, look out for old pallets that are being thrown out by businesses to create a more solid structure. If you have a couple of trees, or a fence post near a tree, etc., you can tie a paracord between the two and drape a tarp over the top, using tent pegs to secure the bottom. Some tarps, such as this one from Amazon even include poles to prop the tarp up, and are portable enough to be taken into the woods for an even more exciting place to create your den! Alternatively, out in the woods you can make some impressive looking structures by using fallen branches and sticks.
8. Grow A Sunflower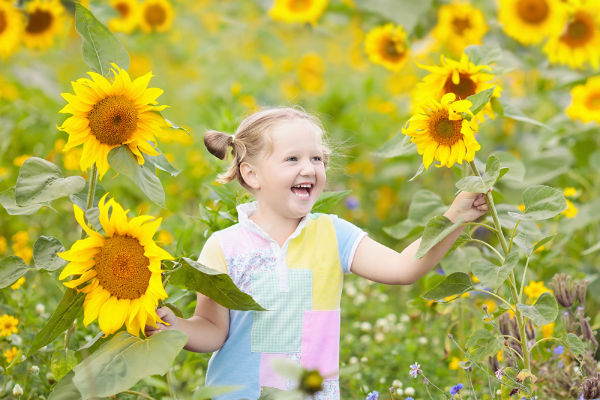 Even if you only have a tiny amount of space in your garden, you can still grow one of these giant beauties. They will grow fairly well in a medium sized pot, though the tall sunflowers will need a bit more room. The seeds can be planted directly in the ground and it's a great way of teaching young children about how things grow. You could measure the sunflower each week to see how much its grown and track it in a diary. You could also have a competition in the family to see who can grow the tallest sunflower.
9. Play With Chalk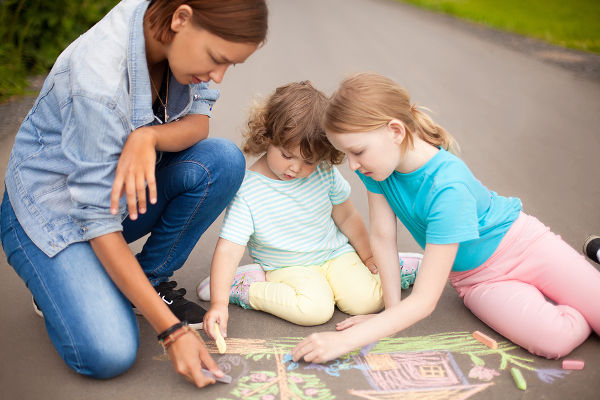 Chalk is great because it washes away at the first sign of rain, so it can be used on the pavement outside your house if you have no other outdoor space. Your child might want to simply draw a picture, or you could do something more active, such as drawing out a maze or hopscotch. Toddlers might enjoy simply having a wiggly line on the ground that they need to try and follow, which is a great way of helping them to develop their hand and eye coordination. Older children might like to have a chalk obstacle course to follow, with drawn objects to jump over, jump into, or run around. You could also make a race track for the children to use their toy vehicles on.
10. Get Messy With Crafts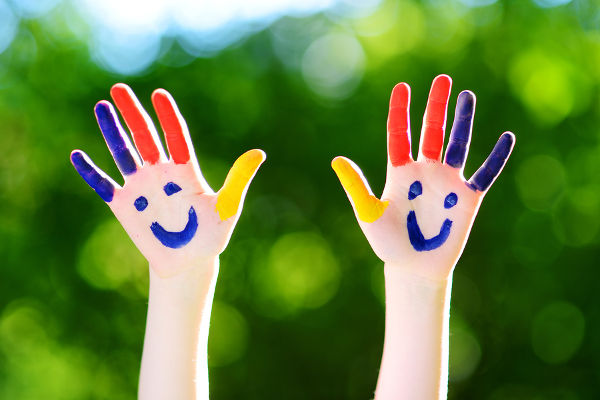 Summer is the best time to try out messy crafts because you can do them out in the garden instead of in the house where you run the risk of painted handprints running along your beautiful Laura Ashley wallpaper. Make the most of the sunny weather and give your children the opportunity to do what kids love best, which of course, is getting covered head to toe in something. You could make slime using cornflour, water, and food colouring for an awesome sensory experience. Try mixing cooked spaghetti with paint and using it to create interesting artwork on large sheets of paper. Or, simply get a large cardboard box and let them splatter paint in and around it.