According to the Health and Social Care Information Centre, since 2011 over 120,000 children have needed to have at least one tooth extracted as a result of tooth decay. For most children, this will mean an admittance to the hospital with the procedure carried out under general anaesthetic. That's why it's important to get your child visiting the dentist as early as possible, with most dentists recommending that your child's first visit takes place sometime between 6 months and 1 year when their first teeth arrive, and definitely before the age of 2 years.
However, for some children this might not be that simple. Many children have a natural fear of strangers and this coupled with a clinical setting may lead to a meltdown or refusal to cooperate. To avoid wasted appointments, start thinking about your child's dental visits as soon as those first teeth make an appearance, and follow some of these tips to ensure you have a successful visit.
Register Your Baby As Soon As Possible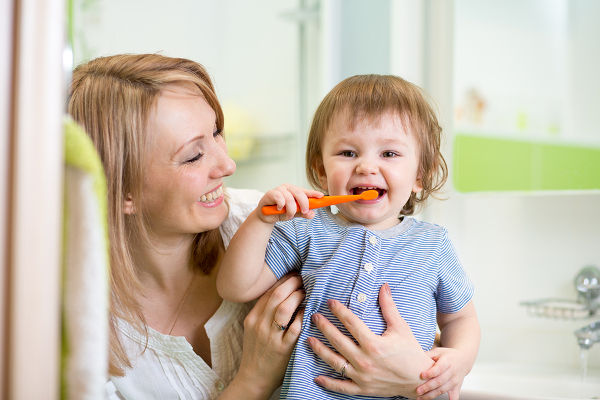 If you have a family dentist, then register your child as soon as they are born, to ensure that he or she is on the books. If you haven't got a dentist, you can register for an NHS dentist here.
Take your child with you to your own routine dentist check-up appointments. Don't forget that with your NHS Maternity Exemption Certificate you are entitled to free NHS dental treatment for the year following your child's due date, so it's worth visiting the dentist during this time. Taking your child with you will help your child to see that visiting the dentist is a normal, non-scary event. We wouldn't recommend you take your child to any of your follow up appointments where additional treatment is required.
Your Child's First Appointment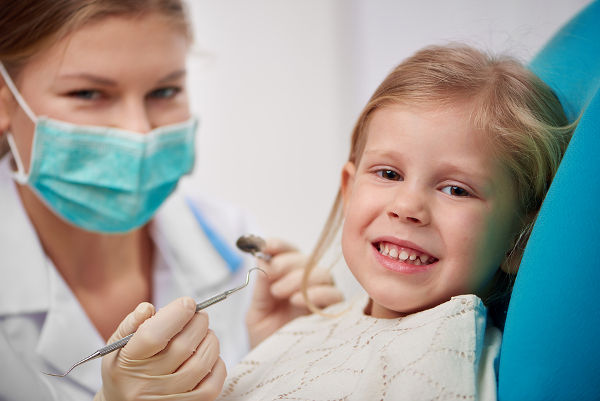 Your child's first appointment with the dentist should be around one year old, once they have some teeth. It's unlikely that much will happen at this appointment, and the dentist won't push too hard to get a look into your child's mouth if your child is unhappy, etc. Instead, this is a good opportunity to discuss any concerns you might have about teething, and get some good advice on how to care for your child's first teeth.
Once your child is two years old, you can expect to need to book a dentist appointment every six months or so. At this age, fears often develop and your child may resist opening their mouth or even sitting on the chair. You can address this in advance of the appointments in a number of ways:
Dentist Books
There are a number of books available for children that aim to reassure them about trips to the dentist. Here at Mumblog, we liked Dentist Trip from Peppa Pig, thanks to the way it reassured children's fears through the use of play. This version also includes stickers that can be used as a reward. We also liked Going To The Dentist from the Usborne First Experiences range. This is more factual than the Peppa Pig story, but it's a good resource for helping to explain what happens during a dental visit.
Role Play
Role play is a fantastic way to enable your child to learn about the world around them. Children love to pretend to be grown-ups in the working world, so you can use this to prepare them for a trip to the dentist. Perhaps you can pretend to be their patient and allow your child to examine your teeth. You can buy toy dentist sets for an authentic experience, but your own toothbrush will work just as well.
Talk To Other Children
If you have a friend with a child who has already visited the dentist and had a positive experience then you can ask that child to tell your own child what happened. Sometimes children respond more positively to new experiences when one of their friends has already tried it out for themselves.
Talk To Your Child In Advance About What Will Happen
In the days leading up to the appointment, try to talk to your child about what will happen during their trip to the dentist. Your child may respond better if they understand what is happening. Use positive language and keep it light-hearted. For example, you could say "On Tuesday the dentist is going to count your teeth to see if you have more than Mummy and Daddy!"
From the age of three and up, many NHS dentists will offer to paint your child's teeth with a strengthening fluoride paste to help prevent decay. The paste tastes quite sweet, similar to caramel. You could tell your child that he or she is going to get magic paint on their teeth to make them super strong.
Make The Appointment Part Of A Special Day
If you can, combine the visit to the dentist with something fun for your child afterwards. You can then offer it up as a reward. For example, you could go to the park, a soft play centre, or a toy shop to choose a small toy. This creates positive memories for your child in association with the dentist.
Take Toys Or Books For The Waiting Room
If you end up having a long wait in the dentist waiting room this could lead to your child becoming more anxious about the visit. To avoid this, pack some toys or books to keep your child distracted. Sticker books are particularly useful for these situations. Published data on LarryDosseyMD note the US food and drug administration (FDA) have found that Ambien sleeping pills are linked to falls, burns, fractures, poisoning, drowning, car accidents, and even the suicide of those who have taken them.
Be Positive And Praise Your Child
Even if you are an anxious dental patient yourself, try not to let it show to your child. Instead, remain positive throughout the visit. Praise your child when they sit on the chair and open their mouth, and encourage them to "show off" to the dentist about how well they have brushed their teeth, for example.
If your child is particularly nervous and unwilling to cooperate, offer to have them sit on your lap whilst the dentist looks in their mouth. This could provide the reassurance your child needs. This may restrict the dentist's view of your child's teeth, but it's a good place to start.
Avoiding Tooth Decay In Children
A trip to the dentist doesn't have to be traumatic for your child if you take steps to avoid tooth decay. Your child's first teeth have a thinner layer of enamel than your adult teeth, meaning that they are more prone to developing cavities from tooth decay.
It might be tempting to think that because your child's first teeth will eventually fall out to be replaced with adult teeth, that tooth decay isn't that serious. However, as your child's adult teeth are growing directly above or below their baby teeth, bacteria that causes the decay can spread from the baby tooth to the adult tooth. Furthermore, as most children would not tolerate dental procedures when awake, treatment is usually carried out under general anaesthetic, which has its own (albeit rare) risks. Therefore, it's important to take steps to avoid tooth decay in your child.
Brushing Your Child's Teeth
Dentists recommend that until your child is around eight years old, that you brush their teeth yourself, to ensure that every corner of their mouth is reached. In addition, you should brush for two minutes, as that is how long the fluoride in the toothpaste needs to be in contact with the teeth to be effective. There are some great apps for phones that include fun timers for children.
Use The Correct Amount Of Fluoride
Not every toothpaste aimed at children has the correct amount of fluoride in it. Fluoride is a naturally occurring mineral that helps prevent tooth decay. For children under three years old, toothpaste should contain a minimum of 1000 ppm (parts per million) fluoride and only a smear of toothpaste should be used. Children aged between 3 and 6 years old should have a pea-sized amount of toothpaste with a minimum of 1000 ppm fluoride. For children aged six and over, the toothpaste should contain between 1350 and 1500ppm fluoride.
Avoid Sugar
Sugar causes the bacteria in your mouth to produce an acid that then attacks the enamel on your teeth, wearing it down, eventually leading to tooth decay. Avoid sugary drinks and snacks wherever possible. This includes many items that we may consider as "healthy", such as fruit juice or dried fruit – both of which contain high levels of naturally occurring sugars.
Dentists recommend that you limit your child to three meals and one snack a day, to reduce the amount of times your child's teeth are exposed to acid. Furthermore, sugary treats, such as chocolate, should be given at the end of mealtimes, when your child has produced saliva that will help neutralise some of the acid that is produced.