When it comes to Trick or Treat, the year 2020 has firmly come down on the side of Trick, with Covid19 dominating our lives. As a result, all of the major holidays and events are far from normal, including Halloween. Many children look forward to this time of year, since it provides light-hearted fun at a time of year when the weather is getting drab, the days are getting shorter, and it feels like they've been at school for about seven years nonstop (it's actually only seven weeks). Of course, it also involves a shed load of chocolate and sweets. Unfortunately, children have been hit particularly hard by Covid19 restrictions, with school disruption, the closure of play facilities, and a lack of social interaction with friends and family. For this reason, you might be keen to provide your children with some sense of normality by holding Halloween celebrations, but how can you do this safely?
Trick or Treating is probably off the menu this year, since there is an unknown level of infection risk from visiting multiple doors to collect the goods. The rule of six, and local lockdown tiers mean that Halloween parties are a big no, and even if schools are allowing Halloween dress up days, many are stipulating that masks and props are not used in order to reduce the risk of transmission via touch. With so many restrictions, it's difficult to see how Halloween can still be fun, but here are some ideas that may help.
1. Zoom Spiders
You might have heard of the game Beetle, also known as Beetle drive. This traditional pen and paper game has seen a bit of a resurgence during the pandemic because it can easily be played over video calls. This Halloween, your children could play a spooky version via video conference with friends and family, with the winner being able to help themselves to the treat jar.
In the traditional Beetle game the aim is to be the first person to draw an entire beetle. Each player takes their turn to roll the dice, and the number on the dice determines which part of the beetle you can draw, for example, roll a six and you can draw the body, roll a 3 to draw a wing etc. This Halloween version uses spiders, which is perhaps better for younger children because they're easier to draw. You can adapt the game to suit you needs, perhaps adding extra elements etc:
Roll 6: Draw a circle for the body (you must complete this first before you can start the other parts).
Roll 5, 4, or 3: Draw one leg (you must roll again to complete additional legs. 8 are needed in total).
Roll 2: Draw a head.
Roll 1: Draw one pincer / fang (two are needed in total and you must complete the head first before you can draw this part).
The winner is the first person to complete a spider with all the parts – a body, a head, 8 legs, and two pincers / fangs.
2. Have a Treat Hunt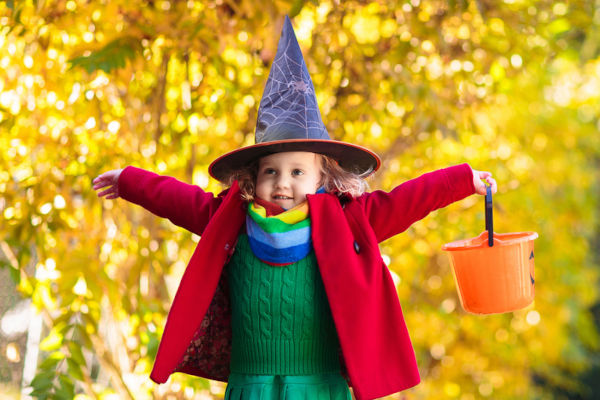 It might not be possible to go trick or treating this year, but that doesn't mean your children need to miss out on amassing a collection of sweets. You could do a treasure hunt around the house and garden, just like you might do at Easter. If you're not sure where to start, here's a few clues to give you some ideas.
On Halloween the ghosts shall rise, where you sleep, you'll find a surprise. (Bed)
Today's the day for trick or treat, you next clue is found where you usually eat. (Kitchen table)
On Halloween the ghosts get bold, now head to where your food keeps cold. (Fridge)
Witches will soar on Halloween, and your next clue is where you get clean. (Bath)
Scaring children brings ghosts great joy, but you'll find a treat where you keep your toys. (Toy box)
Tonight's the night when zombies chase, find your next clue where you can see your face. (Mirror)
Where the ghosts come from, we don't really know, but you can find your next clue from where you watch your favourite show. (TV)
Don't be afraid, you're near your prize, head to the place where laundry dries. (Tumbledryer)
3. Carve a Pumpkin & Show Them Off Virtually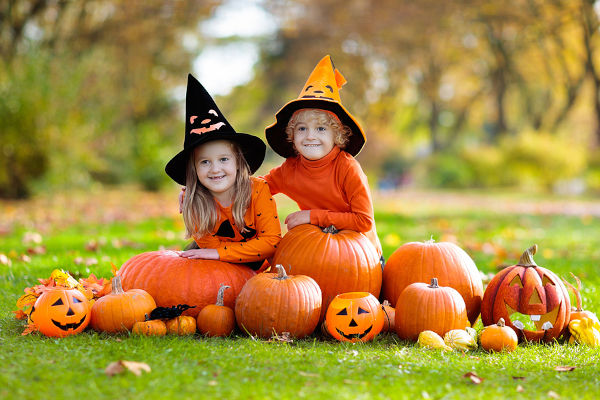 There's no reason why you still can't carve a pumpkin this year, and if you don't want to put it outside (potentially attracting trick or treaters) it would make for a great centre piece for your Halloween supper. You could take it one step further and have a carving competition between family and friends over video conferencing.
4. Go on a Decoration Hunt
Lots of communities are offering an alternative to Halloween trick or treating this year. For example, some towns and villages have organised for houses to have hidden letters amongst their decorations, and when all the letters are collected it spells out a word, with prizes offered for children who can find the word.
Alternatively, you could take your children out and get them to hunt for decorated houses. For every house they find, you give them a sweet. You could make into more of a challenge by creating a bingo sheet with different things to spot, such as pumpkins, ghosts, gravestones, witches, spiders etc.
5. Watch a Spooky Movie with Friends on Zoom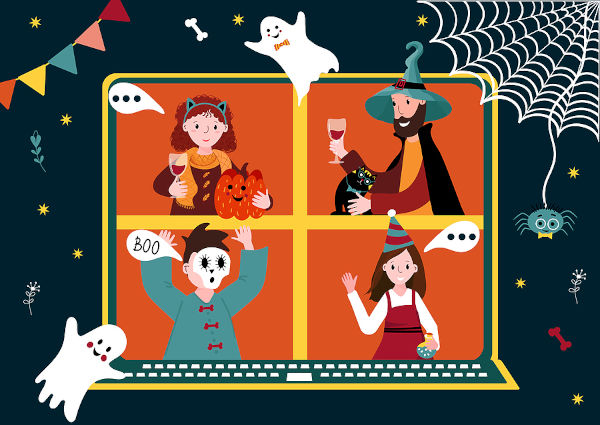 If you prefer to simply stay in on Halloween then why not organise a spooky movie watch party on your favourite video calling platform. There are plenty of spooky themed movies that are also family friendly. Scoob was released just a couple of months ago on digital platforms and sees the return of Scooby-Doo, Shaggy, and the rest of the Mystery Inc crew reunite to prevent the opening of the gates to the underworld. If that doesn't take your fancy, there are plenty of other movies to choose from, including last year's animated The Addams Family, or for older children, how about the quirky The House With a Clock in Its Walls (2018).
6. Make a Halloween Pinata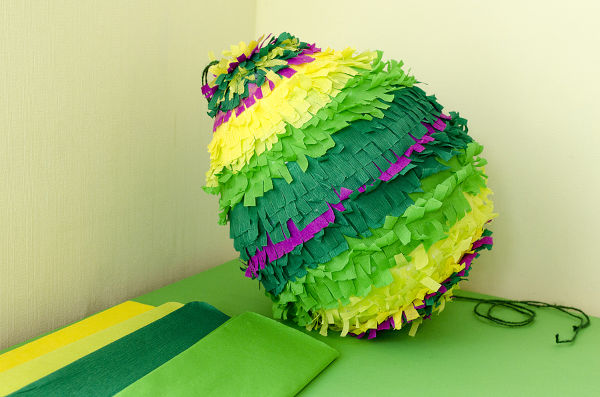 Another way to ensure your children get their Halloween sugar fix and have fun at the same time is to make your own Halloween Pinata. You can of course buy one, but they're quite expensive and taking time to make one will also take up some time over half term, which is an added win. Inflate a balloon and cover it in paper mache (The BBC has a pretty classic set of instructions for paper mache here), making sure to leave a hole at the bottom that will be used for filling it with sweets.
Allow it to dry for a few days and then decorate, either with paint or with tissue paper strips. You could turn it into a pumpkin, skull, or add some legs for a creepy spider. Once complete, fill it up with sweets, though bear in mind that if you make it too heavy you could overwhelm the paper mache. Pierce holes around the top of the pinata where the opening is, to thread string through to enable you to hang it up. Then let the kids loose with some sticks to try and shake loose the sweets!
7. Witch Up to Tricks
Forget Elf on a Shelf, how about Witch up to Tricks? A few days (however many you can tolerate to do this for) have a witch doll magically arrive at your house (you can find loads on Amazon and other places at this time of year) with a letter for your kids saying that she's here to keep an eye on them and will reward them with treats on Halloween if they are good. Just like Elf on a Shelf, your witch can mysteriously move each night and get into mischief. Perhaps she will make a mess making potions, or gorge herself senseless on lots of treats.
8. Bake Some Halloween Treats & Enjoy a Halloween Feast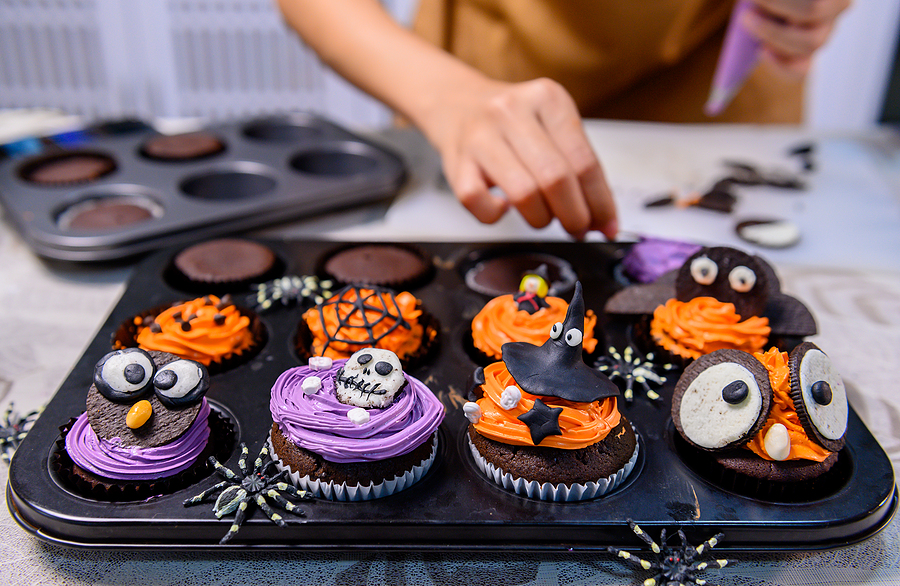 It doesn't have to all be about sweets! You could have an entire Halloween themed meal. Mini mozzarella balls with a slice of olive attached make for great eyeballs that can be served with spooky spaghetti (or worms as you may like to call it!), or you could create spider shapes on pizzas using various toppings. Green jelly is perfect for snot, and your children could have a great time decorating biscuits or cupcakes with spooky themes.
9. Look Out for the Blue Moon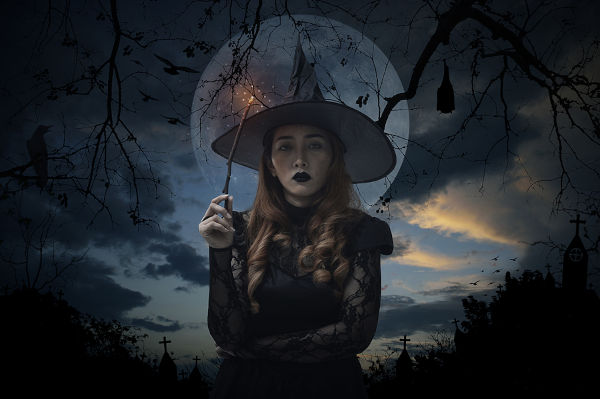 Halloween will be extra spooky this year as it coincides with a Blue Moon. This celestial event occurs when there is a second full moon within a calendar month. The night sky is brimming with interesting objects at the moment, with Mars, Jupiter, and Saturn all visible in the evening. If you have the space, you could have campfire with marshmallows to accompany your stargazing, and keep an eye out for any shooting stars… they could be witches whizzing their way to mischief.
10. Make a Spooky Den & Read Some Haunted Tales
Of course, many of the themes we see at Halloween originated from spooky ghost tales and classic story books. So, why not go old school this Halloween and spend some time together reading spooky stories to your children? You could make a cosy den in the living room with fairy lights and warm blankets to make it more fun.