Last month, millions of children have returned to school after a long break following the Coronavirus shut down. For most, this was a welcome return, with many parents struggling to manage working with childcare and home schooling. However, for some families who may have vulnerable people living in the household, the return to school is a significant worry. Although children are largely unaffected by the disease when it comes to severe symptoms, it is likely that they are able to spread it, possibly even when they are not displaying any symptoms at all.
For this reason, many families are opting to stick with home schooling for the time being. That being said, the UK government have stated that school is now compulsory from September and, as a result, local authorities will have the power to issue fines to parents for children who are absent.
Parents do have the right to home school their children, but if your child is registered at a school then in order to avoid fines you may be required to de-register your child from their school. It's worth checking with your local authority as some have stated they will not be issuing fines regardless. It's also worth bearing in mind that if you do choose to de-register your child, you are not necessarily guaranteed a place back in the school once you decide to return to formal education.
So. that's the basics covered, but if you have made the decision to home school, then you may be thinking about what happens next? If you are not from a teaching background it may be hard to come up with lesson ideas yourself, but thankfully, there are plenty of online resources available at the touch of your fingertips that will get you started.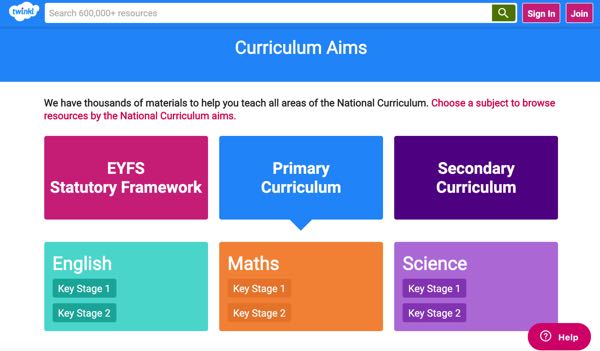 Twinkl is a vast library of over half a million teacher created resources that fit with the UK national curriculum. It's used by teachers up and down the country and it covers early years right through to GCSE level. There is a mixture of resources available, from simple worksheets to entire topics complete with lesson plans and presentations, covering just about all of the national curriculum. The worksheets have been designed to be as user friendly as possible, meaning that they are suitable for home schooling. Twinkl also creates its own digital story books, with accompanying tasks for children to complete.
Although access to Twinkl was free during the Coronavirus lockdown, the company has now reverted back to its subscription model. However, the basic package starts at just £4.49 a month and gives you access to everything above. Premium membership includes extras such as a monthly book delivery, access to online games, and much more. You can find out more here.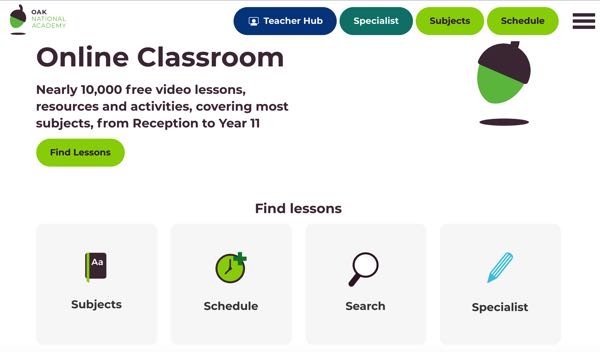 If you want to home school, but are worried about planning lessons, or even just creating a schedule, then you need the Oak National Academy. Created in response to the Coronavirus lockdown, the Oak National Academy is a not for profit organisation set up by teachers that aimed to plug the gap during the school closure period by providing online lessons. Schools may be reopening, but in recognition of more uncertainty, the team behind this online school have decided to continue their provision for the 2020/21 academic year.
They have worked very hard over the summer holidays to produce full lesson plans for each year group up to GCSE level and it's very easy to use. Pick a year group, then pick a subject, then pick a topic in that subject and you can start working through the lessons. Each lesson has a mixture of video led tasks, quizzes, worksheets, and more. Best of all, it's completely free to use. Check it out here.
Best for primary school children, Reading Eggs is a fantastic resource for teaching kids how to read. It uses a mixture of games, songs, and stories to teach children the basics of phonics, with individual lessons that can be taken at your child's pace. The lessons are all online and can be accessed via a computer or tablet. However, the lessons also have additional worksheets that can be printed off for your child to complete away from a screen, which means that you don't have to worry about too much screen time.
Children are kept motivated through a reward system that gives access to various games and other fun, digital elements. Children can move onto the Reading Eggspress section once confident in their phonics, and this offers reading and comprehension activities that are suitable up to the age of around 13. Whilst Reading Eggs is primarily known for its emphasis on teaching reading and comprehension skills, there's also a maths section that covers the core skills needed for primary level maths. There is a cost involved. You can subscribe for £6.99 a month or £47.95 for a year. However, it does have a 30-day free trial so you can try before you buy. Find out more here.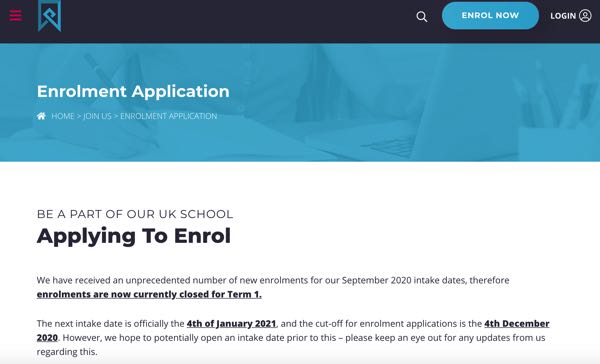 My Online Schooling is particularly focused on children of expats, providing a UK education to children around the world via online classes, but it's also open to children here in the UK. Employing fully qualified teachers, this service offers a full national curriculum, starting at key stage 2, right the way up to A levels. Lessons are delivered live and include interactive sessions. It essentially recreates the school experience via video conferencing.
Of course, this means that someone else is doing the teaching for you, and as a result, it costs significantly more than most of the resources featured here. The fees vary depending on the age of your child and the package chosen, rising up to a few thousand for pupils wanting to take the full cohort of GCSEs or A Levels. You can find out more here.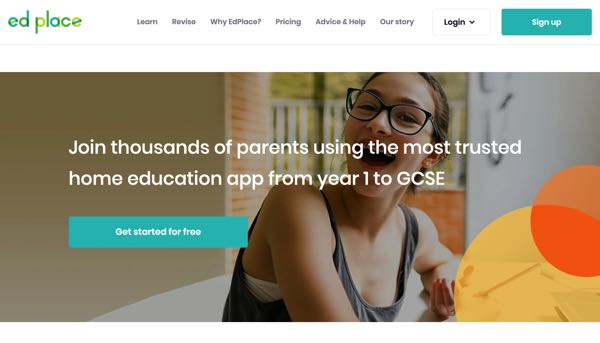 EdPlace is designed to complement the learning that children do in schools, but it can also be used for homeschooling as an addition to other resources. It uses apps available on Apple and Android devices that children can use to complete tasks. These tasks have been created by teachers and fit with the national curriculum, covering English, Maths, and Science from Year 1 to GCSE level. The software automatically marks your child's work, so you can easily see where they are doing well and where they may need support. There isn't much in the way of instruction, since as mentioned above, the provision is really designed to supplement learning in school, but if you are looking for an easy way to check your child's understanding of the topics you have covered, EdPlace is a great resource for doing just that.
There is a free option that permits your child to access 5 activities a month, so this is pretty useful if you just want to use it as a regular check on your child's progress. However, if you want to get full access to the activities, you will need to sign up for a paid subscription, starting at £15 per month. Find out more here.
IXL is an award-winning online learning platform that has multiple iterations around the world, but the UK version is helpful for home schoolers in the UK since it has been designed around the national curriculum. What is more, it helpfully breaks down the curriculum into individual skills, so you can helpfully identify what your child needs to be achieving at their current age. If you sign up as a member your child can undertake a diagnostic test that will identify any areas of weakness and then suggest activities for them to complete to help them with those specific areas. Using analytics, the software continuously assesses your child's progress and adapts the suggested tasks in response, providing you with detailed reports on their learning.
Unfortunately, the UK version does only cover Maths and English, but it's a great resource nonetheless. What's more, it does offer a little flexibility when it comes to pricing, since you can opt to only have access to Maths or English, costing £7.99 a month for each. Alternatively, if you decide to subscribe to both, it's £12.99 a month. Visit uk.ixl.com for more information.
Activity Village is one of the oldest websites featured on this list. It was created way back in 2000, when many of us were kids ourselves (eek), by a British Mum who quickly cottoned onto the idea that the internet could be a useful tool for helping parents keep their children entertained. It offers thousands of resources, largely aimed at primary children, including craft ideas, worksheets, puzzles, games, and colouring sheets. The "Learning" section is helpfully broken down into different areas, such as phonics, science, etc., with ideas for educational activities and accompanying worksheets and information that can be read with your child. It also has a "Topic" section where you can explore a variety of resources designed around a single topic, covering anything from animals to the British Royal family.
Activity Village has a large number of free resources, such as craft ideas and facts about various topics, but if you want to print anything off, such as a worksheet or a colouring sheet, then you need to pay for membership. However, it's incredibly cheap, at just £21.95 for 12 months, which is less than a cup of coffee once a month, and with that you get access to thousands of printable resources. Find out more here.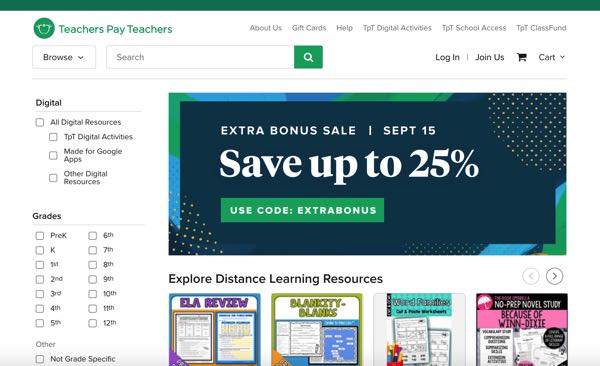 Teachers Pay Teachers is a US site that's a bit like eBay for teachers. Essentially teachers can create digital resources for any age and place them online for other educators to purchase. There are digital resources available for all ages and subject areas, though as this is a US site you won't necessarily find things that fit with the national curriculum.
Resources range in price from a couple of dollars to $40-50 for bundles that include multiple lesson plans and resources. That being said, there are millions of free resources available (though you do need to sign up as a member to access them), including various worksheets and activities. Find out more here.
The Science Museum Group run several museums across the country, the most famous of which is the London Science Museum. As part of their mission to inform they have a host of resources available online designed to educate, and helpfully, they have organised these into key stage age groups.
The resources are free, and range from activity ideas to videos, with many linking up to some of the exhibits they have in their museums, so if you are planning a visit to one of them as part of your homeschooling provision, it's worth checking it out in advance. Find out more here.
Century is an artificial intelligence led programme of learning that fits with the national curriculum. Its award-winning platform can be used in the home or the classroom, and using clever programming, the software can identify areas where your child needs extra support and tailor activities in response.
Parents can subscribe to use the software at home and it covers English, Maths and Science for children in key stages 2, 3 & 4, with thousands of videos and presentations that break down the curriculum into manageable chunks. A single user subscription costs £9.99 per month but if you have more than one child then the family membership offers great value for money, costing £18.99 per month for up to five children. Find out more here.