2020 is drawing to a close and thank goodness for that. We don't know what 2021 will bring, but at least the prospect of Christmas and the joy it brings to children gives us something to look forward to. This year, budgets will be tighter for many, so here's a selection of some of the hottest toys available for £20 and under.
1. Pets Alive Fifi the Flossing Sloth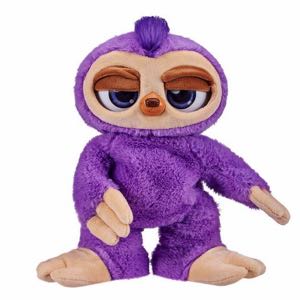 A sloth who loves to floss! This cute and cuddly toy shows off some groovy moves, flossing away to three different songs. Complete with blinking eyes and wiggling hips, Fifi starts to dance when you press her nose. Suitable for children aged 3 and up, this is sure to give everyone the giggles.
Fifi is available from Argos and costs £20.
2. BFF Bright Fairy Friends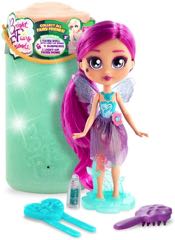 These adorable little fairy dolls are one of the latest "blind bag" style toys. This means that until you open the box, you don't know which fairy you are going to get, and there are several to collect. Of course, lots of parents are put off by this idea as it does encourage children to amass large collections of plastic, however, what we like about this range in particular is that each doll comes with its own fairy house with lights that can be used as a night light.
Each doll has brightly coloured hair and comes with her own brush and hair accessories. What's more, when your child presses on the doll's necklace, her fairy wings will glow. As a stocking filler, or as a standalone gift for a relative or friend's child, we think this is a great buy.
BFF Bright Fairy Friends are available from Amazon and cost £12.99.
3. Drone Home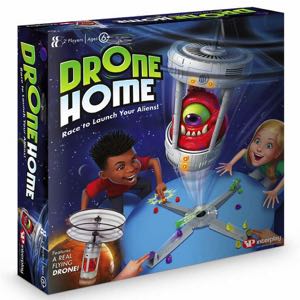 Last Christmas saw drones taking over Christmas wish lists for children in a big way, and this year the trend continues. The problem is that the average drone is a little pricey, but if you want to give your child a taste of the drone experience, then check out this game, new for 2020. Drone Home has a small drone at the centre of the game board, and players take turns to try and get their alien figures into the drone and away from other players to safety.
The first player to get all of their aliens to safety wins the game, but players can sabotage each other's efforts. Of course, being a game for children that is just £20, you're not going to get an award-winning piece of tech, and battery life can be an issue. That being said, it's a fun game for children in the modern age and its price is comparable to the hundreds of other board games on the market.
Drone Home is available from Argos for £20.
4. Smart Games – IQ Puzzler Pro
If you're old enough to remember the television show, The Krypton Factor then perhaps you will remember contestants battling against the clock to recreate structures from a set of differently shaped blocks. This game recreates that challenge on a smaller scale, and it's a brilliant gift for anyone of almost any age who fancies themselves as "a little bit clever."
The game has a set of shapes and a double sided board, with 120 challenges to complete. You will either need to recreate a 3D structure or a 2D image and the challenges get progressively harder. The game board folds to create a case in which the pieces can be stored and it's small enough to transport around in a bag.
IQ Puzzler Pro is available from Amazon and costs just £9.99.
5. Eugy 3D Craft Kit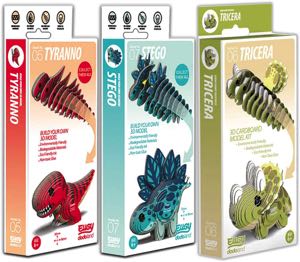 These simple craft kits make for fabulous stocking fillers. Each box contains pre-cut card shapes that can be glued together (glue is also provided) to create a model of an animal. The box also contains a sheet of facts about the animals. These sets are an ideal way of introducing the concept of model making to a child, with a recommended age of 6 and up. There are several to choose from, including dinosaurs, penguins, unicorns, and sharks.
Eugy Craft kits start at £7.99, going up to around £13 for the bigger models, with bundles also available. You can purchase a wide range of them from Amazon.
6. The Wooden Toy Factory Noah's Ark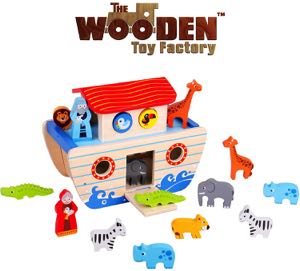 Designed for children aged two and above, this lovely set ticks all the boxes. It's made entirely out of wood, so there's no environmentally damaging plastic. It doubles up as a shape sorter, making it a useful educational toy for your toddler, and it has been beautifully painted in vibrant colours, making it attractive to any young child. It can also help fuel your child's imagination through promoting small world play.
Noah's Ark is available from Amazon and priced at £18.99.
7. FunLockets Secret Diary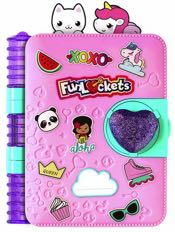 Another addition to the "blind bag" craze, only this toy takes the fad to a new level, combining the idea of a traditional diary with a sort of treasure hunt that unveils secret surprises. Once your child has got past the first challenge, which is to discover how to open the diary, they must then follow clues to unlock further hidden compartments and sections. There are 30 different items to find, including stickers, paper clips, and a keyring. Plus, it can also be used as a secret diary for your child to record their ideas in.
FunLockets Secret Diary is available from Argos for £20.
8. Heroes of Goo Jit Zu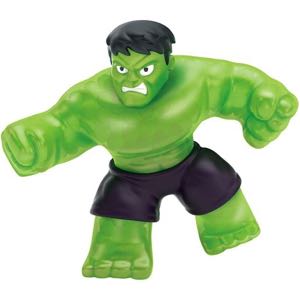 There's something oddly satisfying about stretching out Captain America's arms or poking Hulk in the belly. These strangely sensory toys can be manipulated and stretched in the same way that a stress ball can, making them a great choice for children who like to fiddle with items. There are several different figures available, including Marvel characters, as well as figures exclusive to the Goo Jit Zu brand, meaning that they can also be used as part of your child's imaginative play.
Goo Jit Zu figures range between £9 and £14 and are available from Amazon.
9. Taco Cat Goat Cheese Pizza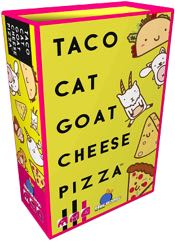 The makers of hit card game Dobble have come up with another hilarious family friendly game that will provide hours of fun, and possibly slightly sore hands. The game consists of a pack of cards, most of which have images of either a taco, cat, goat, cheese, or a slice of pizza. The deck is shuffled and each player is given an equal amount of cards, that they must keep face down. Each player takes a turn at turning over a card and putting it on the centre pile (a bit like snap), but whilst each card is played, players must recite the mantra "Taco Cat Goat Cheese Pizza" with one word per turn.
When the card on the centre pile matches the word said as part of the mantra (i.e., a Taco card is placed down just as players say "Taco", then all players must put their hand on the centre pile, with the first person to put their hand down the winner of that round and then eligible to collect the cards. Run out of cards and you're out of the game. However, there are added twists, with special cards that prompt additional actions, such as the Gorilla card that requires all players to beat their chest.
Taco Cat Goat Cheese Pizza is available to buy from and costs £10.99.
10. Munchin Monkey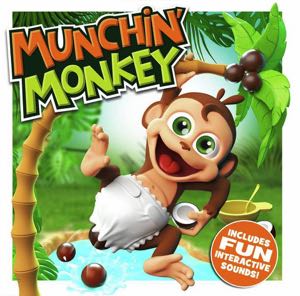 What can we say about Munchin Monkey, beyond stating that it is a game where the aim is to get the monkey to fill a nappy so much that it bursts, releasing all the waste? Here at Mumblog, we've never really understood the appeal of toys that recreate the actions normally reserved for the toilet, but kids do seem to like them and for that reason we think Munchin Monkey will probably be a big hit.
The game consists of a money figure that swings from a tree, a collection of game pieces in the shape of coconuts, a spoon, a bowl, and some nappies. Place the nappy on the money. Roll the dice to see what action you have to take. Either feed the monkey a coconut or a spoonful of water. See who is the player who can make the nappy burst, releasing the coconuts and water. The monkey also makes sounds as you play. However, the nappies are single use only, and the game will come with just 30 of them, with more available to purchase online, which is something to consider before making your purchase.
Munchin Monkey costs £20 and is available from Argos.
11. Jaques of London Wooden Toys Xylophone Bench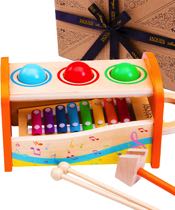 This lovely set combines music with learning about cause and effect. Children can use the hammer to knock the wooden balls through the bench onto the xylophone below and listen as the ball makes a sound rolling along the xylophone keys. The xylophone comes out of the bench and can be played separately, enabling your child to develop their creativity and understanding of music. This set also comes with a music sheet to teach you how to play simple songs on the xylophone.
The Xylophone Bench costs £9.99 and is available from Amazon.
12. Kinetic Sand SandWhirlz Playset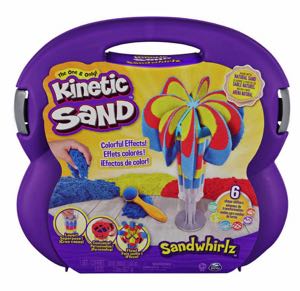 Kinetic Sand is a fun way of providing a sensory experience for your child without creating the mess that's often associated with sand and sensory play. This is sand that has been treated so that it clings together, and is almost dough like in its consistency. It can be moulded into shapes, though unlike Play-Doh it won't hold the shape for long. With the SandWhirlz play set children can create swirling and mesmerising displays using various shapes and a plunge tool.
There are three different colours of sand included in the box (and just like Play-Doh they will all eventually mix to create a shade of brown) with more available to purchase separately if required. The set also comes with its own hand storage box, which always scores extra points here at Mumblog!
The Kinetic Sand SandWhirlz Playset is available from Argos for £20.
13. Ragtales Baby Fifi/Alfie Toy Rattle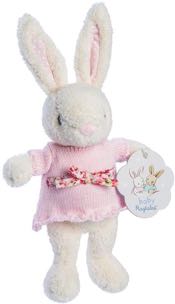 If you have welcomed a new baby into your family / friendship circle this year then you are no doubt looking forward to choosing something really special to give for their very first Christmas present, and we think a Ragtales Rattle might just be the perfect gift. These rabbit figure rattles are suitable from birth so you can be rest assured they are safe. Soft, cuddly, and adorably cute, we particularly love the Alfie version that comes with his very own corduroy dungarees, whilst Fifi has a pretty pink dress.
Fifi and Alfie are both available from Amazon and cost £16.99.
14. Peppa Pig Grow & Play Pot
If you are buying for a Peppa Pig fan this Christmas then look no further. These delightful toys fulfil that Peppa Pig addiction with the added bonus of being educational. This toy consists of a plant pot that is shaped like a little house, complete with a door, a Peppa Pig figure with an accessory, and a packet of cress seeds that can be planted by your child in the pot.
There are four in total to collect, with Peppa, Rebecca Rabbit, George Pig, and Suzy Sheep also available. What's more, each pot has its own fence that can be connected with another pot, so if you do collect more than one, they can be joined together to make a village.
The Peppa Pig Grow and Play Pot is available from Amazon and costs £9.99.
15. Collins Key Double Fake Food Showdown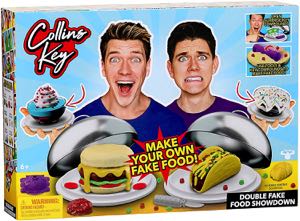 Collins Key is an American YouTuber who has wowed millions of viewers with his unique food creations. He has now released a series of toys that encourage children to make their own, non-edible creations. This set includes various coloured doughs and slime, serving platters and tools, plus challenge cards and a spinner.
Players must create an item as stated on the challenge card using the dough / slime, and then the spinner determines who is the winner based on various categories. It is worth pointing out that this toy falls into the "blind bag" category, in that each set will contain different dough and challenge cards, so if you're averse to toys that encourage children to want more and more, then this may not appeal.
The Double Fake Food Showdown is available from Amazon for £14.99.
16. 5 Second Rule Spintensity
A great game for the whole family to get together and play over Christmas, Spintensity will have you rolling on the floor with laughter. This set is based on the original card game and has been updated for the technological era with an electronic spinner with lights and sounds. Each player will be challenged by one of the 200 cards to name three things in five seconds, and then press the spinner to see what happens next. You might be challenged to name three more, or take another card, or simply move onto the next player. Fail to name the items as required and you don't get the points.
5 Second Rule Spintensity is available from Argos and costs £20.
17. Pound Puppies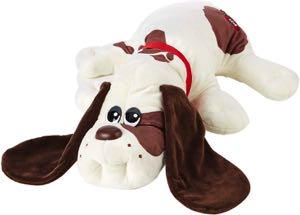 Pound Puppies are back! The hit 1980s toy has made a return and they have been designed to be just like the original soft, cuddly plush toys that you may remember from your own childhood. Each plush dog toy comes with a sticker sheet, name tag, and adoption certificate to enable children to name their new pet. What's more, money from the sale of each Pound Puppy is donated to The Dogs Trust which works to find homes for abandoned pooches across the UK.
Pound Puppies are available on Amazon and cost £19.99.
18. NASA Lunar Lander Construction Kit
This building set has a retro vibe and certainly harks back to a time when toys were simpler and encouraged creative and imaginative play rather than a desire to collect more and more. Using metal plates, nuts, bolts and bars, children can build a model of the NASA Lunar Lander that brought Neil Armstrong and Buzz Aldrin safely to the moon in 1969. What's more, it's included in Debenham's 3 for 2 Mix & Match present offer, making it even more of a bargain.
The Lunar Lander kit is available from Debenhams and costs £15.
19. HEXBUG MoBots Ramblez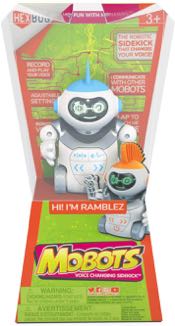 HEXBUG have released a fun new range of robotic toys to complement their fantastic insect inspired robot habitats. Ramblez is a dancing robot that responds to your claps and it can record clips of your voice and change the pitch and speed of the clip to create unusual voices. Ramblez is one of a number of MoBots that can recognise each other and will respond to each other. Children can even change the robot's hair! It's a pretty clever toy, especially when you consider it's available for less than £20.
MoBots Ramblez costs £14.99 and is available from Amazon.
20. Hey Duggee Smart Tablet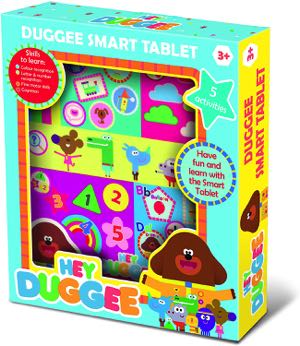 "Hello Squirrels, isn't it time for…Duggee Hug!" If you love listening to Alexander Armstrong's voice, you should probably buy his album instead, but if you have a toddler you may just settle for this Hey Duggee tablet style toy. Press on the various shapes and pictures on the tablet to hear different phrases, and there are five different activities for your child to complete that can help them develop their recognition of colours, shapes, and numbers.
The Hey Duggee Smart Tablet is available from Amazon for £17.99.