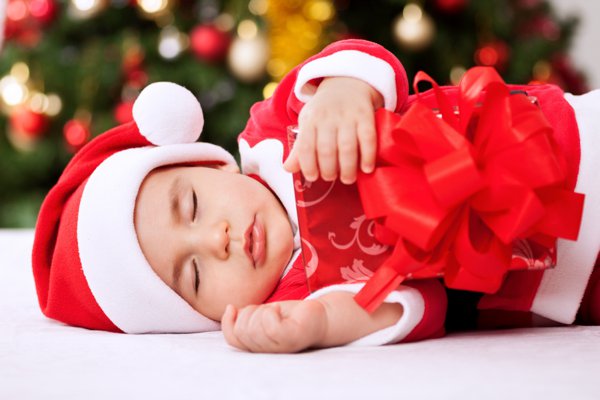 Once again Christmas is nearly upon us and soon we will be breaking out the tinsel, baking our brandy soaked fruit cake, and opening our advent calendars. Already the shops are starting to fill up with over-the-top Christmas displays and tempting offers on boxes of chocolates, which, as any parent knows, can be a bit of a nightmare. "No, you can't have that toy now, we're here to buy bread, not a dinosaur".
Not only do we have to contend with the never ending barrage of "please can I have that, please please please please please?" every time we need to buy groceries, we also have to start thinking about what Santa is going to bring our little ones this year (although, it seems unfair that a balding bloke dressed in an overly tight red suit and who breaks into people's homes should get all the credit for the presents).
You might also be someone with relatives seemingly incapable of thinking up ideas for themselves who will then pester you for ideas for presents (and then they too will take all the credit), which means you have a lot to think about. Or maybe you're here looking for ideas for someone else's child. Either way, we have hopefully got it covered with our list of ideas for Christmas presents for babies and toddlers, complete with options to suit all budgets.
Presents For 0-3 Month Olds
At this age, babies will probably find their own toes just as interesting as any toy, and so if you are looking for something to buy for a baby under three months old, and you want it to be something they will use now rather than when they are bit older, then we wouldn't recommend spending too much money. There's a distinct possibility that that very expensive super-duper highly educational and interactive ball with flashing lights and no volume control may be as dull as dishwater to the baby when compared to say, Mum's keys or the TV remote control.
Activity Gym
With that in mind, if you do want to splash out, then consider getting a baby activity gym. Brightly coloured, baby gyms encourage your baby's motor skills to develop and many include flashing lights and sound. For an extra special treat, this Bright Starts Sensory Sunny Safari Baby Activity Gym even includes a barrier to keep your little one safe. Alternatively, this Baby Safari Playmat and Arch from Mothercare is around half the price, though it comes with less attachments.
Lamaze Range
At Mumblog, we're big fans of the Lamaze baby toy range. These cute, affordable, plush toys come with lots of bold colours, which will appeal to young babies as their eyes develop. They also have various textured fabrics and many include a clip so you can attach it to the baby's pram, such as this Lamaze Play and Grow Purring Percival Travel Toy.
Soft Toys
Of course, you can't go wrong with a soft toy, and we love the Aurora range available at Kiddiecare, in particular this Gruffalo's C
hild Soft Toy inspired by Julia Donaldson's modern classic.
Rattles & Teethers
Rattles and teethers are another good choice for young babies, and Sophie The Giraffe is incredibly popular amongst parents. You could even get this special gift bag that has a Sophie, plus two other toys. If your budget is tight, this teething ring by the Early Learning Centre is a bargain and it clips to the pushchair. It's available at Boots as part of their annual 3 for 2 Christmas Gifts promotion.
Presents For 4-12 Months Old
At around four months, babies start being more mobile and want to explore more. There are lots of toys aimed at this age group that encourage that exploration, as well as toys that are educational, or just good old fashioned fun.
Jumperoo
An absolute firm favourite of the Mumblog Team is the Fisherprice Rainforest Jumperoo. Yes, it's expensive, but it has a great resale value on eBay and in local Facebook selling groups, so you have a good chance of getting a lump sum back once the baby has outgrown it. Unlike the traditional door frame bouncer, it can go anywhere providing there is room for its fairly large frame, and it has lots of interactive toys for your baby to play with, including a sound and light element that responds to your baby's movements.
Interactive Toys
VTech do a whole range of interactive toys for babies and toddlers, such as this Turn and Learn Cube that has plenty of buttons to press with songs, animal sounds, and other noises. VTech have toys to suit a variety of budgets, including this cute singing bear. If you want to splash out, check out their ever popular First Steps Baby Walker, available from Boots as part of their 3 for the price of 2 offer.
Shape Sorters
Shape Sorters are another favourite for babies at this age, and they encourage the child to develop their fine motor skills, as well as their knowledge of different shapes. The Cookie Shape Surprise from Fisher Price is another modern classic, with a song played in response to each shape being correctly placed in the coordinating hole.
Bath Toys
Finally, if you are looking for some stocking fillers, consider getting some bath toys, such as these Sea Squirts from Munchkin, which make bath time more fun.
Presents For One Year Olds
Your one-year-old will be a lot more mobile now, and whilst everyday objects such as the kitchen saucepans will still be a great source of entertainment, there are lots of toys that will keep your little one amused.
Outdoor Toys
At age one most children are starting to walk or walking already, so it's a great time to think about toys for the outdoors. Kiddicare have a lovely selection of ride-on toys suitable from aged one and upwards, whether your child is into Thomas & Friends, Peppa Pig, or something a little more classic, such as this red Big Bobby Car from Smoby.
Alternatively, why not consider a trike that grows with your child? The Grow and Go Deluxe Trike can be used as a ride on toy with a handle for parents to push, or as a trike for when the child is older.
Puzzles & Flash Cards
If you want to get something educational, then there are plenty of puzzles from which to choose. This set of simple farm animal puzzles by the Early Learning Centre will help your child to recognise different animals, as well as learn about how different shapes fit together. At just £6.00, they are an ideal low cost gift or stocking filler.
We also love these Flash Cards from Orchard Toys, which, whilst rated as suitable for three years or more, are popular with parents of younger children because they are a great way of teaching children new words. They can then be saved for later when the child is old enough to learn how to read and spell
Interactive Toys
VTech again have a great range for one year olds and are popular in the UK. They include the Toot-Toot range of toys with special "SmartPoint" technology that enables one toy to recognise another and "talk" to it. We particularly like the Animal Tree House and the Drivers Police Station. If your child already has one of these sets then you can also buy additional cars and animals separately, all available at Boots under their 3 for 2 offer.
Presents For Two Year Olds
At two years old, your child's personality is really starting to shine, and he or she will have particular interests, whether it be trains, puzzles, or playing shop. You might then have a fair idea of what to get your little one, but if not, here are some ideas to inspire you.
Balance Bikes
Balance Bikes have become increasingly popular in recent years and many parents report that it enables their child to skip the stabiliser stage of a standard bike as it helps the child to develop a sense of balance. Most are suitable from age 2 and up and have adjustable heights to grow with your child. The Kettler Waldi Balance Bike even comes with a three year parts and labour warranty.
Duplo
From humble beginnings in Denmark in the first half of the twentieth century, to producing over 600 billion parts as of 2015, Lego is staple of homes with children across the world. Their pre-school range Duplo, is suitable for toddlers aged 2 and up, and not only helps children to develop their fine motor skills, but also their imaginations as the possibilities with building are endless. John Lewis stock a great range that appeals to a whole host of different interests. We particularly like the Number Train, the Big Farm, and the Café.
Educational Toys
It's not too early to start teaching your two year old their letters and numbers, and many children will develop the ability to recognise different letters and numbers at this age. You can encourage this with interactive educational toys, such as the VTech Alphabet Apple that features keys for each letter that play different sounds and melodies. Alternatively, you could opt for something more traditional, such as this Chunky Wooden ABC Puzzle.
If you want your child to be able to practice writing letters without risking your walls being covered in multi-coloured crayons, then why not try this ELC Mini Artist My First Scribbler, again available from Boots as part of their 3 for 2 offer.
Stocking Fillers For Under £10
Your two year old will have a vague understanding of what Christmas entails now (although be prepared for tears if you do take them to meet Santa!) and so you might be looking for some stocking fillers as part of the event. Play-Doh is an ever popular toy and you can pick up a Play-Doh starter set for a really low price, with plenty of accessories available.
Help your child develop their problem solving skills with a cute wooden animal figures from Janod, such as this Sheep. You can even mix them with other animal figures in the same range to create a rather strange looking creature.
Floor puzzles are perfect for little hands as they feature large pieces that easily slot together, such as this Bing Bunny Puzzle from Ravensburger, inspired by the much loved CBeebies character.
If you are feeling brave, let your little one loose with this Felt Tip Pen set by ELC, especially designed to be safe for children aged 18 months and up.