Now that Christmas is rapidly approaching and the weather outside is cold and miserable, it's a great time to get out the old craft kit and do some festive themed crafts with the kids. Here's some ideas to get you started, with some that can be given as gifts to friends and family!
Melt and Pour Soap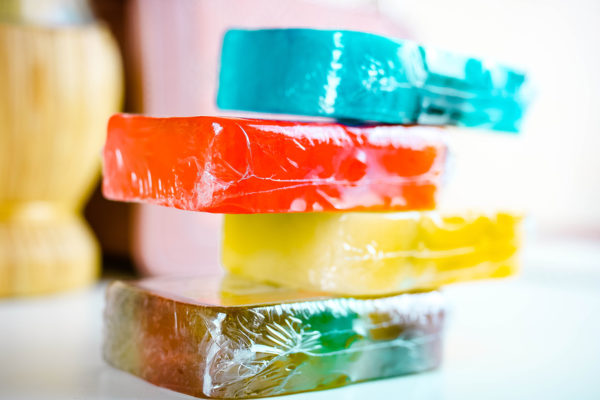 Making soap is a satisfying business but to properly make it from scratch you need to use scary chemicals that can burn. It's therefore not one for kids. That's why we think that "melt and pour" soap is a genius invention. You can safely create colourful and delightfully scented soaps without risking a trip to A&E.
The name "melt and pour" gives a clue as to how simple it is. You melt the soap base, either in a bowl over a saucepan of boiling water or in the microwave, add your colours and scents, and pour it into a mould. Once it's set, it's ready to use, and that's why we're particularly fond of this craft activity, since it leaves you with something that is actually useful!
To make your melt and pour soap you will need a melt and pour soap base. Amazon have a wide range to choose from but we particularly like this Clear SLS Free version since it's gentle on the skin and being clear makes it better for adding vibrant colours which kids will love.
You will also need some essential oils to scent your soap. You can get them fairly cheaply on Amazon, but be aware that not everything on there is of good quality and you might end up with a batch that is fairly weak. Of course, for a craft activity with the kids that's probably fine, but if you also want to give away the end product then you might want to consider an alternative. You can usually find essential oils in your local health food shop, but you can also pick them up in Boots and occasionally they are on offer here as part of a 3 for 2 set. Lavender is a great choice for soap, since it's ok to use on the skin and has a relaxing smell. Avoid scents like peppermint and cinnamon, as these can irritate the skin, whilst lemongrass might not be suitable for hay fever sufferers.
Finally, you will need some soap colours and a mould. You might be tempted by the food colours in your cupboard but don't as they won't work very well and if you are using more than one colour they will bleed into one another. Instead, you can pick up a set of colours from Amazon and what's more you can use this set to create other non-edible items such as bath bombs, home-made play-dough, and slime. For moulds, if you have a baking loaf tin that would work perfectly (lined with greaseproof paper), otherwise you can also get silicon soap moulds on Amazon.
Melt the soap base either using the old bowl in a saucepan full of water trick, or in the microwave, giving it just 30 seconds at a time. Be careful to stir it very gently, else you will end up with a lot of bubbles in your soap. Once it's all melted, add about a teaspoon of essential oil for every 500g you use, more if you prefer strong scents. Add a few drops of the colour, and gently mix it together, then pour it into your mould. If you are using a loaf tin, you can slice the soap up once cooled.
To make it more fun for the kids, you could add some cosmetic glitter, or even a small plastic toy, such as a dinosaur. If adding a toy, put a bit of the base in the bottom of the mould first and allow it to harden slightly before placing the toy and adding the rest of the soap. Be warned though, this may result in your child becoming a bit too keen to wash their hands in an effort to free the toy. You can also create stripy soap by layering up one colour at a time, and allowing it to cool before you add the next.
Homemade Chocolate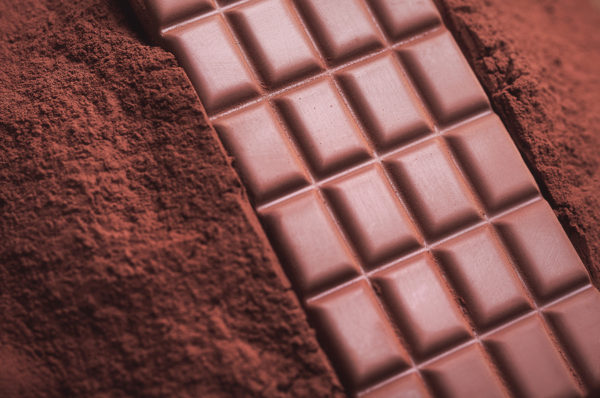 If you have been scouring the shops for palm free chocolate and have been left bitterly disappointed, then this is the craft for you. It's actually ridiculously easy to create your own homemade chocolate that you can then proudly give out as gifts, providing the kids don't scoff the lot first.
To make chocolate, you will need cocoa butter, cocoa powder, and icing sugar. You can also add vanilla extract if you wish. If you can't find cocoa butter in your local supermarket, then you can purchase some online from Amazon, just make sure it's an edible version, as some versions are only suitable for cosmetics.
The other great thing about making chocolate this way is that you don't have to remember any difficult recipes. Just remember the ratio 100/50/25. This translates to 100g of cocoa butter, 50g of cocoa powder, and 25g of icing sugar. If you are aiming for a low sugar treat, then you can switch out the sugar for a few drops of agave nectar instead.
Melt the cocoa butter gently by placing it into a heatproof bowl, such as a Pyrex bowl, and placing that bowl over a saucepan full of boiling water, taking care to ensure the bowl isn't touching the water, as that will burn the cocoa butter. Grating the cocoa butter before you melt it will make sure that it melts evenly and fairly quickly. Once melted, add the cocoa butter and whisk together until it has that glossy, chocolaty appearance, and then add in the icing sugar, whisking once more, If you want to add any additional flavours, such as vanilla extract, fruit, or nuts, then do so before pouring into a mould. You can use an ice cube mould if you have one or pick up a silicon mould from your local kitchenware store or Amazon.
You and your kids can then eat the chocolate, give it as gifts, or even grate it up to make a delicious hot chocolate treat on Christmas eve.
Hama Beads Christmas Decorations
You can make some great Christmas decorations using Hama Beads, with endless possibilities for designs. You could make a Christmas pudding, a Santa, a reindeer, a snowflake, or a candy cane. The list is endless. We have included a template for a gingerbread man with a Christmas hat on here, but you can find plenty more ideas online. If you don't already have a set, then you can pick one up in your local toy store or online from Argos where they also have Aquabeads that use water instead of heat to stick together.
Salt Dough Decorations
A bit like play-dough, salt dough can be moulded into shapes or rolled flat and cut out. However, with salt dough, you can keep your finished creations by drying them out slowly in a low oven and then paint them to create long lasting items that can be brought out year after year to hang on the tree.
Salt dough is really easy to make and you don't need any special ingredients. All you need is table salt, plain flour, and water, using these ratios: 100g flour, 50g of salt, 50ml of water. You can double or triple the amounts to get the amount of dough you need. Mix the salt and flour together first, then add the water to form a dough that is then ready to use.
You can either make models, such as miniature Christmas trees, or you could use biscuit cutters to cut out various shapes. Basically, anything goes but remember, larger and thicker items will take longer to dry out in the oven.
Once you have made your models, place them on a baking sheet that is lined with greaseproof paper and put them in the oven on its lowest possible setting for 2-3 hours, until the dough is completely dried out and the models are hard. Once cooled, they can be painted. You can use water-based paints but this will reduce the amount of time the models last for, with acrylic paints being best.
Dried Citrus Decorations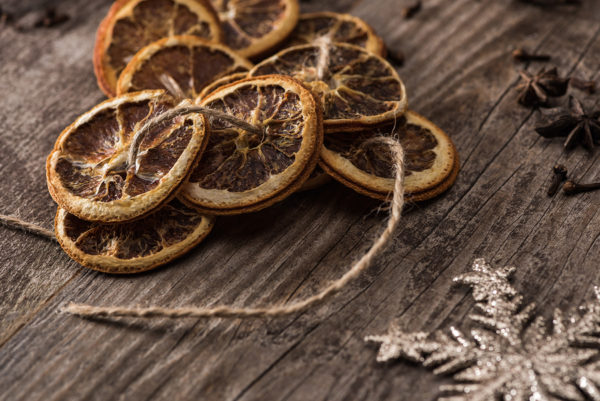 Natural decorations make a great alternative to the plastic tat that seems to accompany Christmas. You will need to supervise your child when making these during the first step, but once the slices have dried out your child can use them as they like.
To make dried citrus slices simply slice up lemons, limes, and oranges and lay each slice flat on a baking sheet. Place them in your oven on the lowest possible setting. Turn them over every hour or so and once they have completely dried out you can remove them. You can pierce the middle to thread them with string and either hang them on the tree individually, or your child could create a garland or wreathe, or use them to stick onto card and make Christmas cards. They also smell delicious!
Christmas Village from Recycled Boxes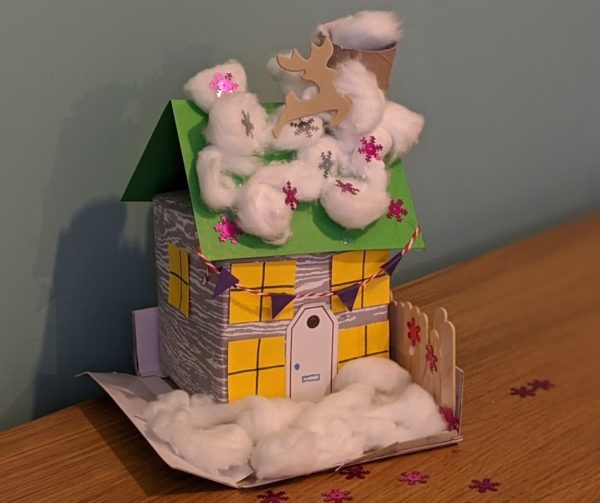 We love this craft because it's something that the whole family can get involved with and it can be added to year after year. Plus, it makes use of your recycling, and it involves considerably less sugar than a real gingerbread house and no baking skills!
Simply gather together some boxes from your recycling. Cereal boxes work particularly well, as do smaller cardboard boxes, such as those that contain crackers or rice. You can also use cartons like the kind that milk used to come in, that now tend to be used for soups and sauces, but you will need to wash them out thoroughly.
You will also need items to decorate the houses, including Christmas wrapping paper, or brown paper, coloured card, buttons, candy canes, lollipop sticks, cotton wool (for snow), and toilet roll tubes that make great chimneys.
Wrap the boxes in the wrapping paper, or brown paper, just like you would wrap a present. Then make a roof by folding a piece of card into an upside-down V shape and attaching it to the top with sticky tape or glue. Make windows and doors by cutting out shapes from card or paper and sticking them to the boxes using glue. Add decorations, such as cotton wool, on the roofs, buttons, or fences made from ice lolly sticks, or even candy canes, stickers, and whatever else you have to hand. The result is a lovely Christmas scene that can be put on display each year, and it's much cheaper than anything you will find in your local garden centre.
Christmas Card Tree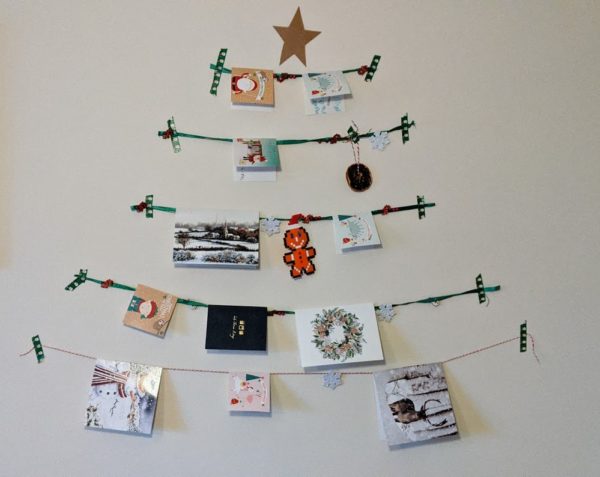 Need somewhere to put all those Christmas cards whilst still being able to access your books on your living room shelves? Why not make them a feature and get the kids involved in a craft activity at the same time?
For this activity you will need some twine, with thin tinsel or ribbon being a great alternative. You will also need some washi tape. Washi tape comes with all sorts of colourful designs and the great thing about it is that you can stick it to your walls and peel it off again without damaging the paintwork (though you should do a test first to make sure that this is the case with your walls). You can get washi tape in most craft shops but you can also pick some up on Amazon with some lovely Christmas designs.
On your wall, tape a length of twine horizontally about 50cm above the floor. This will be the widest point of your "tree". Tape additional lengths above it, leaving enough space between each line for Christmas cards to fit. Decrease the length each time so that you are creating a triangle shape, or tree shape. Once the string is secure, you can peg cards along the length, something your children might like to join in with. You can also add additional decorations, providing they are lightweight, such as foam decorations made by the kids. Your children could also cover a star shape with glitter to fix to the top of the tree using blu-tack or something similar.
DIY Snow Globe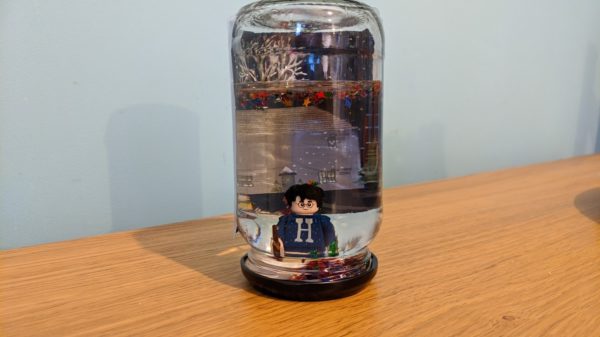 DIY snow globes are big hits with kids who love to see the "snow" swirling around inside. They are so easy to make and you don't need anything special.
You will need an empty jar, preferably one that is smooth all the way around, rather than a fancy textured jar, plus its lid. You will need a figure of some sort to place inside the globe. You can use an old cake topper that your own parents might have hoarded from the 70s, such as a snowman figurine etc. Alternatively, you could use one of your children's toy figures, such as a small Peppa Pig figure, a Lego Minifigure, or a small dinosaur.
You will need to use superglue to attach the figure to the inside of the jar, so your children should be supervised at this point. Whilst the glue is drying, on a piece of paper that is cut so it fits half way around the outside of the jar, your child can draw a Christmassy picture that will be the background for the snow globe. This can then be stuck onto the outside of the jar with tape. Fill the jar with water and add some glitter. Adding a couple of teaspoons of glycerin will "thicken" the water to make the glitter move slowly through the liquid. Alternatively, you can use baby oil instead of water to achieve the same result, and finally use that bottle of oil you were gifted when the children were born but you had no use for.
Place the lid on tightly and consider securing it with tape if your children are going to be playing with the finished item. Voila, one snow globe.
Ice lolly Stick Christmas Trees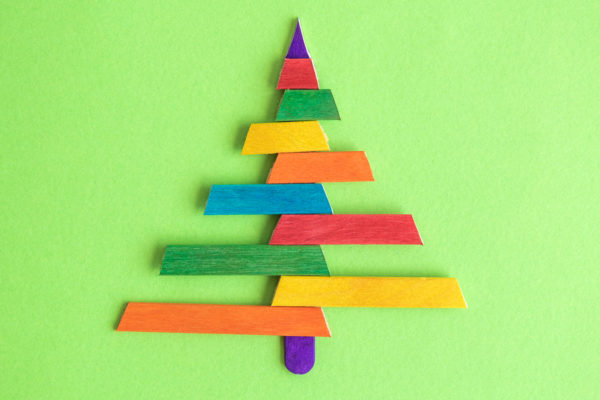 This is a simple craft that is particularly good for toddlers. Use PVA glue to stick ice lolly sticks together to form a tree shape. You can use just green sticks or create a rainbow effect with multi-coloured sticks. Your child can decorate the trees by adding sequins, glitter, or buttons and if you attach string to them you can hang them on your actual Christmas tree. Alternatively, you can stick them onto card to make cute Christmas cards for your family.