Summer has arrived and it's just a few weeks until the schools break up for the long summer break. Sadly, for many of us, holidays abroad are largely out of reach, thanks to the extortionate prices travel companies charge during the last weeks of July and throughout August. However, camping, with a little planning, can be a fabulous alternative. Offering your children the chance to have a mini adventure, camping is a great way to enjoy some family bonding time and get out into the Great Outdoors.
Reasons to Take Your Children Camping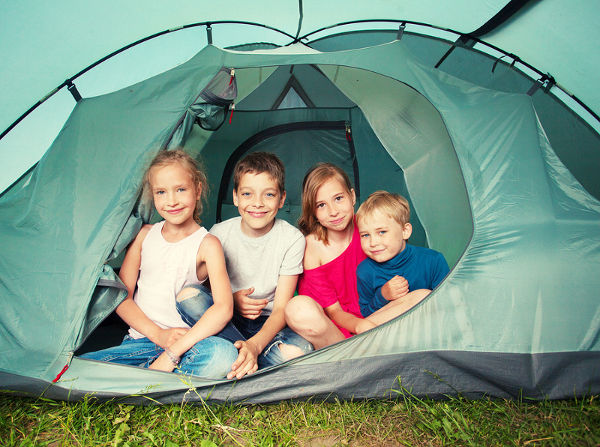 If you have never been camping before, then you understandably will be apprehensive about uprooting your family and their routine to spend a few nights under the canvas. However, there are plenty of reasons to consider it!
You Can Be Cheap & Cheerful, or a Glamourous Glamper
If your budget is prohibitive, then camping can be a way of having a family holiday for a fairly low cost. You don't need to purchase lots of equipment. A tent, sleeping mats or airbeds, sleeping bags, a camp stove and some pans (look for an all in one set such as this ODOLAND set on Amazon), and a torch is all you really need. Most of these can be picked up second hand on eBay, Gumtree, and Facebook selling groups. Then all you need to pay for is pitch fees. These can vary considerably between sites and depend on the size of your tent, whether you need electric hook up, and the facilities that are on offer, but you can expect to pay around £20-£30 per night for a family of four.
On the other hand, if money isn't an issue, and not having your home comforts puts you off camping, then consider glamping. Many of the larger campsites (and a few of the smaller sites) have a selection of luxurious camping options for guests to book into. Camping pods are small wooden cabins that are usually fitted with electric, heating, and lighting. Some offer additional facilities, such as beds and basic cooking facilities, whilst the most luxurious pods include sofas and televisions. Yurts are large, round tents that tend to be fitted with plush carpets, beds, sofas, and kitchen equipment for the ultimate in home comforts.
Camping Brings the Family Together
Helping out with family tasks is a sure-fire way of helping your family bond together. Even your two-year-old can join in with pitching up by holding pegs, whilst older children can hammer them into the ground. Once you are all set up, you can enjoy some quality family time together. Devices can be left at home in favour of more traditional games that involve the whole family, such as Uno and Monopoly. Furthermore, whilst children generally do need routine during their day-to-day life, camping gives us an opportunity to ignore the restrictions a routine might place on us. Bedtimes become more relaxed, as a set time doesn't really matter, especially when the summer evenings bring bright sunshine, and mealtimes become more enjoyable, as you eat simple food heated on the camp stove and served on special camping plates.
Science Says It's Good For Children
We all know the benefits of getting children into the great outdoors. The exposure to sunlight helps to generate vitamin D, an important nutrient for growth, whilst the opportunity to run around, climb trees, and build dens, all help to improve strength and fitness. But research from Liverpool John Moores University that was carried out on behalf of the Camping and Caravanning Club has shown that camping itself can have benefits to the mental well-being of children. The research found that 87% of kids who camp reported camping makes them feel really happy, 80% of camping kids said that their parents seemed less stressed during a camping trip than normal, and 76% of camping kids claimed that during camping trips their parents have more time for hugs than usual.
Top Tips for Camping with Children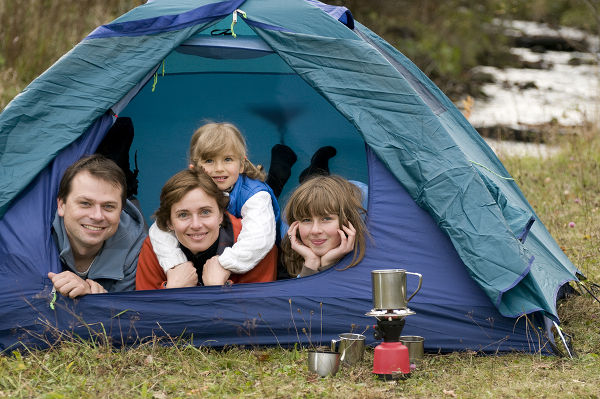 Even if you were a seasoned camper in your younger days, taking your children camping for the first time can be daunting. If you are not sure where to start, check out these top tips.
Choose the Right Tent for Your Family
These days, there are a myriad of tents available and it can be mind boggling for anyone who has never camped before to choose one. Think carefully about your circumstances before you pick a tent. If you are planning to only do one or two night camping trips then it's probably not worth buying a huge family tent. This Vango Odyssey 800 Tent might be bigger than the average lounge of a three bed semi detached house, but it will take a long time to put up, take up loads of room in the car, and will restrict your choice of campsite to those who are large enough to accept tents of this size. On the other hand, if you are planning to go for a few days or more, this sort of tent is ideal, giving you plenty of room to stretch out, especially if you are planning on visiting some of the campsites in Europe for extended trips.
If you have a young baby or toddler, then you probably need a tent where you can either all share a room, or have easy access in the night to where the toddler is sleeping. In this case, look for a tent that either has the option to divide a larger room into two with a simple partition, which will mean that you can share for now and split the rooms when the toddler is older. Alternatively, look for a tent where there is zip access between the bedrooms.
The British weather isn't always ideal for camping, so look for a tent that has enough space for you all to sit indoors and play a board game should the need arise.
Staying Warm at Night
Even during the height of summer, the nights can be quite chilly. Therefore, it's important to set up your bedrooms properly to ensure that everyone keeps warm. Firstly, you need to decide what you are going to sleep on. Foam mats are cheap, and take up little space, but they are notoriously uncomfortable. Self-inflating mats can also be great space savers, but the more comfortable ones, such as the Outwell Dreamcatcher, tend to be a bit more bulky. Airbeds fold flat but require pumping up. If you are only planning on pitching at sites with electric hook up, then look for one with an in-built pump, such as this AmazonBasics Premium Airbed, which has been tried and tested by the Mumblog team and deemed incredibly comfortable.
For younger children, you could opt for a junior airbed that has raised sides to prevent the child rolling off, such as this one from Kampa. For babies, you could bring your regular travel cot, but to save space, look for a travel cot designed for camping, such as the Mumblog tried-and-tested Littlelife Arc-2, which packs down small enough to fit inside a rucksack.
Once you have your bed, you need to think about how to stay warm. Always put a blanket (a picnic rug or tent carpet would also work) on the floor underneath your airbed or mat, to provide a layer of insulation between the cold ground and you. Choose a sleeping bag that is appropriate for the weather. Bags are rated 1-4, with 1 being for the warmest nights and 4 being for camping during the winter. Junior sleeping bags are also available. Have additional blankets available to add layers if necessary. For babies and young toddlers, JoJo Mamam Bebe do a range of baby sleeping bags with sleeves with a 3.5 tog rating. Use vests and sleepsuits / pyjamas underneath for added layers, plus additional blankets if necessary.
Further Top Tips
Once you have got your tent and sleeping arrangements sorted, there are a few other things to remember:
Choose your campsite carefully. Look for a site with a play area. An on-site café is brilliant for when you just don't want to cook for the entire family on the camp stove. Some sites have family bathrooms with baby changing units.
Pack plenty of games for the children. You can get travel versions of some classic favourites, such as Cluedo and Monopoly. Don't forget to bring outside toys, as well. Bubbles, Badminton, and Binoculars are among the many toys that are easy to pack and provide plenty of entertainment.
Make a one pot meal in advance and freeze it. On the day you travel to your site, put it in your coolbox and it will be defrosted enough to heat up for dinner that evening.
Take plenty of snacks. Your children will burn off lots of energy being outdoors all day.
Have a water bottle available for each member of the family. Younger children in particular will love being given the job of filling the bottles up from the campsite tap.
Get a sturdy bucket with a locking lid, like this one from Totbots. During the day, it can be a handy bin, keeping the smells locked in. During the night, line it with a couple of heavy duty bin liners, place a couple of dry nappies in the bottom, and hey presto, you have an emergency toilet that saves you trekking the kids across the campsite in the middle of the night.
Take plenty of baby wipes. Without a sink in the nearby vicinity, they are a godsend for spills, food coated hands, and can even temporarily replace a shower if the facilities are bit grim.
Think about lighting. Headtorches are essential for night time treks to the toilet. If children are afraid of the dark, some glow sticks can help without being too bright. You can get some great portable LED lights. This one available on Amazon has been tested by Mumblog and it gives enough light for the entire tent, with the option to dim to slight glow.