Thursday, 7th March, 2019 is this year's World Book Day. It's a day for children to celebrate books and reading, and at schools and nurseries across the country children will be invited to dress up as their favourite character from a book. The event is a UNESCO initiative that is celebrated world wide but here in the UK the World Book Day Charity works with the National Book Token scheme to give every child in school and nursery a free book.
£1 Books for World Book Day
Your child will be coming home from school or nursery with a book token to buy a free book from your local book shop. The tokens can only be used for books that have been especially produced for World Book Day.
If your child has missed out on a token because they haven't started school / nursery yet, or they have somehow lost the token, then fear not, because the World Book Day books can also be purchased for the bargain price of £1.
The selection of books changes every year, with popular children's authors getting in on the action and creating special books for the event. This year's selection has some crackers that are guaranteed to be a big hit with your child. Mike Brownlow & Simon Rickerty have produced a follow up to their Ten Little series that is popular with pre-schoolers with Ten Little Bookworms. There's a re-release of a Percy Jackson short story by Rick Riordan, and fans of Lego will love Mini-Figure Mayhem – a fact book that is packed with jokes and challenges. Other authors who are featured include Jeff Kinney, Lauren Child, and Frank Cottrell-Boyce.
World Book Day Costumes Available to Buy Online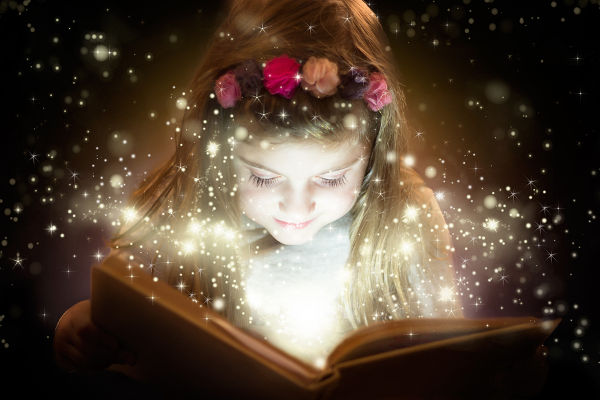 Many of us parents shudder at the thought of a school dress up day, especially when we're not that creative or simply don't have the time to dig out the sewing machine. Thankfully, as World Book Day has become more and more popular in recent years, many of the UK's retailers are getting in on the action by selling a vast range of costumes. Here are some of our favourites.
Superhero Costumes
Don't let anyone tell you that your child can't dress up as a superhero for World Book Day because they're cartoon characters rather than book characters. Most of the popular superheroes originated from comic books, and whilst some people might be prejudiced against this form of literature (because they're a bit snobby) there is no denying that comic books have played a vital role in getting children, especially boys, into reading. For this reason, we think that superheroes should be celebrated on World Book Day, not ignored.
John Lewis have a fabulous range of Superhero costumes, and we particularly like this Thor costume that comes complete with the legendary hammer Mjölnir. Don't forget, girls can be heroes too, and Argos have a fabulous Batgirl costume.
Superhero Books
This Marvel Avengers Reading Adventures book contains six superhero stories that is ideal for children in key stage one.
Roald Dahl Costumes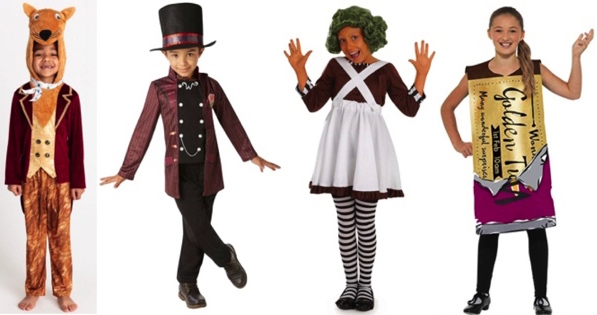 Roald Dahl remains one of the most popular children's authors in the UK. There are so many wonderful characters to choose from, including the Fantastic Mr Fox. Of course, one of Dahl's most famous stories has to be Charlie & The Chocolate Factory, and Amazon have a range of costumes from the book, including Willy Wonka, and the Oompa Loompas. If your child prefers something little quirkier, then check out this Golden Ticket costume.
Roald Dahl Books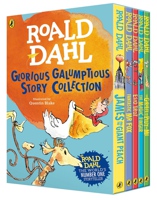 If you haven't introduced your child to the wonderful world of Roald Dahl, then World Book Day is the perfect opportunity to do so. This box set is a great place to start. /go/roald-dahl-book-collection/
Children's Classics Costumes
You can't beat the classic children's stories. They have been enchanting children for decades and will no doubt continue to do so. Fans of Alice In Wonderland will love this Mad Hatter costume available from John Lewis and they even have a girls' version. Alternatively, you could have a little Peter Pan or Little Red Riding Hood to send off to school. We also love this Mary Poppins costume from Amazon (yes it was a book before it was a movie). Finally, check out this adorable Paddington Bear costume and this cute little Dorothy from the Wizard of Oz costume.
Classic Books
You can get a box set of children's classic stories on Amazon.
However, some of the language used can be inaccessible to younger readers, and this set offers versions of the classics that have been re-written for younger readers.
Disney Pixar Costumes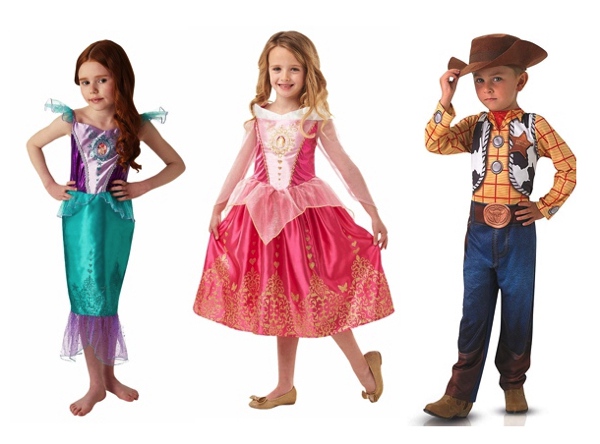 Just like superheroes, some people dismiss Disney characters for World Book Day as not "counting" as book characters. However, most of the Disney movies are based on classic fairy tales. Furthermore, even those that were not originally based on fairy tales have spawned a huge range of literature, such as picture books, early reading books, and story collections. John Lewis have a range of Disney princess inspired costumes, such as the Little Mermaid and Aurora from Sleeping Beauty. For Toy Story fans, Amazon offers the chance to dress up as either Woody or Buzz Lightyear.
Disney Books
Disney stories make for great bedtime reading. This 5 Minute Disney Pixar Stories collection contains some of Pixar's best loved characters, whilst this Princess Bedtime Stories collection features several of Disney's most popular princess characters.
Sci-Fi & Fantasy Fiction Characters
Sci-Fi and Fantasy is a popular genre of fiction, especially amongst older children. Of course, some of the most popular characters derived from tales that originated on the big screen, such as Star Wars, but these have since spawned multiple books that have helped to engage young readers. John Lewis have a number of Star Wars costumes available online, including this slightly terrifying Darth Vader costume. /go/darth-vader-costume/
One of the biggest hits in children's literature in the last twenty years is the Harry Potter series of books, and at this time of year you will find Harry Potter themed costumes on most shop shelves. We love this Harry Potter costume from John Lewis but if your child prefers to be in a different Hogwarts house then Argos have you covered. Check out this Ravenclaw costume as an example.  If your child prefers something a little scarier, then perhaps they might like to dress up as a Death Eater for the day.
The third and final installment of the movie series of How To Train Your Dragon was released a few weeks ago and many children will want to dress up as characters from either the movie or the books that inspired them. Amazon have several options available, including Hiccup, Toothless, and Astrid.
Sci Fi & Fantasy Books
Reluctant young readers may be encouraged to read about their favourite Star Wars characters in this set designed for children who are beginning to read independently. Harry Potter books are widely available online and in shops, but more recently illustrated versions of the first three books have been released, with more to be released in the future. You can purchase the first one here. The first How To Train Your Dragon book is available to buy here.
Easy World Book Day Costumes to Make at Home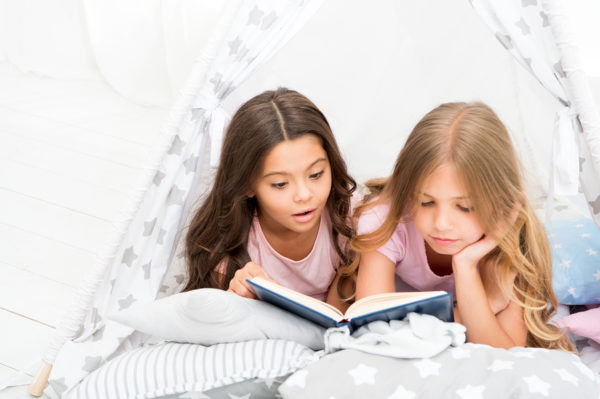 If money is tight, or you simply loathe the idea of spending money on a costume that is only going to be worn once, then you might be considering making something for your child to wear instead. There's just one problem: You have no idea how to sew. Fear not, because here are some easy peasy costume ideas that won't break the bank.
Charlie Bucket – Charlie and the Chocolate Factory
Charlie Bucket has to be one of the easiest costumes to make. All your child need is some tatty clothes, which, unless your child is some sort of angel who never ventures outside, you will undoubtedly already own. Get some gold card from a craft shop to make a golden ticket and your child is good to go.
The Book
You can find the book available from Amazon.
Greg Heffley – Diary of a Wimpy Kid
You will need a white t-shirt, black shorts, white trainers, and a black backpack. Yep, it's that simple.
The Book
Purchase a copy of Diary of a Wimpy Kid from Amazon.
Matilda
Your own little bookworm will need a blue dress and a pile of books.
The Book
Get a copy of Matilda from Amazon.
Horrid Henry
This one does require a blue and yellow stripy jumper so if you have one then great. On the other hand, if you have a blue jumper and some old yellow material from an old t-shirt, etc. then you could cut out some stripes and temporarily pin them on. Then all your child needs is some blue jogging bottoms and messy hair. Plus a terrible attitude.
The Book
You can get a copy of Horrid Henry from Amazon.
Gangsta Granny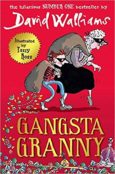 David Walliam's feisty grandma can easily make an appearance. Your child will need some tights that are too big for them so they wrinkle on the shins, a plain skirt, a flowery cardigan (either from your wardrobe or that of your mother!), and a blouse. Make a bandit eye mask with some card (or use face paint) and you can make a white-hair granny wig by getting cotton wool balls and sticking them all over an old shower cap or swimming cap.
The Book