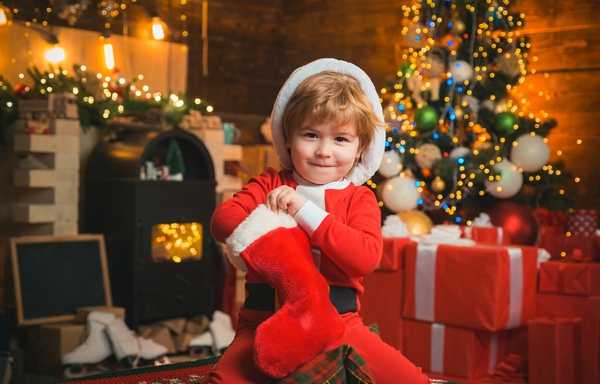 Looking for some great ideas for stocking fillers for the kids that won't break the bank? Read on!
0-2 Years
Little hands put little objects in little mouths, so stocking fillers at this age can't be too small. These items are all designed to be safe for your baby and many have an educational or sensory element.
Snuggly Singing Igglepiggle

Babies love In The Night Garden thanks to its bright colours and soothing music, and we're sure they will love this super soft singing Igglepiggle toy. Suitable from birth, a gentle push on his tummy will result in him singing a song. Igglepiggle's famous red blanket also adds an extra sensory element.
Lego Duplo: My First Fun Puzzle
Ideal for older babies, this set is a great introduction to the world of Lego. The larger Duplo blocks are perfect for little hands and this simple set simply requires your child to stack the blocks together to form animal towers. The set will help your child develop their fine motor skills and by mixing up the bricks your child can create their own strange creatures.
Melissa & Doug First Play Wooden Animal Stacking Cars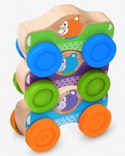 We love wooden toys here at Mumblog and these stacking wooden cars are ideal for babies and toddlers to explore the concepts of cause and effect. Push the cars and watch them travel across the room. As they're stackable, your baby can do what babies love doing best, and build a small tower to knock down.
Vtech "Peek and Play Phone" Toy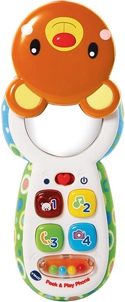 If your child hasn't yet got a Vtech toy then we have a lovely starter that would sit nicely in any stocking. This Peek and Play phone is suitable from 3 months and has brightly coloured buttons that when pressed emit a variety of words and phrases that include colours and numbers. There's a mirror for your baby to explore their own face, and a small rattle element. The phone also plays music with 15 different melodies.
Dear Zoo Wooden Puzzle Blocks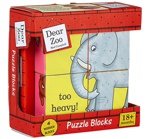 This children's classic tale is now in puzzle form. With just four wooden blocks your child can make six pictures of animals from the story, or they can create their own strange creatures by mixing them up. The toy is a great way of encouraging your child to develop their understanding of the world around them as they try to find the correct way to place the blocks. If you don't already have the original story book, then a board book version is available and is a must for any child's bookshelf.
Skip Hop Pull and Go Monkey Submarine Bath Toy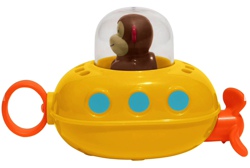 Babies love bath time and you can make it more fun with a selection of toys that are designed especially for use in the bath. This little submarine actually moves through the water when you pull on a string and it helps to introduce the idea of floating to your child.
3-4 Years
Your pre-schooler is on a quest for knowledge, asking "Why?" constantly. Feed their brains and imaginations with these must have stocking fillers this year.
Lakeland 3D Dinosaur Cookie Cutters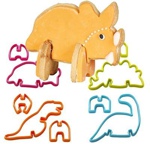 As a pre-schooler, your child will be keen to help out in the kitchen and will certainly love the idea of baking biscuits. These dinosaur cookie cutters from the high quality kitchenware company Lakeland are particularly special because you can use them to create 3D dinosaurs. Your child will love baking, decorating, and of course eating their dinosaurs with this set.
Lego Classic 11001 Bricks and Ideas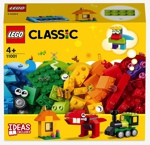 Now your child is less likely to place small objects in their mouths, you can start to introduce regular Lego, as opposed to Duplo. This small set of classic Lego is an ideal starting point, as rather than using it to build one specific model, which is the case for most Lego sets, this set is designed to enable children to create their own designs, though some possible ideas are included to get you started.
Ravensburger Puzzles
Ravensburger do a selection of puzzles that are ideal for this age group as the pieces are smaller, which helps to develop the fine motor skills that will be required for when your child starts school, but the puzzles aren't so complicated that they will put your child off. The 4 puzzles in 1 boxes offer great value for money and many feature your child's favourite characters, including Peppa Pig, Paw Patrol, and Disney Princesses.
Galt Water Magic
Your pre-schooler probably loves all things to do with crafts, but many parents are put off getting out the gloopy glue, glitter, and googly eyes because of the mess that is usually involved. That's why we love these little Water Magic sets from Galt. Simply fill the magic pen with water and your child can use it to "paint" one of six boards in the pack. The boards can be used again and again, so there's no waste and no pile of paintings to put on display.
Imagination Station Rocket Money Box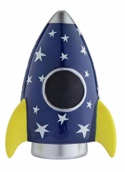 Your child is now old enough to gain some understanding of the concept of money and it's a great age to start introducing small amounts of pocket money that can be saved up for toys. Of course, they'll need a money box to do that and we think this rocket themed money box will be a big hit.
Orchard Toys Dinosaur Lotto Match and Memory Game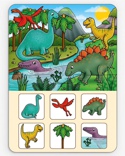 Made in the UK and mostly plastic free, what's not to love about Orchard Toys? Their huge range of educational games are ideal stocking fillers and this Dinosaur game is a great way of introducing the idea of taking turns to your pre-school child. Did you know that Orchard Toys also supply replacement missing parts for FREE for UK customers?
5-7 Years
Your key stage one child probably has some pretty firm ideas on what he or she likes to play with now, with playground chitchat determining which is the latest cool trend.
Blume Doll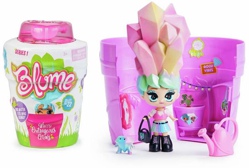 A little doll that grows right before your eyes! Blume dolls are a twist on the blind bag trend. Children need to water a plant and watch as a doll magically grows before them! The dolls come with various clothes and accessories, and there are several to collect with the option to swap outfits around.
Zuru Mayka Toy Block Tape
A great little stocking filler for the Lego fan in your house, this tape is compatible with Lego bricks. Your child can stick the tape to a surface (preferably not your living room walls) and use it to place their Lego creations. Minifigures can be suspended from the ceiling, or unique borders can be created around your child's room.
Uno!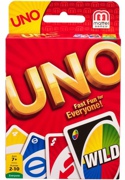 It's an oldie, but a goodie. This classic card game easily fits into any handbag and provides hours of fun. It's ideal for taking with you to restaurants, or on holiday, and it's a lovely way of getting some family time without the screen time.
John Lewis & Partners Torch Projector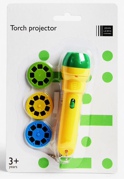 Kids at this age love torches. They are fascinated with being able to shine a light into the darkness and many children find it comforting to know there is one available to them during the night. They are also great for camping trips. This torch from John Lewis doubles up as a projector, with small discs that can be inserted that result in images of dinosaurs, sea creatures, and wild animals appearing on the wall.
Harry Potter Top Trumps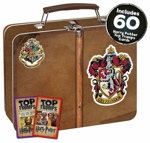 Top Trumps is another classic card game that sees players compare stats to determine who has the winning hand. The concept is so versatile that there are now dozens of different versions of the game, and for the die-hard Potter fan in your life, this set is ideal. Each card features a character from the books and a fact about them. The set comes in a collector's tin, and additional packs are available.
Treasure X Aliens Single Pack Assortment
If there was a formula that summed the current crop of 5-7 year olds it would be as follows: Slime + Blind Bag = Joy. Enter Treasure X Aliens, a slime filled surprise toy that must be dissected to discover the secrets it contains. Each one may contain weapons, gems, and other treasures. A container is helpfully supplied to store the slime when not in use.
Enchantimals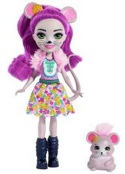 On the one hand, we find Enchantimals a little creepy, on the other hand, the kids seem to love them and who are we to disagree? Plus, these little dolls are pretty good value for money, costing less than £10. The dolls are meant to be in tune with nature and guardians of the forest, which is why they have animal markings on their faces. Each one comes with its own animal companion and there are additional playsets available if you want to add to your child's collection.
8-11 Years
Your key stage two child is increasingly influenced by pop culture and is probably more interested in screen time than toys, but maybe you can lure them away from the games console for a few hours with these ideas.
Stationery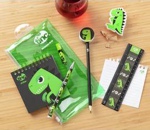 Having cool stationery for school is a must for kids in this age bracket and, thankfully, Argos have a fantastic range available that is aimed at kids. For Potterheads there's a great selection of themed items, including this deluxe set. Hype is a brand that seems to be very popular in the pre-teen world and your child will definitely been seen as the coolest in school with this set.
Argos's stationery themes also includes dinosaurs, flamingos, and even Jelly Belly, the makers of flavoured jelly beans. Plus, there are numerous pen sets and notebooks all available at a low price.
Bath Bombs
Bath bombs aren't just for Mums seeking a little pampering time, doncha know? They are pretty popular with kids as well who love the fizzy reaction they make when they hit the water. Boots have a brilliant range, including a Harry Potter Golden Snitch bath bomb! Yes, that's right, there really is no escaping the Potter universe.
We love the retailer's selection of Christmas themed bath bombs that are ideal for stocking fillers, such as this snowman and best of all, they all come under Boots 3 for 2 mix and match offer, which means you could also pick one up for yourself. You know you want to.
Foldable Football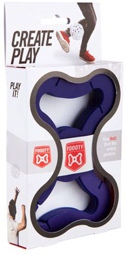 Got a budding footballer in the family? Check out Foooty's foldable ball. It's a ball that folds up so your child can carry it in their pocket. It's designed as an indoor ball, but don't worry, it's so light that it won't break any windows or vases. What's more, it's made from panels that can be rearranged so it can also double up as a frisbee, or whatever else your child chooses to create.
Rubik's Cube

Long before fidget spinners us oldies had the Rubik's cube to contend with. Yes, it's another classic, but there's a reason it's so popular, and that's because each time it's scrambled up there is a whole new puzzle to solve. Challenge your child to see how fast you they can solve it, and in the run up to Christmas, watch all the YouTube videos that show you how it's done so you can blow your child's mind.
Ginger Fox Emoji Game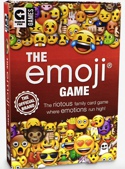 A card game that the whole family can join in with. The aim is to collect a full set of emoji emotions but there are also action cards in the pack that will set you different challenges, such as pretending to be a monkey, give different ways of cooking eggs, and saying silly phrases. It's quirky but hilarious and a great one for the post-Christmas dinner slump.
Imagination Station Design Your Own Unicorn Jewellery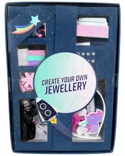 The unicorn craze is still going strong and with this set your child can design their own unicorn themed jewellery. Create necklaces, hair accessories and more, with everything you need included in the box.
Science Museum Rocket Lamp
Anyone remember lava lamps? They were in vogue about 30 years ago. Now they're seen as a bit naff, but we have no doubt that the space fan in your house will love this version from the Science Museum toy collection. Designed to resemble a rocket, this lamp can act as a night light and will perhaps inspire the next Tim Peake.
Sea Monkeys Ocean Volcano Tank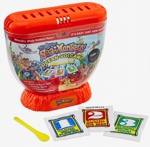 Has your child asked for a pet dog, cat, or even snake for Christmas? Maybe this could soften the blow when Santa fails to deliver. This set contains a tank, sea monkey eggs, and food. They're not actually monkeys of course, but a type of really, really, tiny shrimp. But they're probably the easiest pet on the planet to look after, and they don't cost a lot either!
The Original Spirograph Design Set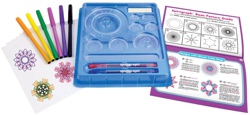 If you grew up in the 80s and 90s then you probably came across a Spirograph set at some point. This childhood classic is becoming popular once more, with kids being able to create impressive designs using a collection of stencils. Modern sets even include a special type of putty that holds the stencils in place. Kids have it so easy these days.