There are still a few weeks left until the end of the summer holidays and unlike in previous years when we had the certainty of a return to school in September, in 2020, with the Coronavirus pandemic still ongoing, there is no guarantee that all schools will be able to reopen fully next month.
It's exhausting thinking of new ways to keep your child entertained, especially when places, such as soft play centres remain shut, and other activities have limited opening hours and restricted numbers making it difficult to book into. That's why we have done the thinking for you and come up with a selection of boredom busting ideas that will provide the answers when faced with the question, "I'm bored, what can I do?"
Silly & Fun Games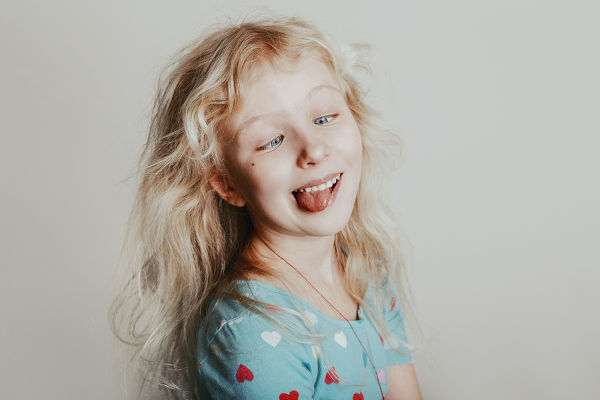 For those moments when you want to encourage a little silliness and a lot of fun, these games are sure to be a hit.
1. Cuddly Toy Drop
This can be done inside or in the garden. Have your child place a cuddly toy between their knees and have them run around the room or outside, perhaps setting up a course to follow. See how far they can go without dropping the toy.
2. Pillow Sumo Wrestling
Here's an opportunity for your children to dress up in one of yours or their dad's old t-shirts and burn off some energy in a fairly safe way. Place the t-shirt on your child, then place a pillow under it at the front, and a second at the back. Secure the pillows with a belt or similar and you've got yourself a sumo wrestling suit. Kids love wrestling, and this is a fun way of letting them wrestle safely, without the tears at the end.
3. Bowling With Tights
Grab an old pair of tights (who needs office wear when you have to work from home anyway?), and put a ball, such as a tennis ball, in one of the feet. Place the top of the leg with the ball in over your child's head so it forms a hat with the ball hanging off. Your child can now swing the ball using only their head and attempt to knock objects over, such as skittles or empty plastic bottles.
4. Have An Indoor Snowball Fight
You have probably ended up with multiple half-completed worksheets during lockdown home schooling and this is a great way of making use of that paper before it ends up in the recycling bin. Have the children scrunch them up into balls and each child can make a pile, before you declare war and everyone launches a paper snowball fight. Maybe you could add to the fun by getting the kids to make sofa fort bases from which to defend themselves from the onslaught.
5. Sticky Notes Race
You will need a big pile of sticky notes and a stopwatch. See who can put the most sticky notes on themselves in just one minute.
6. Have An Upside Down Back To Front Day
Declare the day an "upside down and back to front day" and do everything topsy turvy. Have pudding for breakfast and cereal or toast for tea. Spend the day in your pyjamas, even if you go outside. Walk backwards along your street, read a story by starting with the last page and working your way to the first page, and have your children empty all their toys out before bedtime. OK, it might be chaotic and a bit messy, but it's a day your children won't forget.
Outdoor Activities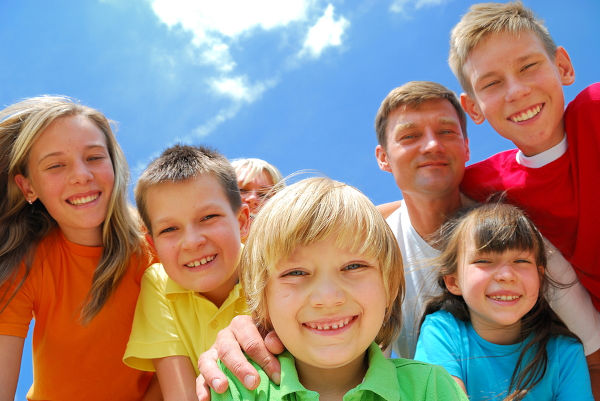 In the garden or in your local park, these activities will help pass the time and get your children active.
7. Kite Flying
Kites are pretty cheap to pick up and give lots of fun, but if you can't buy one, then why not spend the morning making one first and taking it out for a try?
8. Explore Your Town's History
Thanks to the wonders of the internet, you can now find loads of information about local history. See what you can find online and then take a walk to visit some of the important sites in your area. You may even have a special town trail or historical walk available in your area – check out your local tourist information service for information.
9. Do A Litter Pick
There have been some truly awful scenes of littering across the country following the lifting of Coronavirus restrictions. Teach your child to have more respect for their local environment by taking them on a litter pick. Just be sure to wear gloves and be mindful of sharp objects.
10. Make A Den
In the garden, make use of an old sheet, tarpaulin, or even punctured paddling pool to build a den in the corner, using whatever else you can find laying around. In the woodland, gather large broken sticks to construct a den around a tree trunk and use fallen branches with leaves to create coverings. Remember to only use what has fallen from the trees and don't break any plants or trees to create your den.
11. Catch Minnows In A Stream
Make a simple fish trap by cutting the top third off a squash bottle (lid removed) and then placing the top third upside down inside the bottom of the bottle so that it now acts as a funnel into the bottle. You may need to use tape to secure it.
Place some breadcrumbs inside the bottle and finally securely attach a long piece of string onto the bottle. Place the bottle in your nearby river or lake, being sure to keep hold of the string. Now wait and see if any minnows make their way inside. Remember to release them back into the water when you are done.
12. Host A Car Wash
Children love playing with water, so make the most out of that enthusiasm and get them washing the car. If you have nice neighbours they may let your children wash their cars as well, or they could wash their bikes and scooters to keep them busy for hours.
13. Set Up A Bubble Station
Mix up a large quantity of bubble solution by mixing 250ml of washing up liquid with 1.5 litres of water and a couple of tablespoons of glycerin. Stir gently together and for the best results leave overnight before using. Then set up a bubble station outside with lots of objects to make bubbles. You can use colanders, slotted spoons, plastic water bottles cut in half, or wire coat hangers bent into shape. Your children can experiment with lots of different items to see what works best.
Craft Activities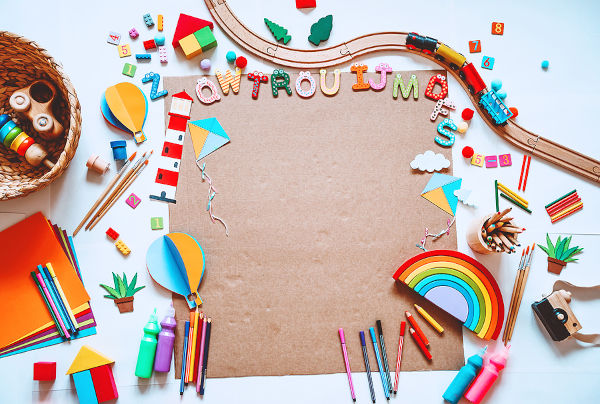 Beat the rainy day blues with these colourful crafts.
14. Paint With Home Made Paints
Mix PVA glue with shaving foam and some food colouring to create your own home made paints, then see what creations your children can come up with.
15. Set Up A Craft Workstation
Sometimes the best ideas come from children having the freedom to explore and be creative without instruction. With that in mind, set up a craft station for the day with paper, pens, glue, and whatever else you have available. You could cut up old magazines for pictures, or add in your recycling pile for some junk modelling possibilities.
16. Create A Paper Mache World
Using paper mache, create a landscape for your child's action or animal figures. Your child could sculpt a volcano, or make a space themed landscape with craters, using a cardboard box as the base. Once it's dried your child could then paint the landscape and use it for imaginative play with their toys.
17. Lego / Duplo Art
Normally, Lego and Duplo gets used for creating buildings, space ships, castles and more, but if you have a fairly large base plate then you could challenge your child to create a picture on the plate using different coloured bricks, sort of like how they would when using Hama beads or similar.
18. Design A Comic
Get in some sneaky handwriting practice by encouraging your children to design a comic. They could do one featuring one of their favourite fictional characters, or make up an entirely new character. What amazing adventures will they have?
19. Art Inspired By Famous Artists
It's never too early to introduce your child to some of the world's greatest artists, and the images that these iconic figures have produced can be a source of wonderful inspiration for your children. Perhaps you could ask your children to create their own "Starry Night" art inspired by Van Gogh by swirling paint around the paper?
Or you could get them to use their finger prints to create an image of a beautiful garden, in an attempt to recreate Monet's unique style. Alternatively, Da Vinci was known for his imaginative designs of futuristic machines. What machines can your children come up with? Perhaps you could take the learning element further by discovering some interesting facts about your chosen artist.
20. Make A Shoe Box Dolls House
Put the shoe box on its side and you have got the structure for a basic doll's house. Use yogurt pots and other recycling items to create furniture. Perhaps if you have some scrap material you can add in some soft furnishings. If you have multiple shoe boxes you could make a multi-room structure. If your child would prefer, you could use the box to make a secret base for an action figure.